Big 12 News
Allen Fieldhouse Construction Project Officially Underway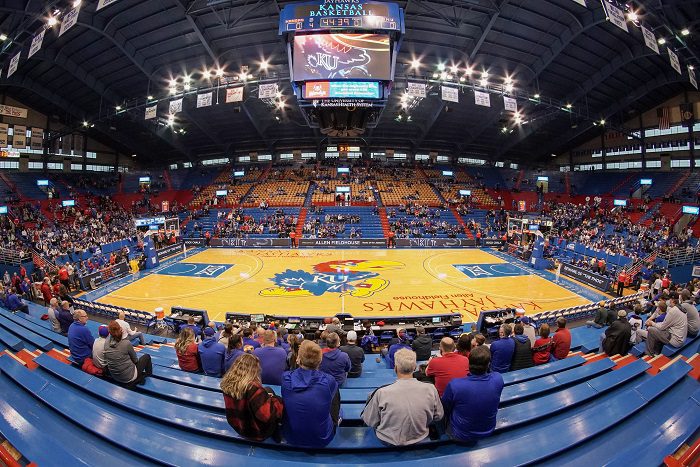 One of the best venues in all of college basketball, Allen Fieldhouse, is undergoing construction with the idea of future fan experiences in mind.
The Kansas City Star's Shreyas Laddha reports that the construction of the Fieldhouse will be a two-phase approach spanning over the full duration of both of the Jayhawks' offseasons in 2022-2023, and 2023-2024.
KU Athletic Director Travis Goff said in an official release, "When it's completed, the greatest venue in college basketball will be amongst the most accommodating and fan-friendly."
He continued by saying, "Great strides have been made inside the walls of Allen Fieldhouse, with a focus on the east side entrance and premium donor spaces. You will see a new team store this season that will serve as a major enhancement for all of our fans for both men's and women's basketball."
While Allen Fieldhouse has been the backbone of Kansas basketball for years, Goff mentioned that the renovation project is being done with the future fan in mind.
"We made sure we are looking at it from a 2030, 2040 kind of lens, if you will, what should be the future of Allen Fieldhouse if you fast-forward 20, 25, 30 years down the road. I think that's exciting to think about," Goff said. "The challenge and the opportunity, of course, is how do we retain the incredible character, history, and tradition of Allen Fieldhouse while making it a better fan experience? I am confident we are going to find the right balance there."
While construction will not be completed until just before the 2023-2024 season tips off, the Jayhawks' home court will be finished one year at a time with Kansas fans everywhere getting to experience the Fieldhouse and all its new amenities.