Big 12 Previews
2023 Women's College World Series Preview: Oklahoma State vs. Tennessee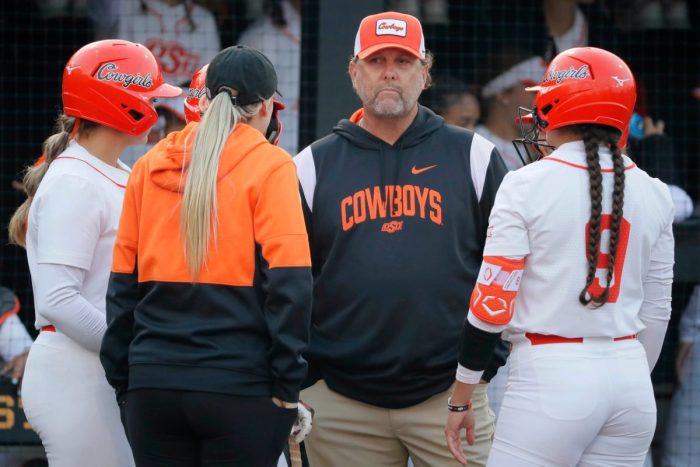 A spot in the national semifinals is on the line, with No. 6 seed Oklahoma State and No. 4 seed Tennessee facing off in an elimination game on Sunday.
The loser will have to pack it up and go home, while the winner will get a shot at Florida State, who has gone 2-0 to this point.
Oklahoma State's Thursday night loss to the Seminoles landed them in the losers' bracket, and a do-or-die victory over Utah was necessary for them to stay alive.
Meanwhile, Tennessee was on the wrong end of a run rule for the first time all season against Oklahoma on Saturday. Now, they'll hope to turn things around against the other team in the Bedlam Rivalry.
GAME INFO
LOCATION: HALL OF FAME STADIUM; OKLAHOMA CITY, OKLAHOMA
DATE/TIME: SUNDAY, JUNE 4; 6:00 P.M. CT
NETWORK: ESPN2
TALE OF THE TAPE
NO. 6 OKLAHOMA STATE (47-15)
After falling to Florida State in run-rule fashion on Thursday, Oklahoma State flipped the script and pulled off a run rule of their own, bringing Utah's magical 2023 run to an end. The Cowgirls' offense returned after a short hiatus, and in doing so, looked like a real contender in the Women's College World Series. The problem is, their margin for error is now nonexistent and that will make for a ton of pressure on Sunday night when facing an offense and pitching staff like Tennessee possesses.
NO. 4 TENNESSEE (50-9)
Nobody had beaten Tennessee by run rule this season until Saturday, and now the Lady Vols are going to have to pick themselves up after falling to the mat for the first time in this tournament. The questionable decision with the pitching staff was one thing, but to be held to just one hit on the day? That's just not something we've seen this year. Sure, Oklahoma deserves some credit for the win, but Tennessee certainly didn't help itself much either. Can they brush it off and turn things around with just a day to recover? We'll find out.
PLAYERS TO WATCH
Lexi Kilfoyl, P, Oklahoma State
I went on record after Oklahoma State's shutout win over Utah on Friday and said that Lexi Kilfoyl has become the new ace in Stillwater, and I stand by that statement now. If Kenny Gajweski wants to win this game, he will start the Alabama transfer on Sunday. In 21.2 IP in the tournament, Kilfoyl has given up just one run, and has controlled each and every game she's been in. Yes, there will be a time and place for All-American lefty Kelly Maxwell to make an impact, but this is simply a matter of riding the hot hand.
Kiki Milloy, CF, Tennessee
The senior centerfielder maintains a team-high .419 average and 1.537 OPS on the year, plus her 25 home runs and .969 slugging percentage rank first among all players in the WCWS. If there's a player on the Tennessee roster that can change a game with one swing, it's Milloy. Against Oklahoma on Saturday, Milloy started off the game with a leadoff double, but that was the only hit of the day for Tennessee. I'd wager she'll be ready to make a statement on Sunday if given the opportunity.
ONE THING TO WATCH
The decision to keep Ashley Rogers and Payton Gottshall out of the game against Oklahoma was a headscratcher, especially early. However, now it seems to be a blessing in disguise because both of Tennessee's top arms will be fresh heading into this game.
With Oklahoma State's offense having a Jekyll and Hyde issue lately, the battle to watch will be Tennessee's pitchers against the Cowgirls' bats. The Pokes looked virtually unstoppable against Utah on Friday, and batted around as much as they pleased. However, it won't be nearly that easy against a staff like Tennessee's.
With both teams' seasons hanging in the balance, I wouldn't expect any punches to be pulled. This game might be a war and one that you definitely won't want to miss.