Baylor Bears
Postscripts: Big 12's United Front, While Colorado Jump From Pac-12 Looms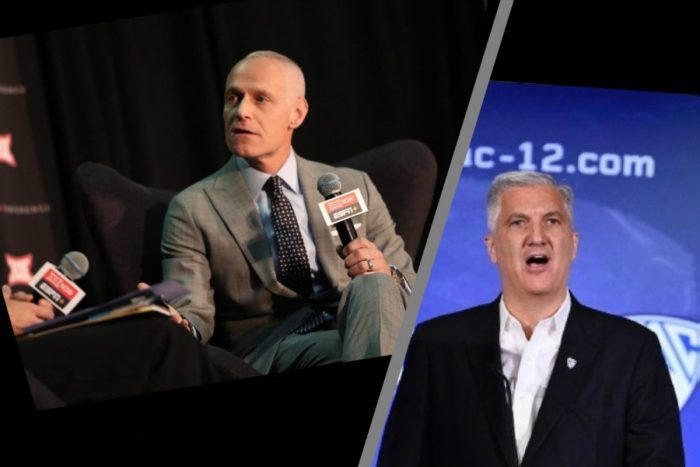 What's going on in the Big 12 and beyond? I expand and explain every Sunday in Postscripts at Heartland College Sports, your home for independent Big 12 coverage.
This week, the Big 12 is on the same page, more Colorado and a potential reason why we haven't heard from Keyontae Johnson on his NBA/NCAA future.
The Big 12 'Unanimity' Clause
Friday was a big day for the Big 12. Their meetings in West Virginia ended, they doled out $440 million in shared money and talked about expansion.
The future for this conference looks bright. But it's looked bright and shiny before. Yet, Lawrence Schovanec, the president of Texas Tech University and the chairman of the conference's Big 12 Board of Directors, believes it's sustainable.
Why?
"I've never seen greater unanimity among the board," Schovanec said.
Unanimity is good. Moving in the same direction is good. Moving forward without two certain schools is probably what galvanized them.
This has been percolating in my head for a bit. While the league certainly would never have asked Texas and Oklahoma to leave, and I would never contend that there aren't obvious hits to the league in cash and attention, it's looking more possible that the two schools bolting for the SEC might be more of a footnote than a significant part of the league's narrative in 10 years.
Think about when Colorado, Missouri, Nebraska and Texas A&M left. The league needed months to recover. But it had UT and OU to lean on. But it was a double-edged sword. The two teams gave the league stability. But their outsized role in determining the league's direction was what, in part, prompted that quartet of teams to leave.
Between then and 2021, two significant things happened. First, the Big 12 tried to expand. They did so more publicly than they're laying the groundwork for now. It was an apply within situation. More than a dozen schools did. Ultimately the board of directors shot it down. OU and UT were among the teams that said no. It was a decision in their own self-interest, especially Texas, which didn't want certain Texas-based schools in the league as it might jeopardize recruiting in certain areas of the state.
Then there were discussions about a Big 12 Network that didn't go anywhere. Among the issue was the fact that OU and UT held their own third-tier rights and neither intended to relinquish them, especially UT as it had the Longhorn Network.
Contrast that with the aftermath of OU and UT announcing they would move to the SEC. Recovery by the rest of the league took a matter of weeks, not months. When the expansion decision came, the 'Hateful Eight' politely told OU and UT "no" when the pair asked the league to wait to expand until they were gone.
Last year the Big 12 negotiated a new TV deal for its 12 new members that will pay each school at least $3 million more per year than right now. Plus, when the four new schools come online in July, they'll get bigger shares of the pie because the 'Hateful Eight' opted to share some of their TV revenue with them, something each will get back in the final exit agreement with OU and UT.
That's the unanimity Schovanec was talking about. When one or two members don't think they're more important than the others, good things get done.
This Week in "As The Pac-12 Turns"
While the Big 12 had its meetings, the Pac-12 was relatively quite as a group this week.
On Thursday a report surfaced that Colorado was the 'most receptive' school to joining the Big 12, which is interesting because Colorado athletic director Rick George has been saying for months they're committed to staying in the Pac-12. Of course, those of us that have ridden in this rodeo know that's contingent on the Pac-12 getting a satisfactory TV deal.
Also out of Colorado was a report by The Athletic that football coach Deion Sanders was part of the reason Big 12 commissioner Brett Yormark was interested in Colorado.
Long-term, I think it's a bad strategy to build potential expansion around a football coach. But at least Colorado is a former Big 12 school so it's a good strategic fit.
Oh, plus this nugget. If you're on Twitter you've probably heard the conspiracy theory that Endeavor is pulling the strings on realignment for the Big 12. This is the entity the Big 12 partnered with to help support its marketing and media strategy.
Endeavor Executive Vice President Karen Brodkin threw cold water on the conspiracy theory earlier this week. No, Endeavor is not out there pushing false narratives on behalf of the Big 12.
"To suggest, as I know it has been suggested that somehow Endeavor or Karen Brodkin is deciding the fate of any conference or any school, that's just not accurate," Brodkin said in an interview with 365Sports. "Though I haven't necessarily responded publicly to any of those assertions, I'm here to tell you today that that is not a true statement."
The Big 12 contracted with Endeavor in part because when Yormark took over the league it had little in the way of brand management. It needed help. That's what it's done and continues to do.
The Keyontae and Jalen Conundrum
You saw a lot of players take their name out of the draft by the end of May. Kansas State forward NaeQwan Tomlin was among them. Two that didn't seem to have much to say were Kansas State forward Keyontae Johnson and Baylor forward Jalen Bridges.
As recently as Friday, Baylor coach Scott Drew told my buddy Matt Mosley on ESPN Central Texas radio that Bridges would make his decision next week.
Both Bridges and Johnson have eligibility. But, the May deadline passed. So that means they're pros, right?
Not necessarily. There are actually TWO deadlines.
The first was May 31 at 11:59 p.m. EST. The second is actually June 12 at 5 p.m. EST.
What's the difference? The May 31 is a NCAA deadline. The June 12 deadline is an NBA deadline.
In other words, both can still come back. It's especially key for Johnson who didn't get the medical clearance he needed to participate in workouts until after the NBA Combine. He got in a workout with the Portland Trail Blazers last week.
So if Bridges is still mulling his future, chances are Johnson is too. And we could hear from both next week. Since they have eligibility left, they have to us know what's up by June 12.
You can find Matthew Postins on Twitter @PostinsPostcard