Big 12 News
Bill Self Confident He Can Replace Spot Left By Chris Johnson's NLI Release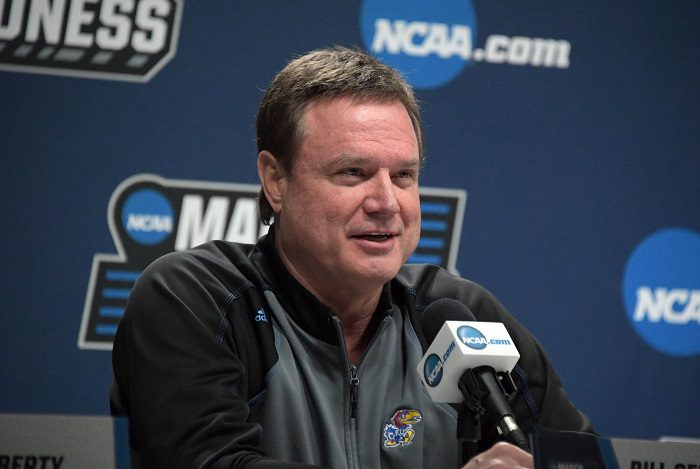 It's late in the game of offseason player addition, but Kansas head coach Bill Self is confident he can replace the spot left by Chris Johnson, who recently asked to be released from his National Letter of Intent.
Coming out of high school Johnson was graded as a four-star prospect by the 247Sports index as well as the 51st-ranked player in the nation, the 11th-ranked combo guard in the country, and the 3rd-ranked player in the state of Texas.
Johnson said on Twitter this week, "Over the past several weeks, i've struggled internally with my initial decision and reached a point where I wasn't completely comfortable. I am very aware that the timing of this decision is difficult, both for myself and Kansas, but I strongly believe it's the right decision for all parties."
Meantime, Bill Self played it cool on Monday, when he commented on Johnson's departure while he was at the Otto Schnellbacher Golf Classic in Topeka.
"Well, we had a young man decide not to come on Thursday," Self said. "So that to me opens up, we're open to anything. We only have 10 youngsters on scholarship right now. So we can definitely do something. Now the pool of players has shrunk tremendously. So it's going to be quite as easy to find somebody that can impact this particular team based on the pool of players that are there. But I've got a suspicion that there might be an opportunity coming up pretty soon that we could do that. So hopefully that'll be the case."
Kansas' offseason has seen only three scholarship players return from last year's roster and lost eight players via the transfer portal. Meantime, KU has brought in a pair of transfer guards in Nicolas Timberlake from Towson and Arterio Morris from Texas to help solidify the backcourt for the 2023-24 season.