Oklahoma Sooners
Oklahoma AD: Nine-Game SEC Schedule is 'Definitely on the Table' After 2024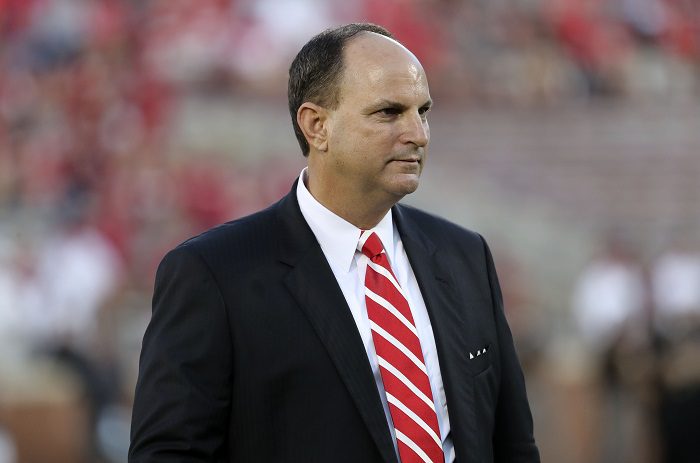 Oklahoma and Texas are heading into their final year of the Big 12, with a move to the SEC coming in July of 2024.
Among the many changes that the original members of the Big 12 will face heading into a new conference is a change in the conference scheduling format.
George Stoia of SoonerScoop recently caught up with Oklahoma athletic director Joe Castiglione at the Women's College World Series and had a chance to talk with him about the Sooners' move to the SEC.
Among the topics of conversation was the SEC's decision to remain at eight conference games in 2024, instead of increasing the schedule to nine conference games.
While things might remain the same for Oklahoma and Texas' first year in their new conference, there's still hope that the new kids on the block will get back to playing the nine-game conference slate they got used to in the Big 12.
"We've talked a long time about nine conference games. We're used to playing nine in the Big 12," Castiglione said. "But in this particular case, I think playing more of the conference membership is good for all of us and our partners and the fans. But that doesn't mean eight won't work. It works. I think that the decision was appropriate given the complexity of some of the transitional elements that we don't talk much about. 
"I feel like nine is definitely on the table for the future. And it'll continue to be a discussion as we move forward. Who knows, maybe sometime during the coming year there will be a vote for 2025 or beyond. It is set up to transition to either another year of eight conference games or to move to nine. All those scheduling models are in place, whichever we vote as a conference."
While the SEC will remain at eight conference games in 2024, the conference did opt to do away with divisions, as the ACC and Pac-12 did, following the trend that the Big 12 started over a decade ago. Starting in 2024, the SEC's top two will play for the conference title at the end of the year. However, with just an eight-game schedule, there's more chances of a tiebreaker becoming an issue.
So, what was the hold-up? Why was the nine-game schedule, which had plenty of support just a few months ago, nixed at the last second?
"There's a lot of moving parts to this," Castiglione said. "The current membership has to get out of games they already contracted to have and there are financial penalties to that. There are still some elements around the expanded playoff that aren't fully baked yet and maybe gave some pause. And there are several things the conference moving to that want to make sure the transition is right. It just seemed, in the room, that there was just a little too much uncertainty. Some didn't feel comfortable moving to nine yet."