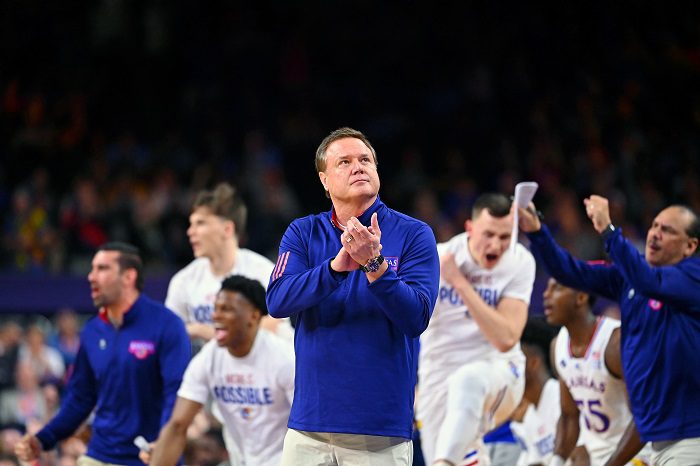 Just a few years ago, Patrick Cassidy was a three-sport star athlete in Columbus, Kansas. Cassidy shined in basketball, collecting accolades such as Southeast Kansas athlete of the month in January 2020 after averaging over 27 points per game during his senior season on the hardwood. He also helped turn around the Columbus Unified High School football team, quarterbacking the squad to an 8-2 record (while throwing 25 touchdowns) his senior year after going 1-8 the previous year. Cassidy was also a key member of the baseball team, and while he couldn't play golf in an official capacity, he was known to be one of the best high school golfers in the area as well. But that's not all, Cassidy also finished his high school career with a 4.0 GPA.
It's not widely known how highly recruited Cassidy was out of high school, or if he considered playing any sport beyond high school, but the University of Kansas was where he wanted to be. If not being recruited by one of the highest-profile basketball schools in America, there was one way to be a part of the program: apply to be a team manager.
According to the University of Kansas athletics website, student managers are an integral part of their athletic program. While each varsity sport has at least one student manager, some sports need multiple student managers, including the men's basketball program. Cassidy was selected to be one of those managers in 2021. The program is designed to give students valuable work experience by being part of an intercollegiate sports team while giving financial assistance as well. Student managers work 30 hours per week while school is in session and 40 hours per week when school is out of session.
With the basketball season extending from early November to potentially early April with a long tournament run, managers like Cassidy are expected to work over Thanksgiving, Christmas, and Spring Break. Basketball camps and summer training on campus lead to long hours during the summer months as well. For Cassidy, it all seems worth it.
Cassidy was one of six student managers during the 2021-2022 season that ended with a National Championship and a parade down Mass Street in Lawrence, Kansas. Throughout that season, Cassidy led the Kansas managers in exhibition games against opponent managers. According to the KU men's basketball manager's Twitter page, the Jayhawk managers went 7-0 in exhibition games that season. Those games continued during the 2022-2023 season. In one Twitter video on KU's official basketball Twitter page, Cassidy was seen hitting a half-court shot at practice while shooting around with some of the walk-ons at West Virginia.
Cassidy's work ethic and skill during warm-ups and manager games must have impressed the coaches. This past weekend, Kansas head coach Bill Self confirmed that Cassidy will join the team as a walk-on non-scholarship player.
Cassidy is a 6'0" point guard and has unlimited range. Like most walk-on players at KU, Cassidy's role will mostly come during practice where he will help the Jayhawks starters get ready for upcoming games by playing as a scout team guy. The role of a walk-on, much like the role of a basketball manager, largely goes unnoticed but is critical to the success of a team.
With the non-conference schedule officially being released this week, this also gives fans a chance to scope out which games Cassidy has a chance to appear in. Typically, there are a few games early in the season where Kansas gets a large enough second-half lead where Self can pull his regular rotation players and get the walk-on players a few minutes of live-action game time in front of the home fans. When these guys get their chance to shine, they will get some of the loudest cheers of the season, and that's saying something given Allen Fieldhouse is home to the loudest college basketball fans in the land.
Cassidy joins Justin Cross, Charlie McCarthy, Michael Jankovich, Wilder Evans, and Dillon Willhite as the walk-on players for the 2023-2024 season. Scholarship players include: Kevin McCullar, DeJuan Harris, and KJ Adams return with additions of incoming freshmen Marcus Adams, Elmarko Jackson, and Jamari McDowell and transfer portal additions Parker Braun, Hunter Dickinson, Arterio Morris, and Nick Timberlake. There are still two scholarships available for Self to utilize if he deems it necessary.
Cassidy updated his Twitter profile, stating he will wear #14 for the Jayhawks this upcoming season. There was another update on the profile as well; his Instagram handle is now @patrickcassidy14. Cassidy will join Braun as the only players on this year's roster hailing from the Sunflower State. Whenever fans have the chance to see Cassidy walking to the scorers' table, emotions will begin to rise in Allen Fieldhouse. When #14 hits the court, decibel levels in "The Phog" could hit record levels. This could very well be one of the best under-the-radar stories in college basketball this year.