Big 12 News
Texas AD Chris Del Conte Has 'No Interest' in USC Job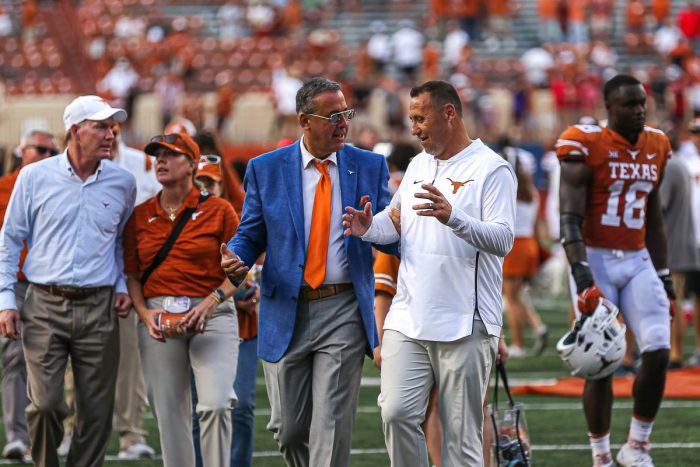 Around two weeks ago, USC Athletic Director Mike Bohn resigned from his position after four years at the helm, leaving one of the most prestigious athletic departments in the country without a leader.
Naturally, some of the biggest names in the industry have come up as candidates for the job, including Texas Athletic Director Chris Del Conte.
Del Conte has been in charge of the Longhorns' athletic department since 2017, and despite having trouble on the football field, the department as a whole has flourished. In the last seven years, Texas has won a combined 10 national championships in men's and women's sports, and has continued to be one of the premier brands in all of sports.
So, it should come as no surprise that Del Conte's name was of interest for the USC job, but it should be equally as expected to hear that he's not interested.
According to Kirk Bohls of the Austin American-Statesman, Del Conte says, "I have no interest in any other job. Who you work for matters. I work for an incredible president who is taking Texas to new heights. I'm blessed to be here."
Del Conte is set to lead his program into uncharted territory in 2024 as the Longhorns make the jump from the Big 12 to the SEC.
Other potential replacements for Bohn include Texas A&M AD Ross Bjork, Washington AD Jen Cohen, and Baylor AD Mack Rhoades, although Rhoades said he's not been contacted by the Trojans in a recent interview with 365 Sports.