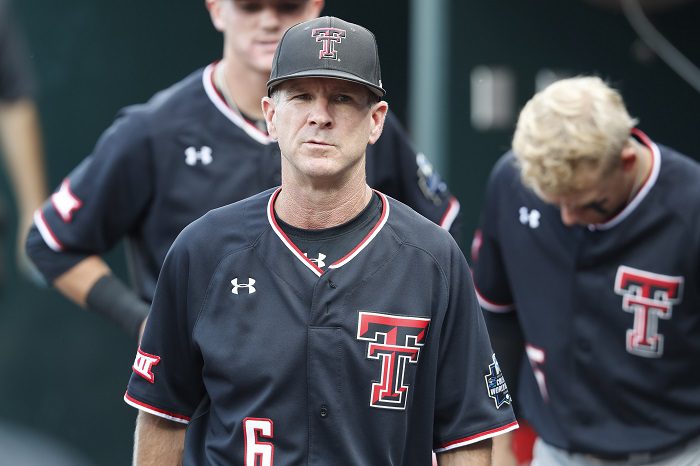 Despite a second straight exit in a Region Final, this one from the catbird seat, Tech fans should feel different this time around. Make no mistake this was their worst season since 2015, but when you look at the talent returning, boy this 2024 Tech baseball team can be scary. Obviously, Tim Tadlock won't be happy about the past couple of days, but he's going to look at what he can work with for next year and be thrilled.
There have been five Texas Tech players to hit the portal as of Monday night, however, none of these guys were even in Gainesville. There'll be more to enter, but boy does Tech have a great core, and after some of these starting pitching performances, Tech fans could see their best rotation in some time. 
The Pitchers Returning and Leaving
Barring Brandon Beckel making a really surprising decision, he'll be headed to pro ball. Ethan Coombes was effective in his one year at Tech but exhausted his eligibility. Andrew Devine unsurprisingly entered the portal, as did Freshman Jack Livingstone. The only semi-surprising entry into the transfer portal came from Hayde Key, but overall no pitchers that were in Gainesville have hit the transfer portal yet.
Starting wise there are tons of reasons for Tech fans to be excited especially after the performances from Molina, Robinson, Petty, and Rogers. Sophomores Mason Molina and Kyle Robinson combined for 22 IP, 5 ER, 28 K, 9 walks, and just 13 hits in their four starts in Arlington and Gainesville. Freshmen Zane Petty and Jacob Rogers were no slouches either as they compiled 8 IP, 2 ER, 5 K, 3 walks, and 6 hits in Gainesville against the number two team in the nation. It gets better the more you look into it as well, as Sophomore Trendan Parish who became the Saturday starter is likely to return either to the Starter mix or become the closer. While Tech fans are familiar with Owen Washburn, Jack is arguably more important, he missed this season with an injury but compiled a 3.35 ERA in 15 appearances and nine starts in 2022 at Ole Miss.
Fielders Returning and Leaving
In the outfield, Tech will lose Nolan Hester and Zac Vooletich, while Jeric Curtis has already hit the transfer portal. However, Gage Harrelson will be a sophomore, Owen Washburn should return from injury, and Dillon Carter also has extra eligibility. Outfield will certainly be more of a priority for Tech regarding Freshmen and the transfer portal, as they only have two that are certain to return.
The infield for Texas Tech is absolutely loaded, as three of their four starters aren't draft eligible, though they have lost Ty Coleman to eligibility, and both Cade McGarrh and Ryan Broome to the portal. At first, Gavin Kash will return, at short both Tracer Lopez and Will Burns are expected back. Second base may be a little dicey as Austin Green is draft eligible, but likely to stay. At third Kevin Bazzell is also not draft eligible, but I'd expect him to move to catcher, while I expect Hudson White to possibly move to second. Another player who was injured before the season was Travis Sanders who I'd expect to start at third.
As mentioned previously I expect Kevin Bazzell to move to catcher. Overall that middle infield could be littered with a talent for Texas Tech between Lopez, White, Green, and Burns, though Green could also move to the outfield. Dylan Maxcey is also just a Freshman and could again be the Saturday Catcher or challenge for the Friday/Sunday spot.
Possible Lineup
C: Kevin Bazzell/Dylan Maxcey
1B: Gavin Kash
2B: Austin Green/Hudson White
3B: Travis Sanders
SS: Tracer Lopez/Will Burns
LF: Owen Washburn
CF: Dillon Carter
RF: Gage Harellson
DH: White/Green/Maxcey/Bazzell
Bench: Damian Bravo (two-way), Drew Woodcox, 
Incoming Freshmen:
Myles Naylor
TJ Pompey
Landon Stripling
Davis Rivers
Garet Boehm
David Rey De Hoyos
Jim Long
Garrett Schroeder
Overall, only Carter and Green in this lineup are draft eligible, and neither are expected to be drafted high enough to entice them to leave.
Possible Starting Rotation
Friday: Mason Molina
Saturday: Kyle Robinson
Sunday: Jack Washburn
Mid-week: Zane Petty
Only Jack Washburn is draft eligible in this four-man rotation, I also wouldn't be shocked to see Zane Petty force his way into a weekend starting role. Bo Blessie could also return, though with his injuries I'm not considering him much here.
Potential Bullpen
Non-Draft Eligible:
Trendan Parish
Taber Fast
Jacob Rogers
Zach Erdman
Nolan Foster
Brendan Lysik
Draft Eligible:
Derek Bridges
Josh Sanders
Brendan Girton
Ryan Free
Dax Dathe
Jase Lopez
Not even considering the possibility of Beckel coming back here, but you currently have seven or eight guys in this bullpen you should feel confident about having back.
Incoming Freshmen:
Jefferey Hauer
Gavyn Jones
Chandler Coe
Cole Kaase
Carson Priebe
Sterling Bigley
Lane Bledsoe
Brady Trombello
Obviously, half the battle for incoming Freshmen is getting them to commit, then the other half is getting them on campus. There's a legitimate chance that the top commits will head to the pros, while some towards the bottom won't even make the roster.
New Players
There are a few guys to keep your eye on as possibly entering the portal, but not many that were key contributors, though some would be disappointing losses. My priority in this regard would likely be Lysik, he was effective this season, but didn't see much usage in conference play. Overall the outfield will need to be a focus of this team in the transfer portal, losing guys like Vooletich and Hester hurt badly. While Washburn and Harrelson are a heck of a young duo to keep, expect at least one transfer to be brought in via the portal. 
This infield is stacked, and practically every freshman Tech takes in the infield is a Shortstop. This group is loaded, and even if Bazzell moves from third there's so much talent in this infield. However, I'd like to see some backup in the portal at third, obviously, this depends on if the staff thinks they have a Tracer Lopez type at third coming in. If not having some backup for Sanders at third would be helpful, especially so you don't need to move Bazzell from Catcher. At first, Kash could also use some backup, as he wasn't great defensively, though he now has Gutierrez, who loves getting tossed from Florida Regionals to fire the team up, to help coach him. 
The Bullpen may be the biggest issue for this team, can they find an Ethan Coombes to come in and be a key situational guy? Another massive question will be Brandon Beckel, he's gone, but who steps up and becomes the closer? While Beckel struggled late, Tech may not have even sniffed the Tournament without him.  For some context, as a Freshman, Beckel had a 16.2 ERA, as a sophomore he had a 5.32 ERA, before becoming the lockdown guy. Someone will develop, but who they are remains a question. I think Josh Sanders could be the guy, while he struggled Monday, his previous two postseason outings he pitched four perfect innings. Trendan Parish is also very attractive, should he not be a starter.
Tadlock Will Be Licking His Chops at 2024
When you go from six College World Series in four years, to a sweep in the Supers, and two exits in the Regionals, it normally feels like a slide. Not this time though, Tim Tadlock came under more criticism than ever this past season, but the cards are stacked in a way that he should silence all critics in 2024. The 2021 Tech team was ravaged by injuries, and the 2022 team was too, but being a three-seed this year was a disappointment. This 2023 season may have been their worst since 2015, and Tech was still one defensive play away from winning a Regional against #2 Florida. 
The 2023 Texas Tech team leaves the cupboards full for 2024, and the potential is sky-high. There's work to do in player development and the portal, but I doubt any Big 12 Manager will feel better about what he has than Tadlock.