Big 12 News
UConn Big East Buyout is $30 Million: Report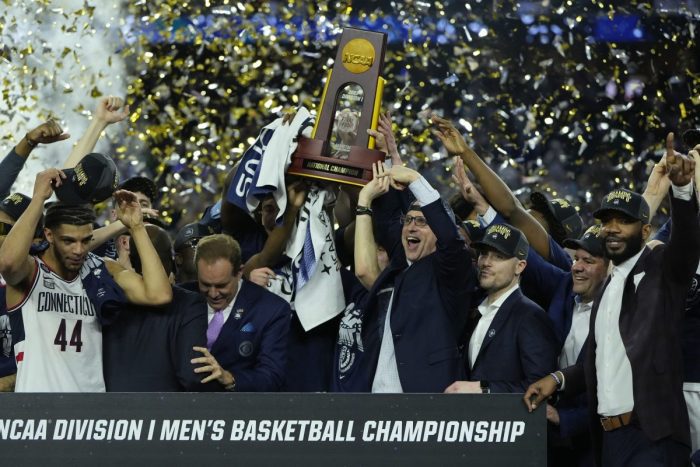 While talks of Big 12 expansion have been ramping up, the most recent team to show up as a potential fit is UConn, however, according to CBS Sports' Jon Rothstein, the Huskies reportedly would have to pay a buyout of $30 million dollars to the Big East in order to join the Big 12 Conference.
Many rumors have been circling over the last few weeks about which teams could potentially find themselves as a member of the Big 12 Conference, but with the UConn Huskies, multiple reports including statements from Jon Rothstein and Action Network's Brett McMurphy have seemingly confirmed that both parties are fielding the possibility of joining forces.
Big 12 Commissioner Brett Yormark has been actively exploring the idea of conference expansion, and in the event that UConn finds its way into the Big 12, Yormark would add another volcano of firepower into what is already the hottest basketball conference in the world.
Commissioner Yormark held an official press conference on Friday, and with rumors of UConn, Colorado, Gonzaga, and Arizona circling almost by the hour, Yormark addressed the rumors with a swift statement.
"We had a great discussion about expansion and we have a plan," Yormark said. "We have an appetite to be a national conference and we believe in the upside of basketball."
Part of the reason that rumors have been circulating so frequently is Yormark's increased focus on strengthening the basketball product, and despite already having the best basketball conference in the nation, Brett Yormark has been focusing on continuing to add that sport, which is why many believe the Huskies are close to jumping ship from the Big East.
While a $30 million dollar price tag may seem a bit hefty to exit the conference, it's important to keep in mind that just four months ago, Texas and Oklahoma paid a whopping $50M dollars each to exit the Big 12 and join the SEC just one year earlier. While UConn still has to battle through contract talks and wait for an official offer from the conference, both parties seem to be relatively interested, pending the price tag of the buyout.