featured
2023 NCAA Baseball Super Regionals: Five Things to Watch For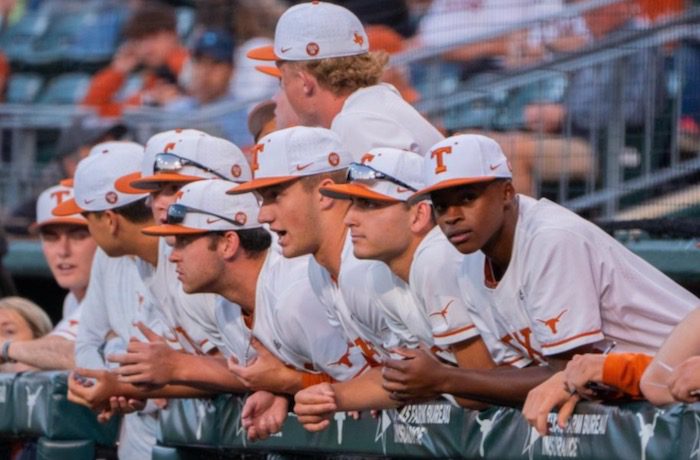 The road to Omaha began last week as 64 teams started their postseason journey. Now the field has been cut down to just 16 as we head to the Super Regionals. There are just two Big 12 teams left with Texas and TCU. Here are my five things to watch this weekend in the Super Regionals.
1. Will TCU Stay Hot?
Don't get me wrong, there are a lot of great teams still playing baseball right now, but I don't think there is a team that is hotter than TCU right now. One could make an argument for Oral Roberts, but I am sticking with the Horned Frogs here. TCU has won 17 out of their last 19 games including nine straight.
So, what exactly has made this team so hot? Look no further than their offense. The Frogs have six players hitting above the .300 mark right now with Elijah Nunez, Tre Richardson, Brayden Taylor, Cole Fontenelle, Anthony Silva, and Karson Bowen. Take a look at this mind-blowing stat.
This team is on a roll, and I am not sure if a team like Indiana State can stop it. In fact, I am not sure if there is a team in college baseball right now that can slow down TCU. If their offense continues at this ridiculous pace, I think it is safe to say that this team will be Omaha bound by the end of game two this weekend.
2. Indiana State's Pitching Staff is Really Interesting
The Sycamores have played their last eight games at home because they hosted the Missouri Valley Conference tournament two weeks ago and then hosted a regional last weekend. They would have hosted again this weekend if not for some other commitments which I will get to later.
When I look at this Indiana State team, there are certainly some interesting qualities. They have one power bat in Mike Sears, but they do have some consistent hitters. While they may not have a bunch of guys hitting over .300, almost their entire lineup is close to it. What really jumps off the page to me about this team is their pitching staff. Lane Miller, Matt Jahec, and Connor Fenlong have been their go-to guys and all three of them are solid options on the mound. Plus, Jared Spencer is a bullpen guy who earned first-team all-conference honors as well. Indiana State has no shortage of options to roll out this weekend which should create fun matchups against a great TCU lineup.
3. The Balance of Texas
When you look at the sport of college baseball, most teams have some sort of flaw. Either they can hit great and pitch poorly or vice versa. However, when you look at a team like Texas, I see nothing but a balanced baseball team. The Longhorns had the best pitching staff in the Big 12 this season with pitcher of the year Lucas Gordon alongside Lebarron Johnson Jr who pitched a complete game last weekend against Miami. Not to mention the other arms they have coming out of the bullpen.
To go along with their stellar pitching, Texas has also been doing well at the plate. Eric Kennedy, Garret Guillemette, Porter Brown, Peyton Powell, Dylan Campbell, and Jared Thomas have all been raking lately which makes this team a serious threat to win it all. I must admit, I didn't see this team being this good this season, but I was wrong. They have some great young talent and now they have an opportunity to get to Omaha when nobody gave them a chance before the year started.
4. Will Stanford's Streak End?
Baseball is a game of streaks and Stanford certainly has an impressive one right now. Stanford is now 11-0 all-time in postseason elimination games at Sunken Diamond. That is a bad number for Texas because the Longhorns are making the trip out West. Just like Texas, Stanford is a good team. They have a ton of consistency in their lineup with seven guys hitting over the .300 mark and two of them (Tommy Troy and Alberto Rios) are hitting above .390, which is insane. Their pitching may not be as good as what Texas has but they still have some capable arms. I hope the Longhorns are ready because for them to move on, they will need to break that streak.
5. The Generosity of TCU Fans
I want to take a moment to give a shoutout to the guys over at Lupton Drinking Club. For those who don't know, Indiana State was supposed to host TCU this weekend. However, due to prior commitments, they weren't able to host because they don't have the resources to make that happen. Indiana State's commitment was to the Special Olympics. Most of their staff is working at the Special Olympics and they just couldn't do both. That is why TCU is hosting Indiana State this weekend instead of the other way around. Once the school announced that, the Lupton Drinking Club asked TCU fans to donate to the Special Olympics.
It truly is great to see something like this and this is why I love college athletics in general. Hats off to the Lupton Drinking Club and everyone who donated this week.