TCU Horned Frogs
Four Thoughts on TCU's 6-4 Win Over Indiana State in the Super Regionals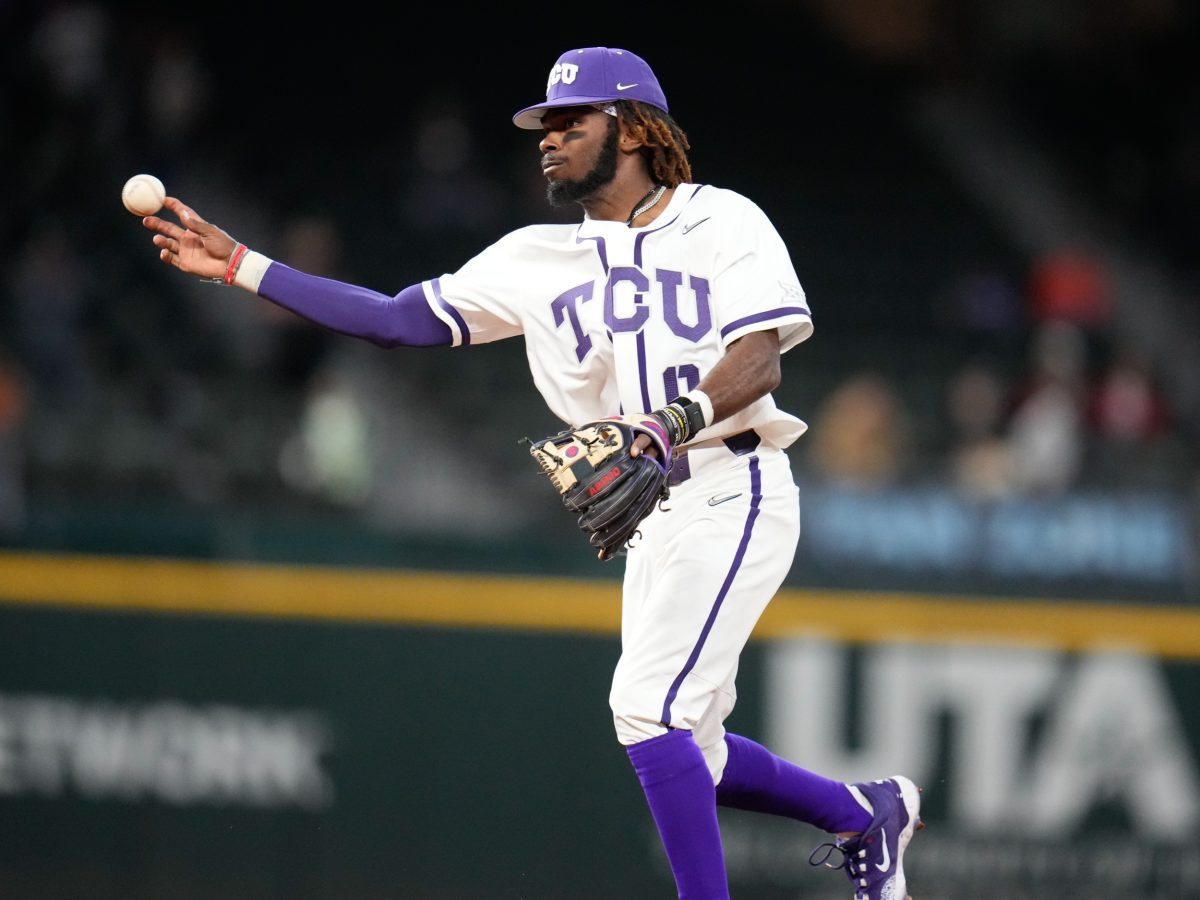 The road to Omaha began last week as 64 teams started their postseason journey. Now the field has been cut down to just 16 as we head to the Super Regionals. The TCU Horned Frogs started their Super Regional at home in Fort Worth as they hosted the Indiana State Sycamores. Here are my four thoughts on the Horned Frogs 6-4 win over the Sycamores on Saturday night.
1. Sam Stoutenborough Was Solid
Sam got the start for TCU on Saturday, and I was skeptical about how he would do against Indiana State. He struggled early as he got himself into a jam in the first inning. The Sycamores were able to score two runs right away before Stoutenborough was able get out of trouble.
Thankfully for TCU, Sam settled down after the shaky start and really got into a groove for the rest of his time on the mound. After giving up a single in the second inning, Stoutenborough retired ten straight batters before giving up another hit. He ended up getting pulled with one out in the fifth inning and finished the evening giving up just three runs.
Against a team like Indiana State, I thought that was pretty good and he put his team in a great position to win this game.
2. TCU Got to Indiana State's Ace
The Sycamores saved their ace pitcher Connor Fenlong for Saturday. Fenlong was the Missouri Valley pitcher of the year and held a 1.38 ERA since April 23rd. He also pitched four shutouts in his last seven starts prior to Saturday's game.
While Connor Fenlong looked good for three innings, the bats of TCU woke up and caught fire in the bottom of the fourth inning. Tre Richardson brought in the first run with his infield single before a throwing error tied the game at two. Anthony Silva and Luke Boyers both drove in runs to give the Horned Frogs the lead. TCU's final run in the inning came when Austin Davis hit an RBI groundout as the Frogs ended the fourth scoring five runs.
The Horned Frogs would score their final run of the game in the sixth inning as Cole Fontenelle hit a laser to right field that was hit 110.2 mph. Connor Fenlong's night ended in the seventh inning as TCU put up six runs on him, which was a season high. I thought the Horned Frogs did a great job against an outstanding pitcher and their offense continues to stay hot going heading into Omaha.
3. Another Fantastic Crowd
After breaking the TCU attendance record on Friday afternoon, Horned Frog fans once again packed Lupton Stadium and broke Friday's record crowd of 8,812. Even after a two-hour delay, 8,994 TCU fans made their way to the game.
People came early, tailgated and there was a huge line to get into the stadium when the gates opened. With these two outstanding crowds, TCU now has the two highest attended games in college baseball history in the state of Texas.
4. Hello Omaha
For the first time since 2017, the TCU Horned Frogs are heading to Omaha. It's been a wild ride to get there because going into the month of May, TCU was 23-20. As a team they were hitting .274 and had an ERA of 5.50. Since May 1st, TCU is 19-2 and hitting over .350 as a team with an ERA under 3.00. This team has won eleven games in a row as they have now made their way to the College World Series. It's not about how a team starts the season; it's about how they finish. There is no hotter team in college baseball right now than TCU and they have a legitimate chance to win it all.