Baylor Bears
Postscripts: Pac-12 Media Spin, Oklahoma Softball Greatness Unmatched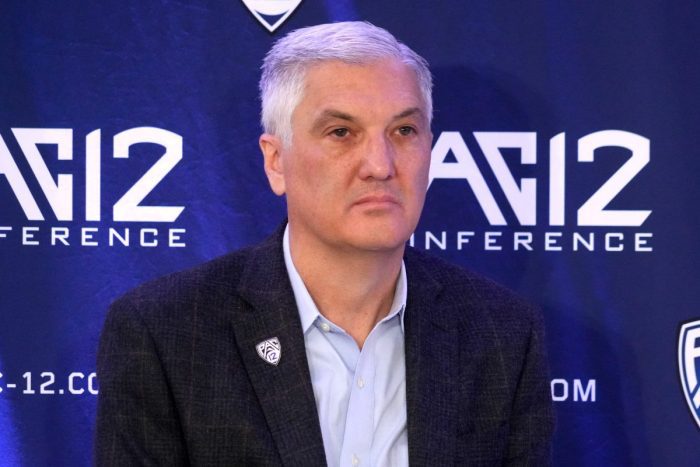 What's going on in the Big 12 and beyond? I expand and explain every Sunday in Postscripts at Heartland College Sports, your home for independent Big 12 coverage.
This week, tip your hat to Oklahoma softball — and embrace the dominance — the Pac-12's got plenty of stuff and Brittney Griner is back in Texas (at least for one night).
Oklahoma's Greatness Is Unreal
The Oklahoma Sooners won their third straight national softball title earlier this week. They did it losing just one game all season (to Baylor, by the way). Our Bryan Clinton presented the case that this edition of the Sooners might be the best softball team in history.
But the program's greatness is broader than that.
The Sooners have won seven national titles under coach Patto Gasso, dating back to 2000. But the program has won six of them since 2013. OU has won five in the last seven tournaments (excluding the 2020 COVID season).
OU has lost eight games in the last three seasons. The program is dominance personified.
So, OF COURSE, there's a backlash because how dare a team win three national titles in a row in any sport?
I saw it on Twitter. 'Break up the Sooners' said several uneducated softball fans (I'm going to assume they're uneducated because most of them had like 12 followers).
That's just hogwash. This is greatness you're watching, and no matter the sport, no matter how long the dominance lasts, you should embrace it. Because it's fleeting.
The last team to win three straight titles in softball was UCLA, which did it in 1988-90. To those that were there, the greatness of those teams is seared in their minds. For the rest of us it's a snapshot in time.
This will be a snapshot in time to your kids. But for you, the sports fan of right now, this is perhaps the best softball team you'll ever see playing the game at such a level that it should be relished and not ignored. By the way, OU's dominance isn't exactly hurting the sports' ratings, either.
So, no, don't break up the Sooners. These teams that are chasing them, they'll get better and, eventually, they'll catch them. That's how sports works.
Oh, and this whole movement to take the Women's College World Series from Oklahoma City because of its geographic proximity to Norman? Shut up. OKC has been the epicenter of softball for decades, and not just the NCAAs. When I covered high school sports every softball player I covered when to OKC for national tournaments. It's been home to the governing body of the sport since 1966.
It would be like ripping Churchill Downs out of Louisville at this point. OKC is the spirit of that sport. Knock it off.
This Week in "As The Pac-12 Turns"
Grant. Of. Rights. Let's talk about it.
On Wednesday, Oregon radio host John Canzano wrote that the Pac-12 had verbally agreed to a grant-of-rights. This agreement also included equal shares of media-rights revenue with performance-based distribution of College Football Playoff revenue.
On the surface, this is good news. Revenue sharing has been a tricky topic for the Pac-12 because some members wanted unequal revenue sharing (looking at you, Oregon and Washington). The idea of performance-based distribution for CFP money is a good middle ground. Plus, if you can agree on the Grant of Rights in the media deal, all you need is a media deal to be finalized. Yeah, I know, I know. We'll get to that.
Assuming all of this is accurate, then the conference has laid the groundwork for a quick approval once they have it.
Well, you know what happens when you assume, right?
Quickly, cracks emerged. Turns out, according to Ross Dellenger at Sports Illustrated, this verbal agreement has been around for a few weeks. This wasn't exactly breaking news. But, hey, maybe Canzano got a few SubStack subscriptions out of it?
They may have wanted their money back after listening to Arizona president Robert C. Robbins.
Of all the presidents in the Pac-12, he's the one I've tracked the most throughout this process. Why? He seems to be the straightest shooter of the bunch. Back in March, while saying he wants Arizona to stay in the Pac-12, he admitted that he needed to see the Pac-12's "number" before making a decision. He needed to compare that number to the Big 12, saying "I know the Big 12's number. I need to see ours."
Well, as luck would have it, Robbins was appearing on Paul Finebaum's show (I'm not entirely sure why the SEC-centric Finebaum was talking to anyone in the Pac-12, but whatever — it's summer. Let's roll with it).
So Finebaum basically said, "Hey, this is great news for you." Robbins was like, "Wut?" Here's the clip.
Turns out …
So … explain how a university president — one that actually has to vote up or down on this media rights deal — doesn't know that there's a verbal agreement on a Grant of Rights that would bind the league together for the life of the TV contract?
There's no logical explanation. This doesn't seem like a misunderstanding on Robbins' part. This doesn't seem like he's playing dumb as a negotiating ploy. It seems like he flat didn't know. And he sounds kinda ticked off about it.
If you're trying to push a team out of your league and into the arms of another league, this is a really good way to do it.
He also said he believe the Pac-12 would have a media deal in a matter of weeks. For that matter, so did Washington State president Kirk Schulz. He said it could be done by the end of June (yeah, I know, heard that before).
While talking with WSU's Board of Regents about the athletic department's budget shortfall (it's not good, that's for sure), he handicapped getting a deal done at "seven" out of 10.
At this point, a Pac-12 TV deal is like getting emotionally invested in Texas football — you're just setting yourself up for disappointment. Unless … Texas is back?
What are the odds of either being right the same year?
BG is Back
Former Baylor star Brittney Griner returned to the Dallas area on Wednesday with the Phoenix Mercury to face the Dallas Wings in WNBA action. It's BG's first season back since spending most of last year in a Russian prison. I was committed to covering the Rangers-Cardinals game and couldn't go.
But you know who did go? Baylor head coach Nicki Collen and her Bears. They made the trip up from Waco, met Griner before the game and brought her some gifts. Here's the tweet (because if there's no tweet then it didn't happen):
This is the interesting part. Collen wasn't Griner's coach. She took over the program two seasons ago for Kim Mulkey, who left to take the job at LSU. None of Collen's players have any discernable connection to Griner. Yet, they all made the trip during summer workouts to support Griner. Collen was vocally supportive of Griner throughout her 10-month imprisonment.
And Mulkey? Well, her comments at the beginning of Griner's incarceration amounted to silence until September, when she was asked about whether she had commented or not and Mulkey said "and you won't."
That led to two of Mulkey's former players calling her out — Queen Egbo and Chloe Jackson. To be fair, Griner's and Mulkey's relationship has been strained for a long time, since Griner left Baylor and told reporters that Mulkey wanted players to keep their sexuality under wraps in case it impact recruiting. Griner came out as gay in 2013.
Mulkey did comment about Griner on a Tiger Rag podcast in June and released a statement to ESPN in December after Griner's release (you can read the comments here).
But, as of March, the pair hadn't spoken, per ESPN. Mulkey did say "I'm glad she's back" during the Tigers' NCAA Tournament run.
It would be nice to see Mulkey and Griner connect at some point. But that will be up to them. For now, it sure looks like Mulkey's successor has done much more to support Griner the past 18 months than Mulkey herself.
You can find Matthew Postins on Twitter @PostinsPostcard