Baylor Bears
Big 12 Football: 17 Players Listed Among Impact True Freshmen in 2023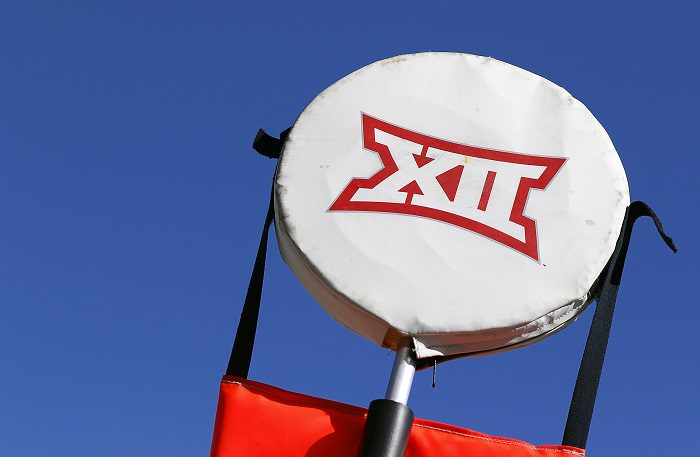 247Sports' Chris Hummer published a story titled, "The Next Wave: 100 true freshmen who will impact the 2023 college football season" on Monday, and several Big 12 players made the cut.
In fact, 17 of the 100 true freshmen on the list will play in the 14-team Big 12 in 2023, and all of them are expected to be instant contributors for their respective teams.
With BYU, Cincinnati, Houston, and UCF joining the conference, as well as Oklahoma and Texas sticking around for another year, the 2023 college football season should be one to remember, and it appears it might be a year chock-full of breakout freshmen.
Here's a look at Hummer's list for the Big 12, courtesy of 247Sports.
Bryson Washington, RB, Baylor
Top247 Rank: 87 rating, No. 59 ATH
A dominant two-way high school player who ran for more than 2,000 yards as a senior at Franklin (Texas), Washington continued to produce as an early enrollee this spring. The early returns on Washington are strong with the first-year back being an excellent fit for the Bears' wide-zone scheme. Washington will be behind a pair of productive returning backs (Richard Reese, Dominic Richardson), but it was only a year ago we saw a true freshman back (Reese) force his way into the lineup in Waco. The 6-foot, 205-pound Washington will be hard to keep off the field.
Siale Esera, EDGE, BYU
Top247 Rank: 87 rating, No. 74 EDGE
One of BYU's biggest recruiting wins of the 2023 cycle, Esera — listed as a linebacker by the program but ranked as an edge rusher by 247Sports — is the type of impact player the Cougars need as they transition to the Big 12. Esera did not enroll early, but the local product from Provo (Utah) Timpview was at a ton of practices this spring. The 6-foot-3, 250-pounder is expected to compete for immediate playing time off the edge.
Barry Jackson, WR, Cincinnati
Top247 Rank: 86 rating, No. 174 WR
Jackson proved to be a spring game standout with a huge performance that included a 34-yard touchdown catch. The 5-foot-11, 175-pounder played a pretty big role all spring as the Bearcats attempted to replace almost their entire wide receiver two deep from last season. While the expectation is Jackson will eventually be overtaken by incoming transfers, he's likely earned himself some snaps.
"He's really grown up a lot in a short period of time and is certainly a guy that we'll use in the fall," Cincinnati head coach Scott Satterfield said after the spring game. "Maybe we didn't know if we would or not early in the spring. And now that you're starting to look at it, he's going to make us play him, which is what you want."
Jonah Wilson, WR, Houston
Top247 Rank: 91 rating, No. 36 WR
The sixth-highest-rated recruit ever to sign with the Cougars coming out of high school, the four-star prospect from Houston Dekaney has a chance to get on the field immediately upon arrival this summer. Houston is losing its top two wide receivers from last season, so there's space for Wilson to slot in on the field even with a few transfers also incoming. Said one source on Wilson: "He's going to find his way on the field."
Jordan Allen, EDGE, Kansas State
Top247 Rank: 90 rating, No. 38 EDGE
The biggest question of the offseason for Kansas State is who will step up on the defensive line, and Allen has a chance to help answer that query when he arrives this summer. One of the highest-ranked recruits to sign with the Wildcats the last decade, the four-star prospect from Olathe (Kan.) South arrives with a college-ready frame and the type of explosiveness off the edge that there just isn't a lot of in Manhattan. He won't start, but don't be shocked to see him on the two deep.
Peyton Bowen, S, Oklahoma
Top247 Rank: No. 57 overall, No. 3 safety
You could argue safety is one of Oklahoma's deepest positions with both Billy Bowman and Key Lawrence back, along with Texas Tech transfer Reggie Pearson. But good luck keeping Bowen off the field. Fans got a glimpse of his talents in the spring game when he intercepted Dillon Gabriel on a deep shot. Bowen is going to be in the two deep at safety and can also play some nickel. He'll see plenty of reps this year, helping a Sooners pass defense that needs to take a major step.
Jasiah Wagoner, CB, Oklahoma
Top247 Rank: 91 rating, No. 31 CB
Speaking of players who could help a shaky pass defense, Wagoner is another to watch after a strong spring practice run. The Spanaway (Wash.) Lake product earned his share of first-team reps, and he's well positioned to play important snaps for OU after Jaden Davis transferred and D.J. Graham switched to the offensive side of the ball. The 5-foot-11, 171-pound Wagoner has also drawn high praise from the Sooners staff publicly.
"He's a pitbull in everything he does, every aspect of his like," Oklahoma cornerbacks coach Jay Valai said in March. "He doesn't flinch. Electric feet."
Adepoju Adebawore, EDGE, Oklahoma
Top247 Rank: No. 9 overall, No. 2 EDGE
One of the true athletic freaks from the 2023 class, Adebawore pairs his 6-foot-5, 225-pound frame with an 85-inch wingspan, 10-inch hands and a verified 4.8 seconds in the 40-yard dash — and 34 inches in the vertical jump. He's an athletic marvel and someone who will only get freakier as he adds weight. As it is, Adebawore is fast and twitchy enough to make an immediate impact. Oklahoma needs him to do so, too. The Sooners struggled to generate pressure without blitzing last year (a usual staple of Brent Venables' defenses), and Adebawore and a few transfers should help address that issue.
Jonathan Bax, LB, TCU
Top247 Rank: 88 rating, No. 46 LB
 One of the clear standouts from TCU's 15 spring practices, Bax spent time repping with the twos but also took some first-team reps as well. Bax is big for a true freshman (6-foot-3, 237 pounds) and came in with a willingness to stick his nose in the box. Linebacker will continue to be a bit of an adjustment for the high school edge rusher, but those in Fort Worth have raved about his talent and potential.
Jamel Johnson, S, TCU
Top247 Rank: 90 rating, No. 30 safety
The 6-foot-1, 190-pound Johnson came in right away and impressed the Horned Frogs coaching staff. A physical player with college-ready size from the jump, Johnson showed to be instinctual in coverage and stout enough in man-to-man coverage to hold up in Joe Gillespie's scheme. Like Bax, Johnson is expected to carve out an immediate role on the two deep.
Anthony Hill, LB, Texas
Top247 Rank: No. 17 overall, No. 1 LB
There's a good chance that the 6-foot-3, 229-pound Hill is a starter in Week 1 against Rice. Hill had an outstanding spring to the point where Texas head coach Steve Sarkisian already named him one of Texas' two best pass rushers on the team. Hill provides extreme versatility at linebacker, to the point 247Sports college football analyst Blake Brockermeyer compared him to Micah Parsons and Harold Perkins.
Cedric Baxter, RB, Texas
Top247 Rank: No. 30 overall, No. 1 RB
 Bijan Robinson and Roschon Johnson are off to the NFL, leaving a more-than-2,000-yard hole for Texas to fill in its backfield. Baxter won't likely start right away — Jonathon Brooks is the favorite — but the 6-foot-1, 210-pounder will be part of Texas' rotation. Baxter had a strong spring, including a touchdown in the spring game, and is primed to be a big part of the offense as a true freshman like Robinson was back in 2020 as a five-star true freshman.
Johntay Cook, WR, Texas
Top247 Rank: No. 38 overall, No. 7 WR
The 6-foot, 184-pound Cook's big-play ability was fully on display during Texas' spring game when he connected with backup QB Maalik Murphy on a 79-yard bomb. That play is a flash of the potential Cook showed all spring, a stretch in which he impressed his Longhorn teammates and coaches. The question with Cook is just how much playing time is available. The Longhorns have a ton of depth at wide receiver, and Cook enters the 2023 season as — at best — the fifth option. But there's always a place on the field for a playmaker like Cook, and you can expect him to pop a few times as the year progresses.
Malik Muhammad, CB, Texas
Top247 Rank: No. 74 overall, No. 5 CB
Muhammad is Texas' highest-ranked cornerback signee since 2007 per the all-time 247Sports Composite historical rankings. No surprise that he made an immediate impression upon his arrival in Austin. The 6-foot, 177-pound product of Dallas South Oak Cliff was one of the standouts of the spring for the Longhorns, forcing his way into the two deep by the end of the team's 15-practice run. Ryan Watts and Terrance Brooks look to have Texas' outside cornerback jobs locked down, but Muhammad might end up being the next up in the rotation and looks like a future multi-year starter.
John Walker, DL, UCF
Top247 Rank: No. 99 overall, No. 14 DL
Pretty easy choice here. Walker is the only top-100 recruit to ever sign with the Knights, and he's exactly the type of presence they need for a transition into the Big 12. The 6-foot-4, 300-pounder has college-ready size and had massive high school production in one of Florida's highest classifications at Kissimmee (Fla.) Osceola. He's not likely to start right away — UCF has good DT depth — but he'll see the field plenty as a true freshman.
Brendan Jordan, S, Texas Tech
Top247 Rank: No. 206 overall, No. 16 safety
One of the highlight members of Texas Tech's first top-25 class since 2011, Jordan made an immediate impression upon arrival in Lubbock as an early enrollee. The 6-foot, 210-pound  Jordan had a series of strong practices to the point he's already worked his way into the two deep for Texas Tech. The Red Raiders' trio of starting safeties are among the Big 12's best, but Jordan is still going to see plenty of time in the rotation.
 Miquel Dingle, LB, Texas Tech
Top247 Rank: 88 rating, No. 61 LB
There aren't a lot of 6-foot-2, 220-pound people who move like Dingle, who in high school posted a 100-meter-dash time of 10.92 seconds — along with a 23-foot long jump. Those are exceptional numbers, and his athleticism was on full display this spring, where he was a special teams standout. Said one Texas Tech source of Dingle: "He might be the best special teams player in the country coverage wise."