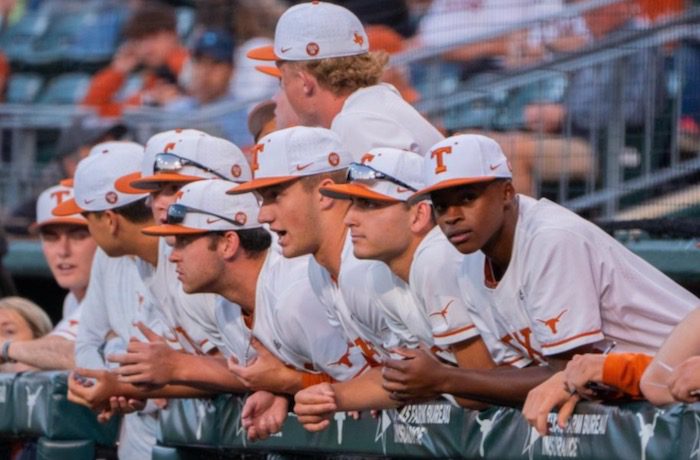 The road to Omaha began last week as 64 teams started their postseason journey. Now the field has been cut down to just 16 as we head to the Super Regionals. The Texas Longhorns started their Super Regional on the road in Palo Alto, California as they took on the Stanford Cardinal. Here are my four thoughts on the Longhorns 6-7 loss on Monday night.
1. Tanner Witt Struggled Early
With Lucas Gordon and Lebarron Johnson Jr. having already pitched in this series, Texas head coach David Pierce decided to give Tanner Witt the start for Monday's game three of the Super Regionals. Witt was a freshman All-American back in 2021 before having his 2022 season cut short and ended up having Tommy John surgery. He made his first appearance in May but has yet to pitch more than three innings.
On Monday night against Stanford, Witt lasted just one inning before being pulled. He gave up three runs and then was replaced by Zane Morehouse. I know Witt probably doesn't feel 100% healthy which is probably why he hasn't looked the same this season.
2. Texas Had Another Late Rally
Going into the eighth inning, Texas was down 6-3. Jalin Flores was the first man up to bat and was walked. Jack O'Dowd followed that up with a double that moved Flores to third. Texas would go on to score their first run of the inning when Mitchell Daly hit a sac-fly that brought in Flores. Then came the two big hits for Texas. Peyton Powell hit an RBI-double and then Dylan Campbell was able to bring in Powell with his RBI-single to tie the game at six.
As crazy as the top of the inning was, the bottom of the inning was just as crazy. Lucas Gordon came in to replace Zane Morehouse after throwing over 100 pitches just 48 hours ago. With two runners on and one out, Stanford's Tommy Troy hit a fly ball to deep right field out to Dylan Campbell. As Campbell caught it, Stanford's Saborn Campbell tagged up at second and made his way to third. But he wouldn't make it there because Dylan Campbell threw an absolute laser to third base and threw the other Campbell out for the double play. It was one heck of a way to end this wild inning.
Just like in game one of this series, the Longhorns found a way to get back into the game late. Their backs were against the wall here and they didn't back down at all. To me, that says a lot about this team.
3. The Ninth Inning Was Drunk
I am not sure of any other way to describe the ninth inning. The things that happened in this inning are things I have never seen before in a baseball game. The game was tied at six going into the bottom of the inning and Lucas Gordon was able to get two quick outs. Then came up Pac-12 player of the year Albert Rios who hit a deep drive to left field. Initially, I thought it was gone and so did Rios because as he was rounding first base, he threw off his helmet and then quickly realized it bounced off the wall.
Then just two batters later, Drew Bowser hit a pop up into the outfield and what seemed like a routine play turned into a nightmare as nobody was able to locate the fly ball. Instead of it being caught, it fell onto the ground as the winning run came across the plate.
It was one of the most bizarre endings to a baseball game that I have ever seen. Apparently, it seems to be a common theme out there at Stanford.
Unfortunately for Texas, this mishap ended up costing them the series.
4. Bad Ending to a Great Season for Texas
Coming into this season, most people knew it was going to be a rebuilding year for David Pierce. Texas lost a ton of key players from their Omaha teams in 2021 and 2022 and had a bunch of new faces in the starting lineup. This team was picked to finish fourth in the Big 12 in the preseason and they ended up clinching a share of the conference title. They then went on the road in the regionals and cleaned house out in Miami by winning three straight games. The only thing that stood in the way of them and three straight trips to Omaha was Stanford. While they were able to miraculously win game one, they got beat up in game two and then lost on a wild pop fly on Monday night. I know this team didn't want to end the season like this but when you look back, they really did accomplish a lot this year and Texas fans should be proud of this team.