Big 12 News
Brett Yormark Has Been 'Tremendous for the League': Kansas AD Travis Goff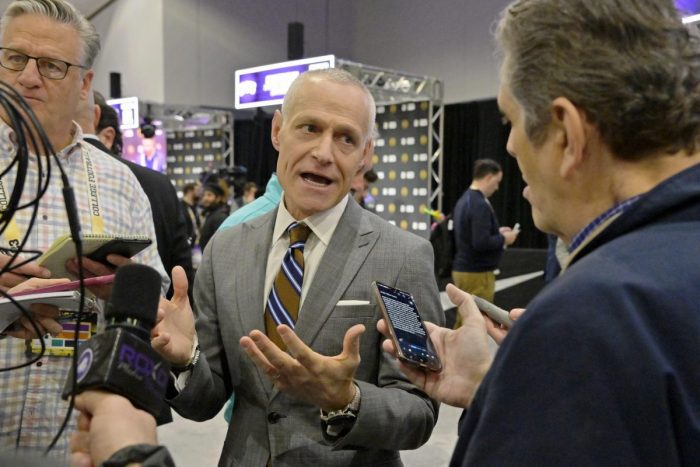 Since taking over as the Big 12 Commissioner last summer, Brett Yormark has been as forward-thinking a commissioner as there is in the country.
With plans to expand the Big 12's footprint by adding new members, to broadening the scope of the conference's reach by sending sports teams to play in Mexico, Yormark has done what is necessary to ensure that his conference has a tangible foothold as one of the "power conferences" going forward.
In an exclusive interview with Heartland College Sports, Kansas Athletic Director Travis Goff spoke about the impact that Yormark has made on the league in his short time as commissioner.
"He's just been tremendous for the league," Goff said of Yormark. "We were in Big 12 meetings in West Virginia and we shook our heads when we were reminded that he's only been with us for nine or 10 months. It looks like it's been two years of him driving and pushing the conference forward. That's a testament to his ambition, his motor, his creative lens, and marketing mindset. We have exceptional confidence in where the league is going."
Goff then went on to say how Yormark has impacted the conference's top minds, and how they view the fabric of the Big 12, which has been strengthened tremendously over the last several months.
"The way in which we're unified really has been strengthened. I think the new four that have come on board and been part of our meetings really for the year have been very additive in terms of leadership and perspective. I think we're all bullish on the Big 12."
When Yormark was interviewing to be the next commissioner of the Big 12, his forward-thinking mindset and dreamer's mentality is really what separated him as the top candidate for the job, according to Goff.
"Not many of us, if any of us, knew who he was in terms of his backdrop or his history, so that was unique" Goff said of the Big 12 commissioner. "But, I remember talking to Chancellor [Douglas] Girod and him giving me some inside baseball after the hiring. The committee asked the finalists to come back and be prepared to talk about two big ideas for the conference. 'Give us two or three big ideas.' When it was Brett's [Yormark's] session in that interview, Chancellor Girod told me that Brett came back with like 15 big ideas. He had told me that early when Brett was just getting started and that's the way it's played out.
"Brett [Yormark] is constantly looking at ways to differentiate the Big 12 in a crowded and very competitive environment. He's looking at ways to think progressively, aggressively, out-of-the-box. And, again, in just nine or 10 months, it's pretty remarkable getting out in front on that TV deal and then executing it. I think it's one thing to say, 'We're gonna enter the market early.' It's another thing to execute it and really maximize the opportunity at that moment in time."