Oklahoma Sooners
Oklahoma to Update Tailgating Policies Ahead of SEC Move: Report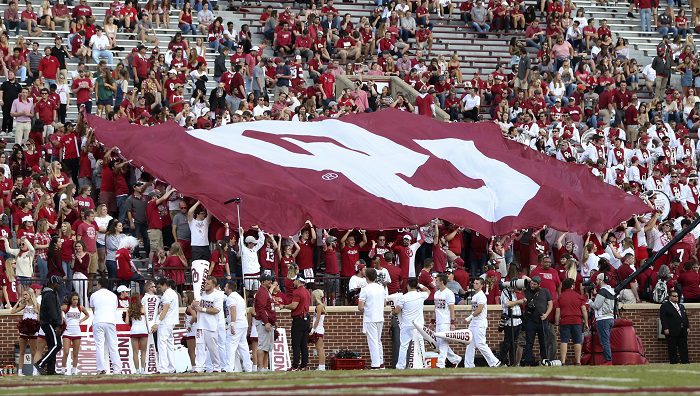 One of the glaring issues that Oklahoma has heading into the SEC is the home-game environment outside of the stadium lacking, especially when compared to schools in its new conference, who are among the nation's best in gameday atmosphere.
Since 2017, the University of Oklahoma has prohibited fans from setting up for tailgates on Lindsey Street, which runs along the South end of Memorial Stadium. Instead, there have been corporate tailgates in that area, which has significantly hurt the atmosphere in Norman.
However, there might be some changes coming down the pike, according to SoonerScoop's George Stoia. After a Board of Regents meeting on Wednesday, Stoia caught up with Oklahoma president Joe Harroz, who discussed potential changes coming to OU's tailgating scene.
"You all saw some of the drama over the last couple of years over this," Harroz told SoonerScoop on Wednesday. "So it seemed like it was the right time even if we weren't going to the SEC to take a look at our policy. And see does it provide the best fan experience? Does it create the right safe environment? And the balance of those two. But with us going to the SEC, it was important to not just check in for a routine check, but look at it pretty deeply."
While he hasn't seen it firsthand, President Harroz seems to understand that the SEC is a different animal when it comes to creating a gameday atmosphere. Ole Miss, LSU, Georgia, and Alabama have some of the best tailgating scenes in America, and Oklahoma is currently
"We all know the names of those (schools) that do remarkable things," Harroz said. "I haven't been there, but I know it's something special. You can sort of go through the list. Part of this from both our perspectives was to go take a look at those… Look at those experiences and see what we can incorporate to make our experience special and make sure it was appropriately safe.
"With this transition, we need to do it. And doing it a year before we go there gives us the chance to find what are the bugs in it going into next year's season."
President Harroz isn't the only one with changes on his mind though, especially with the Sooners' 2024 schedule dropping on Wednesday night. During the Oklahoma 2024 Schedule Reveal Show, Head Coach Brent Venables shared his thoughts on the tailgating scene in Norman and how things are going to have to change.
"Every patch of the grass is going to have a vehicle on it… Every patch," Venables said. "And the grass is going to grow back just fine. And people are going to clean up after themselves. When you go on the road, you're going to see tailgating at its finest. Hopefully, we can progress and be able to do that.
"To me, tailgating creates this amazing place to have memories, to remember moments and to build relationships and to share passion, love and joy for your university. It's one thing to do it on a slab of concrete. But to compete and find a spot and camp out for a couple of days and do your thing from the beginning to the end of a college Saturday, (it's special)."