BYU Cougars
ESPN FPI Gives Three Teams '0%' Chance of Winning Big 12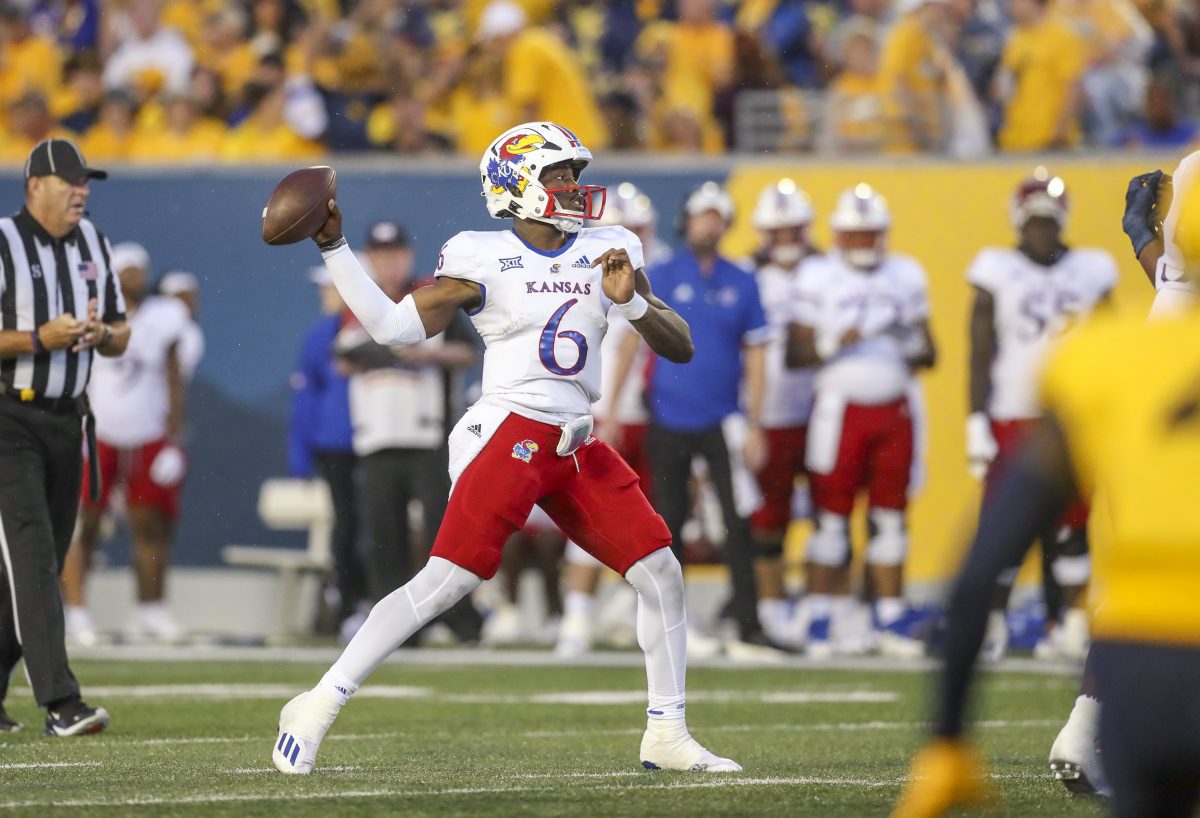 The preseason college football talk is about to start heating up as we inch closer to Big 12 media days next month. We are now less than three months removed from the 2023 college football season, which means it's just about time to start getting familiar with the contenders in the Big 12 title race.
According to ESPN FPI, the Texas Longhorns look to be the favorite to win the 2023 Big 12 Championship, with a 54.4% chance to take home the trophy as they head out the door to the SEC. Just behind the Longhorns is Oklahoma, who has a 24.5% chance to win the conference title.
As we run down the list, we see TCU (5.7%), Texas Tech (3.8%), Baylor (3.2%), Kansas State (2.9%), UCF (2.5%), and Oklahoma State (2.0%) all with more than a 1% chance to win the title. Cincinnati (0.6%), Iowa State (0.3%), and Houston (0.1%) all at least have a chance to win it as well, but three teams might as well just pack it up and go home.
According to ESPN's FPI, BYU, West Virginia, and Kansas have a zero percent chance of winning the Big 12 in 2023. Now, I'm not here to sell you on why any of these teams should be the favorite, or even in the top five, but 0%?
At least give them 0.1% like Houston got, that way they're at least on the board.
Here's a look at the entire Big 12's FPI rankings, courtesy of ESPN.
| Team | FPI | Rank | Proj. W-L | Win Out % | 6 Wins% | Win Conf % | Playoff % | Make NC % | Win NC % |
| --- | --- | --- | --- | --- | --- | --- | --- | --- | --- |
| Texas | 21.9 | 5 | 10.1-2.6 | 2.9 | 99.9 | 54.4 | 34.2 | 14.5 | 5.7 |
| Oklahoma | 16.9 | 11 | 9.7-2.8 | 2.1 | 99.7 | 24.5 | 10.7 | 3.2 | 1.0 |
| TCU | 13.0 | 17 | 8.1-4.1 | 0.1 | 96.0 | 5.7 | 1.2 | 0.3 | 0.1 |
| Texas Tech | 10.8 | 22 | 7.5-4.6 | 0.1 | 90.8 | 3.8 | 0.5 | 0.1 | 0.0 |
| Baylor | 10.7 | 23 | 7.4-4.7 | 0.0 | 90.0 | 3.2 | 0.2 | 0.0 | 0.0 |
| UCF | 10.0 | 26 | 7.7-4.4 | 0.1 | 92.5 | 2.5 | 0.2 | 0.0 | 0.0 |
| Kansas State | 9.8 | 27 | 7.4-4.7 | 0.0 | 88.7 | 2.9 | 0.1 | 0.0 | 0.0 |
| Oklahoma State | 6.9 | 38 | 7.5-4.6 | 0.0 | 89.9 | 2.0 | 0.0 | 0.0 | 0.0 |
| Iowa State | 5.6 | 43 | 5.8-6.2 | 0.0 | 57.7 | 0.3 | 0.0 | 0.0 | 0.0 |
| Cincinnati | 4.9 | 48 | 6.3-5.7 | 0.0 | 68.9 | 0.6 | 0.0 | 0.0 | 0.0 |
| Houston | 2.5 | 54 | 5.2-6.8 | 0.0 | 42.2 | 0.1 | 0.0 | 0.0 | 0.0 |
| West Virginia | 1.4 | 57 | 4.3-7.7 | 0.0 | 20.1 | 0.0 | 0.0 | 0.0 | 0.0 |
| BYU | 1.0 | 60 | 4.9-7.1 | 0.0 | 32.9 | 0.0 | 0.0 | 0.0 | 0.0 |
| Kansas | -1.2 | 68 | 4.1-7.9 | 0.0 | 16.0 | 0.0 | 0.0 | 0.0 | 0.0 |