featured
Why Colin Cowherd is Wrong Predicting Oklahoma Football Could End Up Like Nebraska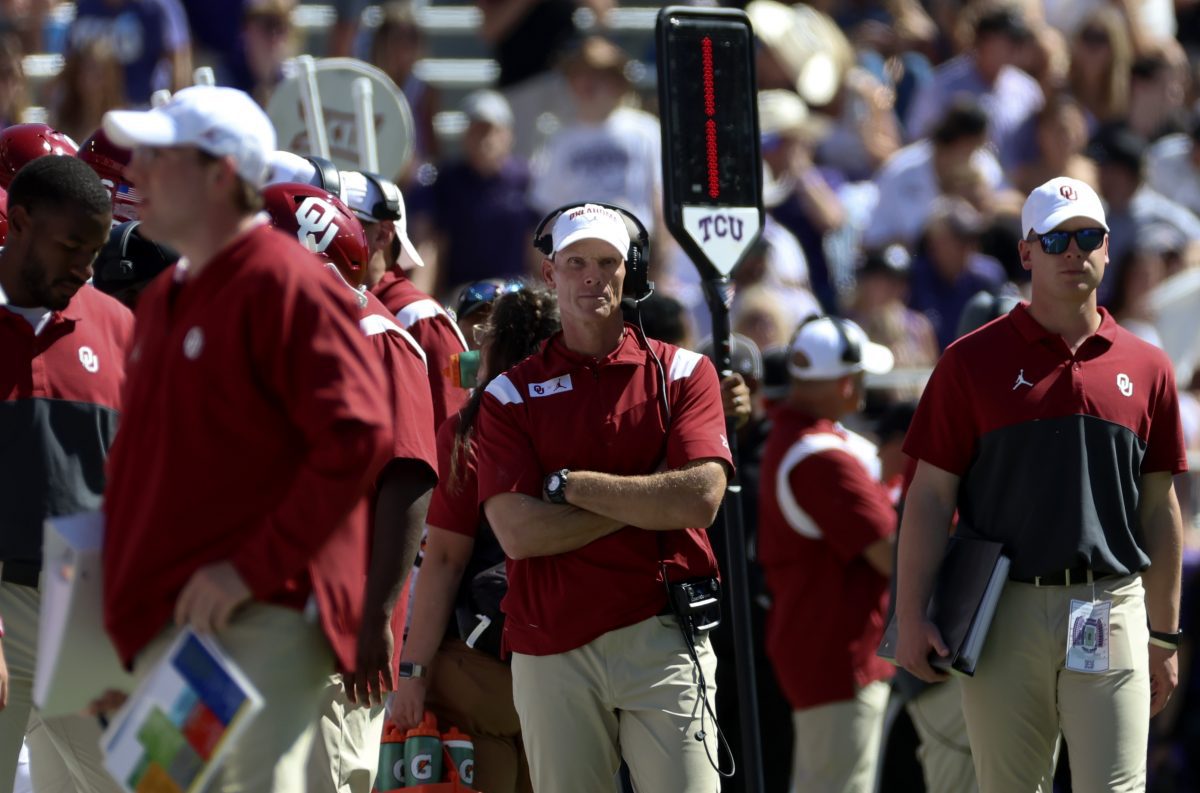 Colin Cowherd has been a regular thorn in the sides of Oklahoma fans for around 18 months now, and it likely won't stop until the Sooners can climb out of the hole they dug last season.
Since Lincoln Riley took over at USC, Brent Venables, and the Oklahoma Sooners have been a regular topic on The Herd with Colin Cowherd.
After Oklahoma went 6-7 in 2022, its first losing season since John Blake was playing quarterback back in 1998, Cowherd has taken every chance he can to spell disaster and anguish for the storied program.
In the latest instance, Cowherd likened the Oklahoma program to Nebraska, which hasn't had a winning season since 2016 or a 10-win season since 2012.
At one point, Cowherd says, "Keep your eye on Oklahoma. Are they going to be the second program in our adult life that disappears?" Here's the clip from his Twitter page.
To support his opinion, Cowherd give three supporting reasons why Nebraska "disappeared" from relevancy, and why Oklahoma is headed for the same fate.
Nebraska and Oklahoma both lack top-end in-state high school talent.
They both joined a conference that looks like trouble for the program.
They couldn't get the coach right.
Now, while Cowherd has a valid opinion on some concerns for the Sooners, there are some holes in his theory. Let's break each of them down.
In-State Talent
Cowherd's claim about in-state recruiting not being able to provide Nebraska and Oklahoma with enough talent to remain competitive is a valid point. Both states lack the elite talent that states like Texas, Florida, and California pump out every year. In 2023, Oklahoma had just 14 of the Top 1000 prospects according to 247Sports, while Nebraska had just nine.
However, the issue with this statement is assuming that Oklahoma relied on in-state to begin with. In Oklahoma's 2019 recruiting class, the Sooners' highest-rated class under Lincoln Riley, just two of their 24 recruits were from the state of Oklahoma. Meanwhile, 10 were from the state of Texas. Oklahoma's current roster has 35 players from the state of Texas, to just 17 players from the state of Oklahoma.
Since the 1970s, the vast majority of Oklahoma's top talent has come from the state of Texas, and it's proximity to the Dallas-Fort Worth area is a big reason for that. Just a four-hour drive separates Norman and Dallas, putting them closer to the massive recruiting hub than many programs in the state of Texas.
When Nebraska broke ties with the Big 12, it lost its inroads to Texas, which supplied it with many of its playmakers, and proximity wasn't in its favor either. Nebraska is seven hours from the nearest portion of the Texas panhandle and nearly 10 hours from Dallas. So, the Huskers had to find another way to fill their rosters, while recruiting new metropolitan areas. Plus, they moved into the Big Ten, which is located in the North and Northeast part of the county. With less talent to go around, and 14 teams to feed, it's tough to be stuck in the Midwest.
Oklahoma's move to the SEC still puts it in the same conference as Texas and Texas A&M, the two biggest recruiting powers in the Lone Star State, and its proximity to Dallas ensures that it will continue to recruit the state well.If anything, the move to the SEC opens up states like Florida and Georgia for the Sooners, which wasn't really the case beforehand. In fact, OU pulled six players from the state of Florida in its 2023 class. So, recruiting doesn't appear to be an issue.
Change in Conference
When Nebraska moved to the Big Ten in 2011, it was coming off a 10-4 season under Bo Pelini and its third-straight Big 12 title game appearance. However, the Cornhuskers hadn't won a conference title since 1999, which still stands as the case.
The notion that Nebraska suddenly fell apart when it moved to the Big Ten is a bit misplaced. The once-dominant Huskers hadn't been a national force since 2001 and actually went through a rough stretch under Bill Callahan, going 27-22 over four years and missed bowl games in 2004 and 2007.
Bo Pelini was hired ahead of the 2008 season and was a model of consistency for the Huskers, going either 9-4 or 10-4 in every season from 2008 to 2014. However, Nebraska was never quite the same animal it was during the Tom Osborne era.
Then, under Mike Riley and Scott Frost, Nebraska fell hard, and hasn't been to a bowl game since 2017.
Comparing the Sooners and Huskers as they enter new conferences isn't quite apples to apples.
Despite a 6-7 year in 2022, the Sooners have been one of the most consistent winners in college football over the last two decades. OU has won 14 conference titles under two different coaches since 1998 and has been to a bowl game in every season in that stretch. Nebraska has missed a bowl eight times in that stretch and has won just one conference title. In the 10 years prior to Oklahoma leaving for the SEC, it has gone 103-28 (.786), so far. In the 10 years prior to Nebraska leaving for the Big Ten, it went 84-46 (.646)
It appears that Cowherd is looking at last season as the new standard at Oklahoma, and ignoring the past two decades of data, which seems a bit irresponsible. That would be the only way I could see him expecting the Sooners to crash and burn like Nebraska has.
Coaching Hires
Bo Pelini was the coach for Nebraska when it made the move from the Big 12 to the Big Ten. Like Brent Venables, he was a longtime defensive coordinator that had helped two different teams win national championships before returning to his former employer to take his first head coaching gig.
Pelini never won more than 10 games at Nebraska, but he also never won less than nine, before being fired after the conclusion of the 2014 regular season. After that, the Huskers hired Mike Riley and then Scott Frost, failing to make a bowl game in every year since 2017.
On the other hand, Brent Venables has had just one season to judge as a head coach, and went 6-7 in that season. Does that prove that he's not capable of winning at Oklahoma? No. But, it also doesn't mean that he will just because Bob Stoops and Lincoln Riley did before him. It's still to early to tell if Venables is the right guy for the job, but I can tell you without any doubt that the folks at Oklahoma certainly think he is.
Venables secured the No. 4 overall recruiting class in his first cycle, and he has things inside the program moving like they haven't in years. As a few sources have told me, there's an urgency and motivation in and around the locker room that just hasn't been there in years, even dating back to some of Bob Stoops later years.
The roster has needed an overhaul in Norman, and it has certainly gotten that, with over 40 new scholarship players entering the program this season. If 2023 is a repeat of last season, then maybe I'll table the talk about the Sooners potentially moving on, but until that happens, Venables deserves more time.
Conclusion
Colin Cowherd's comparison between Oklahoma and Nebraska has some interesting points, but he also started the segment by saying this.
"I always laugh when 'Southern Guy' tells me, 'USC football is dead.' That would be like 'West Coast Guy' saying, 'Alabama football is dead,' every time they have a downturn."
Wait. So, USC football is suddenly on the same level as Alabama football?
He continues.
"Schools like Ohio State, Alabama, LSU, USC are never dead. Florida State. They're never dead for very long, because the minute they get the right coach, they're in states that have so many great high school players that they rebound quickly. USC has put together back-to-back interesting recruiting classes and they are rolling."
He then goes into a spiel about how the above schools can rebound so quickly because of immense in-state talent. So, if that is the case, and in-state talent is the reason why schools are "never dead," then what's Miami's problem? What about Texas? Where's Florida been since Tim Tebow left? Is Texas A&M going to wake up anytime soon? How about USC before Lincoln Riley brought in Caleb Williams to save the day?
Do you see my point?
Will Oklahoma lose more games when it moves to the SEC? No doubt. It's the most difficult league in college football. However, the entire argument is based on Oklahoma's in-state recruiting while completely ignoring its recruiting success in Texas for over 50 years, which seems a little tone-deaf.
Saying that Oklahoma is going to "disappear" is nothing more than an attention grabber, and it certainly caught my attention, so my hat is off to you. However, I really hope that we can revisit this in a few years and talk about just how silly this was.