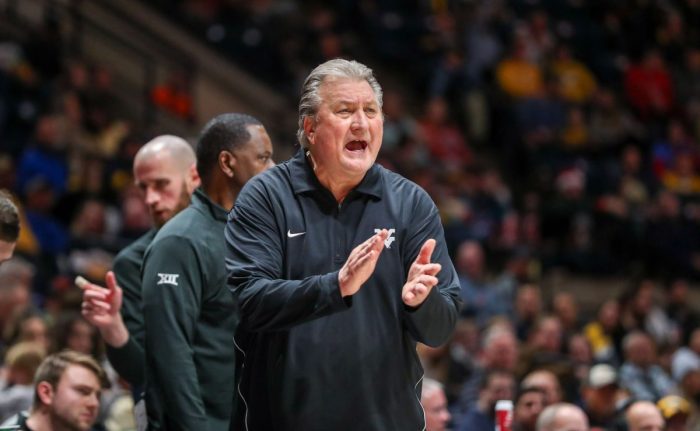 The reported resignation of West Virginia men's basketball coach Bob Huggins comes at a time in which the coaching carousel isn't usually spinning.
But, then again, more than a month ago Huggins hadn't used an anti-gay slur on a Cincinnati radio show and hadn't been arrested for a DUI at twice the legal limit in Pittsburgh.
Now, Mountaineers athletic director Wren Baker must conduct his second basketball coaching search in less than four months after replacing women's coach Dawn Plitzuweit with Mark Kellogg.
Who could replace him? Here's a list of five potential candidates, but it is by no means a complete list. It's also not clear if WVU will conduct a full search, a targeted search or promote from within. Many have connections to Huggins.
Ron Everhart, WVU Assistant Coach
Everhart would be the path of least resistance here. He's already on staff. He has 35 years of experience in coaching. He was a head coach at Duquesne, Northeastern and McNeese State before joining Huggins' staff in 2012. His career record is 273-261. Like Huggins, he's a West Virginia native — he's from Fairmont. He checks all of the boxes. It's just not the name-brand hire WVU might have been able to get during the traditional carousel cycle.
Frank Martin, UMass Head Coach
If you're looking at Huggins' coaching tree, Martin might be the most attainable option (sorry, Mick Cronin isn't leaving UCLA). He was an assistant for Huggins at both Cincinnati and Kansas State. He also succeeded Huggins at K-State when Huggins left for West Virginia. He's won more than 300 games, taken a team to the Final Four (the 2017 South Carolina Gamecocks) and just took over at UMass. He could hit the ground running.
Andy Kennedy, UAB Head Coach
He's another Huggins coaching tree member, having worked as Huggins' assistant at Cincinnati. He's also replaced Huggins in controversial times, as he was Cincinnati's interim coach after Huggins resigned there in 2005-06. He spent more than a decade at Ole Miss before taking over at UAB. The Blazers and Mountaineers played each other the past two seasons. Kennedy would likely get Huggins' blessing (not that it's needed) The problem? Kennedy is from Mississippi and may appreciate being closer to home.
Jerrod Calhoun, Youngstown State Head Coach
Huggins has a rich coaching tree and Calhoun is a part of it. He was a graduate assistant for Huggins at Cincinnati and served on Huggins' staff at West Virginia. His first head-coaching job was in West Virginia at Division II Fairmont State and he parlayed a D-II finals appearance into a job with YSU. The Penguins are coming off a 24-win season that led them to the NIT. He's an Ohio native and knows how to recruit in West Virginia's backyard.
Matt Langel, Colgate Head Coach
He has nothing to do with Huggins, and maybe that's a good thing right now. The Fran Dunphy disciple (Dunphy has nearly 600 wins at three of the Philly 5 schools) is making a name for himself with the Raiders. He's won 202 games, but in the last five years he's coached the dominant team in the Patriot League, leading it to four NCAA Tournament appearances. He's ready for a Power 5 promotion. The timing isn't great — at least not for Colgate.
You can find Matthew Postins on Twitter @PostinsPostcard