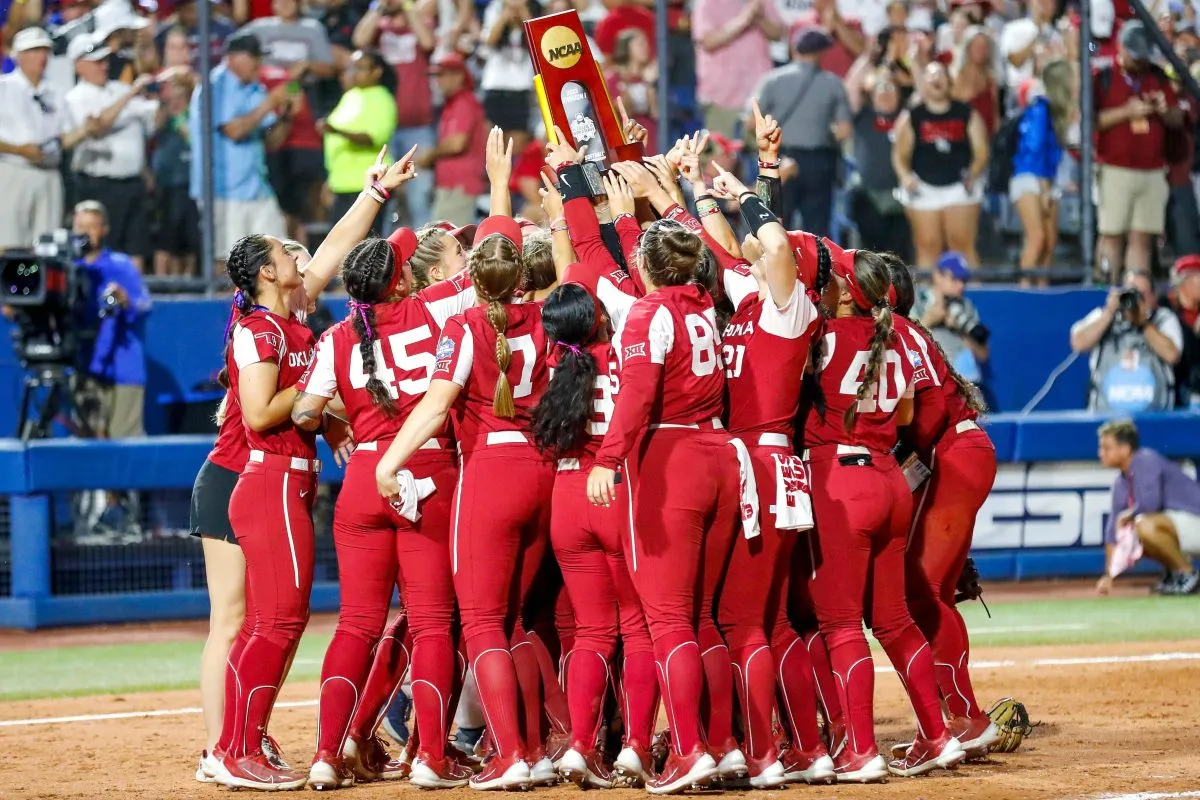 Oklahoma softball is coming off perhaps the best season of all time, going 61-1 en route to its third consecutive national title, becoming just the second team in history to accomplish that feat.
Shortly after the Sooners took down Florida State to win the Women's College World Series, we took the liberty of stacking the 2023 Oklahoma Squad against some of the best in all of sports history, and they stacked up well.
Perhaps the best way to encapsulate how good Oklahoma was is by simply putting all the numbers out there for all to see.
61-1 Record
.984 Win % (No. 1)
53-Game Winning Streak (NCAA D-I Record)
17-0 vs. RPI Top 10
10-0 vs. RPI Top 5
.366 Batting Avg. (No. 1)
117 Home runs (No. 1)
8.08 Runs Per Game (No. 1)
0.96 ERA (No. 1)
.666 Slugging % (No. 1)
35 Shutouts (No. 1)
.456 On-Base % (No. 1)
460 Ks in 389.0 IP; 1.18 K/Inn (No. 2)
.162 Opponent Batting Avg. (No. 1)
Because of their dominance, the Sooners have been nominated for a pair of ESPY's: Best Team, and Jordy Bahl as Best Collegiate Athlete, Women's Sports
The individual nomination is the second straight year an Oklahoma softball student-athlete has been one of the honorees, as Bahl joins 2022 National Player of the Year, Jocelyn Alo, who won the award last season.
In the 2023 Women's College World Series, Bahl showed the country just how special she is. Bahl was a perfect 4-0 in the Women's College World Series, tossing 24.2 scoreless innings with 33 Ks, and also scored two massive runs as a pinch runner.
Here's a look at the nominees in each of the categories that Oklahoma softball is represented.
BEST TEAM
Golden State Warriors, NBA
Georgia Bulldogs, NCAA Football
Kansas City Chiefs, NFL
Las Vegas Aces, WNBA
LSU Tigers, NCAA Women's Basketball
Oklahoma Sooners, NCAA Softball
Vegas Golden Knights, NHL
BEST COLLEGE ATHLETE, WOMEN'S SPORTS
Jordy Bahl, Oklahoma Softball
Caitlin Clark, Iowa Women's Basketball
Izzy Scane, Northwestern Lacrosse
Trinity Thomas, Florida Gators Gymnastics
The 2023 ESPYS will be broadcast live on Wednesday, July 12 at 7 p.m. CT on ABC from Los Angeles.
Fan voting is now underway for all categories and runs through July 9 at 7 p.m. CT.