Baylor Bears
Big 12 Basketball: Three Thoughts on the 2023 NBA Draft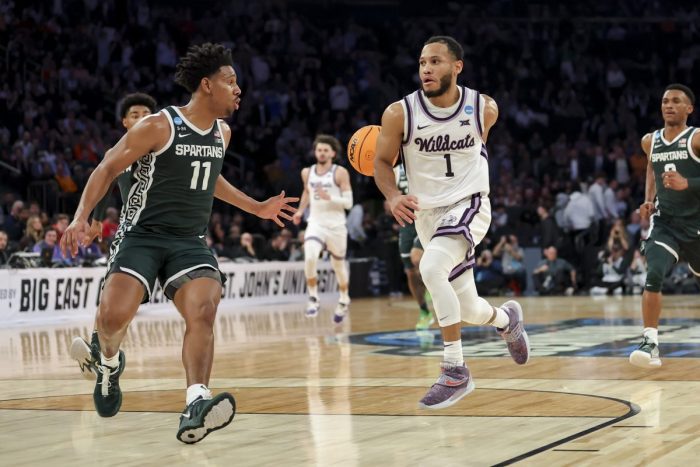 The 2023 NBA Draft was Thursday night and the Big 12 Conference was prominent in the first round. Here are three thoughts on the Big 12 and the NBA Draft.
The New Big 12 Represents
The Big 12, to many, is considered the best conference in college basketball. The first round validated that consideration, even as four new members come into the league next week.
Five players with Big 12 ties went in the first round, and three of them went in the Lottery portion (the Top 14 picks). Only one Lottery pick was from a current Big 12 school — Kansas' Gradey Dick, who went No. 13 to Toronto.
The other two were from two of the new Big 12 schools. Houston's Jarace Walker went No. 8 to Washington (and was later traded to Indiana) and UCF's Taylor Hendricks went No. 9 to Utah.
The fourth selection was Baylor's Keyonte George, who slipped out of the Lottery and went No. 16 overall to Utah. Then, Houston's Marcus Sasser went No. 25 to Memphis and was later traded to Detroit.
We expect first-round picks from Kansas. We're coming to expect first-round picks from Baylor.
Hendricks was the second first-round pick in UCF history. Walker was Houston's latest first-round pick, but its first since Hakeem Olajuwon went No. 1 overall in 1984.
This blending of current and new Big 12 bodes well for the league, especially as Oklahoma and Texas move out after next season. Two of the new programs are already building up to pull their weight in the Big 12, talent-wise.
About Markquis
Kansas State guard Markquis Nowell may have had the performance of the entire NCAA Tournament in the Wildcats' Sweet 16 win. But none of that seemed to mean that much on draft night. While seven players from current or future Big 12 programs heard their names called, he did not.
That included his teammate, Keyontae Johnson, who went to Oklahoma City at No. 50, and rival Jalen Wilson, as the Kansas forward went No. 51 overall to Brooklyn.
When it comes to Nowell, I don't believe the NBA scouting process did him any favors. The metrics, the scouting combine drills and the individual workouts don't measure what you see when you put the ball in his hands, put him in a game situation and let him play. He just makes things happen. It's as clear as day.
Scouts saw that in the NCAA Tournament. But they also have short memories, especially in the post-NCAA Tournament ramp-up to the NBA Draft.
Additionally, Nowell's listed height of 5-foot-8 didn't help. Not that players that height can't play in the NBA, but these days they're rarely drafted. NBA teams prioritize length. If you need proof, look at the heights of the players taken on draft night.
None of this means he can't make or won't make it in the NBA. I firmly believe he'll get a summer league invite. He'll get a training camp invite. At worst, he'll make it on a G League team. He's talented and ready for this.
Just put the ball in his hands and you'll see.
The One-And-Done Bears
Baylor coach Scott Drew would seem an unlikely coach to embrace one-and-done players. And maybe he's not trying to embrace it. But, with the last two drafts, Drew has now sent three of them to the NBA.
George went in the first round this year. Last year, Jeremy Sochan went as a Lottery pick and Kendall Brown went in the second round. All three played as true freshmen and left after one season.
Don't expect the trend to end. One site, 247Sports.com, did a way-too-early 2024 Mock Draft and one incoming Baylor recruit made the list — forward Ja'Kobe Walter (No. 9 and ranked No. 9 nationally as a five-star recruit).
Expect there to be buzz around guard Miro Little (ranked No. 43 nationally) and center Yves Missi (No. 37). Missi will intrigue scouts because of his 6-foot-10 frame and because he reclassified to join Baylor a season early.
This may be as much a function of Baylor recruiting five-star players as it is embracing one-and-dones, but Drew is proving that he can make it work for his program — and for NBA teams hungry for Big 12 talent.
You can find Matthew Postins on Twitter @PostinsPostcard