Big 12 News
TCU's Mike Miles Jr. Signs Two-Way Deal with Dallas Mavericks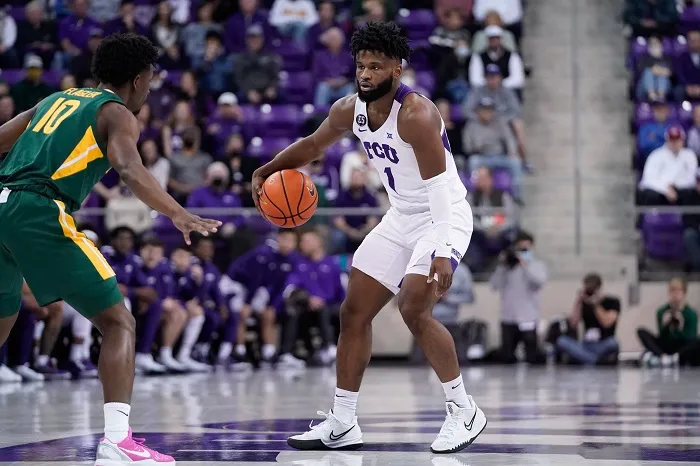 TCU guard Mike Miles Jr. has officially signed a two-way NBA contract with the Dallas Mavericks following the conclusion of the 2023 NBA Draft on Thursday night.
While Miles was not one of the seven Big 12 Conference members to hear their names called on draft night, reports of his signing broke just minutes after the last pick of the second round, according to a report from The Athletic's Shams Charania.
Miles joins a pair of Horned Frogs in the NBA in Memphis guard Desmond Bane, and Oklahoma City forward Kenrich Williams. Bane was selected with the 30th overall pick back in the 2020 NBA Draft, and Williams entered the league in a two-way deal with the Denver Nuggets in 2018.
The 6-foot-2 guard helped TCU reach the NCAA Tournament for the second straight year under Jamie Dixon leading his squad to the second round after being Arizona State 72-70 on a buzzer-beater from JaKobe Coles. Miles earned Second-Team All-Big 12 Honors in back-to-back seasons as a sophomore and as a junior, and was named to the Big 12 All-Freshman Team in his first season at TCU.
He led the Horned Frogs in scoring last season by averaging 17.9 points, 2.7 rebounds, and 2.7 assists per game.
Miles finished off his college career with 1,297 career points (15.6 PPG.) on 42.6 percent shooting (439-of-1031), including 33.4 percent (122-of-365) from 3-point range, with 270 rebounds (3.3 RPG.), 268 assists (3.2 APG.), 20 blocks (0.2 BPG.) and 94 steals (1.1 SPG.) over 83 career games played (32.8) mpg.