Basketball
Postscripts: Big 12's Rucker Park Plans Emerge, Pac-12 Remains In Flux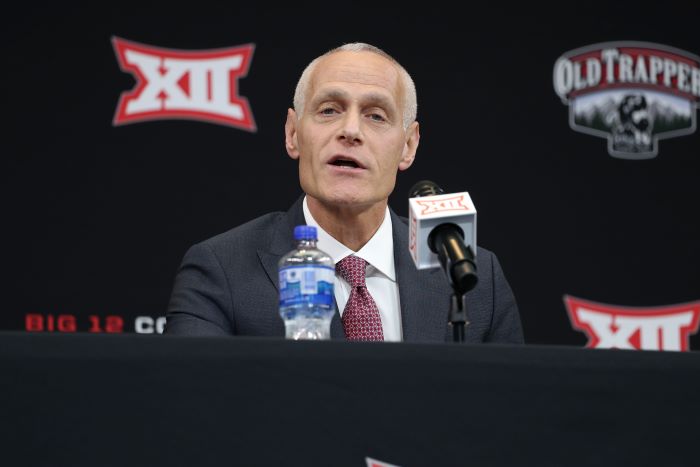 What's going on in the Big 12 and beyond? I expand and explain every Sunday in Postscripts at Heartland College Sports, your home for independent Big 12 coverage.
This week, let's scrimmage the Big 12 coaches at Rucker Park, the Pac-12 gets "creative" and a trip back in time with Tim Brando.
A Novel Proposal for Big 12 at Rucker Park
Earlier this week the Big 12 announced the coaches that will participate at Big 12 Hoops in the Park, the league's partnership with Harlem's Rucker Park. Eleven will attend — men's coaches Scott Drew (Baylor), Mark Pope (BYU), Wes Miller (Cincinnati), Jerome Tang (Kansas State), Mike Boynton (Oklahoma State), and Jamie Dixon (TCU), and women's coaches. Amber Whiting (BYU), Katrina Merriweather (Cincinnati), Ron Hughey (Houston), Jeff Mittie (Kansas State), and Krista Gerlich (Texas Tech).
The day will include drills and clinic sessions run by the coaches, a Q&A, a live DJ and food trucks.
If you're thinking to yourself, "Where's the exhibition game?" allow me to remind you that the Big 12 hopes to do that next summer. In order to have an exhibition game with players outside the season you need an NCAA waiver (teams need those waivers to go on overseas trips and can only do so once every three years).
Given that this was announced in March, there wasn't much time to secure that waiver. You should know that the NCAA has been considering giving programs the chance to play summer exhibitions for nearly a year. As one would expect from the NCAA there has been no action.
Anyway, there won't be an exhibition game connected to Big 12 Hoops in the Park … unless …
Coaches exhibition game? We've got 11 coaches. How about it?
I love the idea (naturally, I came up with it). Most played college basketball (it's legit surprising who didn't). The coaches could play five-on-five, with two coaches having a play-in game of one-on-one to be the final starter, and the other will be a roving sub that can spell any player when needed. Plus we're going to play halfcourt.
To that end, I've taken the liberty of creating teams and starting lineups, naming the teams after the Big 12's primary colors, red and white.
Red Team
Katrina Merriweather (four-time letterwinner at Cincinnati)
Mark Pope (two years at Washington, two years at Kentucky, national title winner with Wildcats)
Jamie Dixon (All-SWC at TCU his senior year and led that conference in assists)
Ron Hughey (two-sport athlete in high school in South Carolina)
Amber Whiting (all-American at Snow College; also played at Weber State and BYU)
White Team
Krista Gerlich (all-time SWC team, Three-time All-SWC and 1993 All-NCAA Tournament team at Texas Tech)
Mike Boynton Jr. (four-year letterwinner who averaged 10 points in final season at South Carolina)
Wes Miller (helped North Carolina to national title in 2005, team captain his senior year)
Jeff Mittie (no athletic experience in college, based on his K-State bio)
Play-in One-on-One
Scott Drew vs. Jerome Tang: This has to happen right? Winner starts for Team White. Lower subs. I envision each saying "I'm sorry" to the other every time one score, given how close they are.
So, there we go. I'm flexible on lineups. But let's do it. Contact your local coaches and tell them to get on the floor. This would be tons of fun. And someone live stream it since I can't make it.
This Week in "As The Pac-12 Turns"
A somewhat quiet week, something one might expect if indeed the Pac-12 and their potential TV partners are working to get a deal done. But two quick notes.
First, Paul Finebaum, noted Pac-12 expert, said earlier this week that the Pac-12 will dissolve by 2026. Why, you ask?
"I don't believe so. I don't know how it can," Finebaum said. "Because it's — the situation is so fragile right now. The leadership is better than it was. It's still not very good. And, you know, I think you give the new commissioner, George Kliavkoff, a pass because maybe a year, a year and a half ago, his predecessor (Larry Scott) literally ran this thing into the ground. But he's had enough time and I think, so far, you have to give him a failing grade."
Safe to say the Pac-12 won't be reaching out to Paul for an endorsement anytime soon.
The other piece came on Saturday. I've included Jim Williams here in Postscripts before. He's a retired sports television producer who has won Emmys and has helped launch regional sports networks. He's also got connections and, occasionally, conveys information from said connections.
Here's a nugget from Saturday from his Stream On podcast (great name, by the way):
Spoke to two (Pac-12) administrators who have been involved with the media rights deal. "We are close to wrapping this up and I think the media will be surprised to see how creative and forward thinking a deal it is."
Really? Creative and forward-thinking? I would be REALLY interested to know what that is. The landscape doesn't seem to give the conference a lot of options, access-wise. I believe it's clear there will be some sort of streaming component to this deal (not ESPN). If that's creative, well, then the Pac-12 is lowering the bar.
But what if it's something no one has thought of yet? That could be intriguing. I just don't know what that thing no one has thought of yet would be.
Oh, and that whole gambit that San Diego State tried — hoping to get out of the Mountain West but delaying a month so it wouldn't have to pay the larger exit fee — went over about as well as you might have thought. Here's a good primer on what's going on.
Catch Up With Tim Brando
Last week, our Pete Mundo had Kansas athletic director Travis Goff on the podcast. This week? FOX play-by-play maestro Tim Brando, who loves the Big 12 Conference and is bullish on its future. The link to everything is below:
Pete Mundo with Tim Brando at Heartland College Sports. You can watch it on YouTube here.
My Tim Brando story? I've actually never met Tim. But, for a brief time in 1989, I lived in Haughton, La., just outside of Shreveport. Tim, who was born in Shreveport and was on ESPN by then, was doing commercials for Porter's Fine Dry Cleaners. I probably saw those commercials a dozen times a week that summer and early fall before I moved back to Texas.
Fast-forward to the 2013 Independence Bowl, which pitted Arizona against Boston College. Aside from seeing Ken Griffey Jr. on the sideline taking photos of his kid — I mean full gear and everything — the most jarring thing was what I saw on the video board between possessions.
That Porter's Fine Dry Cleaners commercial. From 1989. With Tim Brando.
Man, I hope he's still getting checks for that.
You can find Matthew Postins on Twitter @PostinsPostcard