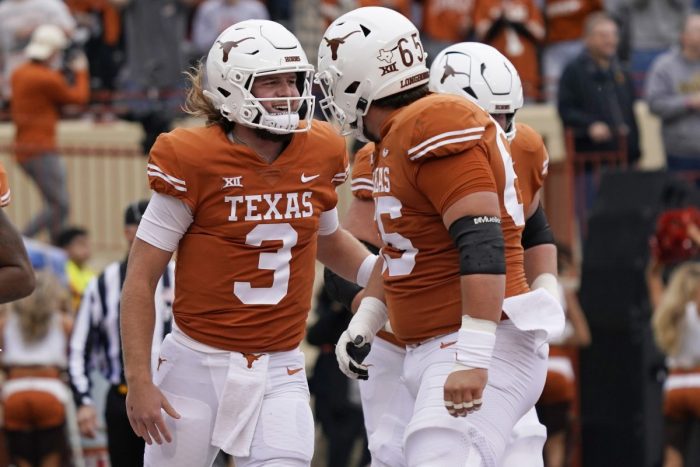 Pro Football Focus has released its Preseason Top 25 Poll ahead of the 2023 college football season, using its own ELO ratings.
As we prepare to turn the calendar to July, there are less than 10 weeks until the season gets underway, which means it's time to start looking at what the upcoming season holds.
With the "Way-Too-Early" precursor finally removed, PFF has given us a look at one of the first preseason polls and puts four Big 12 teams in its Top 25 ahead of the season.
The Texas Longhorns lead the way for the Big 12 at No. 5 in this poll, as the expectations are again sky-high in Austin. With Quinn Ewers leading a host of important returnees, there are plenty of reasons for Texas to finally make a jump, but history says otherwise.
Coming in at No. 13 is Oklahoma, who is coming off a 6-7 season in 2022. Dillon Gabriel returns and the Sooners have completely retooled their roster on the defensive side of the ball, but will it be enough to get back to the top of the Big 12 standings?
TCU is coming off a 13-2 season in which it finished as the national runner after going 12-0 through the regular season. The Horned Frogs come in at No. 16 in this poll despite plenty of question marks but have the talent on the roster to be a contender in the Big 12 once again.
The reigning Big 12 champions, Kansas State, finished the 2022 campaign with a 10-4 record and enter the 2023 season ranked No. 17 according to PFF. The Wildcats have Will Howard back at quarterback, as well as its entire offensive line returning from a season ago.
Here's a look at the entire poll, courtesy of PFF.
| Rank | Team |
| --- | --- |
| 1 | Georgia |
| 2 | Alabama |
| 3 | Ohio State |
| 4 | Michigan |
| 5 | Texas |
| 6 | Clemson |
| 7 | Penn State |
| 8 | LSU |
| 9 | Tennessee |
| 10 | USC |
| 11 | Notre Dame |
| 12 | Oregon |
| 13 | Oklahoma |
| 14 | Florida State |
| 15 | Utah |
| 16 | TCU |
| 17 | Kansas State |
| 18 | Arkansas |
| 19 | Kentucky |
| 20 | Florida |
| 21 | Washington |
| 22 | South Carolina |
| 23 | Mississippi State |
| 24 | Minnesota |
| 25 | Pittsburgh |