featured
UCF Making History on the Recruiting Trail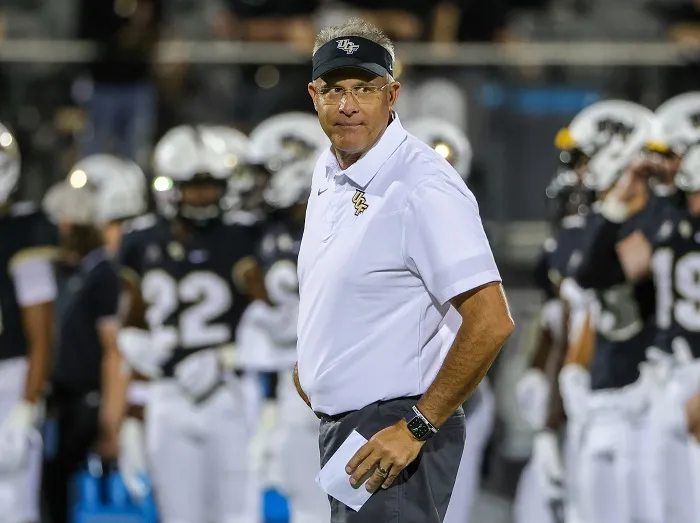 Back in September of 2021, The University of Central Florida accepted an invitation from the Big 12 Conference. Now here we are two years later, and UCF is now an official member of the conference.
Despite not being an official member of the conference until the first of this month, it didn't take long to see the results pay off on the recruiting trail. Prior to the invitation, UCF was a school recruiting in the 50s and 60s for the most part when it came to class rankings.
Before the 2022 class, UCF had signed a total of three four-star prospects from 2011-2020. But since the invitation they have signed a total of four four-star players in the last two recruiting cycles. I think it's safe to say that something has changed.
While things are trending up for the Knights as they are preparing to play their first season in the Big 12 this fall. But before we get to the field, things are still heating up on the recruiting trail for UCF.
Despite some early success, UCF is not just making waves on the recruiting trail in the Big 12 but on a national scale. I mentioned the quality of talent they have been able to sign over the last two years but believe it or not, they are just getting started.
In the last four weeks, UCF has seen its class rankings rise rather quickly. It all started when 2024 four-star running back Stacy Gage (For Lauderdale, Florida) announced his commitment. After his decision to commit, we have seen a wave of talent pledges to UCF. Since July 1st, UCF has also gotten commitments from three more four-star prospects from the 2024 class in offensive lineman Waltclaire Flynn Jr. (Loganville, GA), linebacker Qua Birdsong (Lagrange, GA), and most recently athlete Klyan Fox (Loganville, GA) who committed on Tuesday.
It appears that the staff loves the state of Georgia as well because three of their top four players from the 2024 class are from the Peach State. And just the like the summer, this 2024 recruiting class was heating up because eight of their ten total commitments made their pledges since the month of June started.
This comes months after signing their highest-rated prospect of all time with four-star defensive lineman John Walker (Kissimmee, FL) in the last recruiting cycle. John was a top 100 player in the entire 2023 class and was ranked as the 11th-best defensive lineman according to 247Sports.
Beyond the 2024 class, take a look at their 2025 class. Yes, they have just one player committed as of now, but they were able to get a top 100 player in the country with four-star running back Taevion Swint (Kissimmee, FL) who committed back in April.
I know we are still a ways away from signing day but UCF has some series talent on board right now. In fact, they have the same amount of four-star commitments as in-state rival Miami. And while the Hurricanes have a better class ranking, the quality of talent is very close. UCF has an average player ranking of 88.04 while Miami has an 88.58. UCF's average player ranking would rank third among the new-look Big 12 only behind TCU and Texas Tech. Again, I know it's still early, but it appears that playing in a conference like the Big 12 is paying off rather quickly for UCF as they look to become the premier team in the Sunshine State.