Baylor Bears
Texas Voted Atop 2023 Big 12 Football Preseason Poll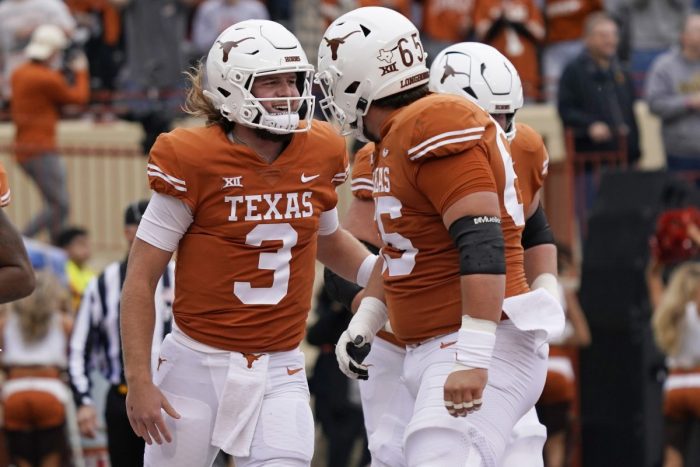 The Big 12 Conference announced the 2023 Football Preseason Poll on Thursday, and the Texas Longhorns have been selected as the preseason favorite to win the Big 12.
The Longhorns haven't won the conference since 2009, when Mack Brown was at the helm and led Texas to an appearance in the BCS National Championship game against Nick Saban in his third year at Alabama.
Texas received 41 of 66 total first-place votes, making them the runaway favorite to win the Big 12 title in 2023.
It marks the first time since the Big 12 went to a divisionless format that Big 12 media has selected the Longhorns as the preseason favorite.
Kansas State, receiving 14 first-place votes, lands second in the poll after winning the league in 2022. The Wildcats have some major pieces to replace in 2023, but have Will Howard and the entire offensive line group back in 2023.
Oklahoma, who finished 6-7 last season, was picked third with four first-place votes, the same amount as Texas Tech, which comes in fourth after an 8-5 campaign in 2022. TCU earned three first-place votes and comes in fifth after finishing as the national runner up last season.
Baylor comes in sixth after a 6-7 season last year as the preseason favorite to win the Big 12, while Oklahoma State, who received the final first-place vote, enters the season picked to finish seventh.
UCF comes in eighth in the poll, giving us the first newcomer in the poll just ahead of Kansas and Iowa State, who rounds out the top 10.
The next three teams are the remaining newcomers, with BYU, Houston, and Cincinnati coming in from 11th to 13th respectively, leaving West Virginia with the 14th spot in the Preseason Poll.
Here's a look at the entire poll, courtesy of the Big 12 Conference.
2023 Big 12 Football Media Preseason Poll
1. Texas (41), 886
2. Kansas State (14), 858
3. Oklahoma (4), 758
4. Texas Tech (4), 729
5. TCU (3), 727
6. Baylor, 572
7. Oklahoma State (1), 470
8. UCF, 463
9. Kansas, 461
10. Iowa State, 334
11. BYU, 318
12. Houston, 215
13. Cincinnati, 202
14. West Virginia, 129