Big 12 Previews
Top Three Questions For K-State Heading Into Big 12 Media Days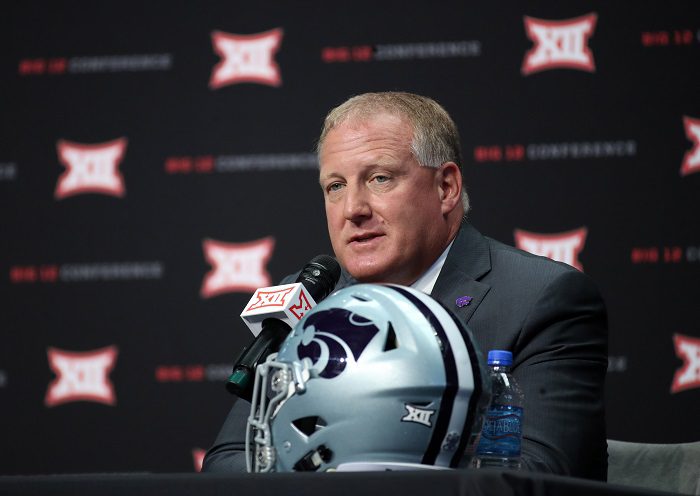 Big 12 Media Days are right around the corner, which means the 2023 college football season is less than two months away.
The burning questions for every team are starting to build some momentum and at media days we will finally get the answers to some of those questions.
As each fanbase prepares itself for another season of Big 12 football, we're here to help with the three biggest questions that each team is facing before heading to Arlington for Media Days on July 12-13.
With that being said, here are the three biggest questions that the Kansas State Wildcats are facing heading into 2023 Big 12 Football Media Days.
How Does K-State Replace its Stars?
Last year, when Kansas State needed a play, Deuce Vaughn, Felix Anudike-Uzomah, Malik Knowles, or Julius Brents stepped up. That's just what championship teams do, and that's why K-State was the last team standing in the Big 12 Championship. Now, all three of those names are on the backs of NFL uniforms, and the Wildcats will need some new playmakers to emerge. Transfer running back Treshaun Ward was named the Preseason Big 12 Newcomer of the Year, and if he lives up to that billing, then that's one question answered. Phillip Brooks should be able to shoulder some of the load that Knowles leaves behind, but a new receiving threat will need to emerge. JUCO CB Will Lee steps in to try and fill Brents' shoes, while Khalid Duke seems to be the most likely to assume Anudike-Uzomah's role. K-State's success is based on the culture in Manhattan, but having NFL talent sure helps. If K-State can get production from some new faces this season, it will certainly help in their quest for a repeat.
Is What We Saw Last Year Sustainable?
Piggybacking off of the last question, what if K-State can't find the same kind of success that it had from star players a season ago? Is the roster talented enough to fill in the gaps elsewhere? We saw the Wildcats win several close games last season, and more often than not, they were the tougher, more disciplined team on the field. Will that culture alone be enough to get them back to Arlington? Prior to last year, Chris Klieman had gone 8-5, 4-6, and 8-5. So, was last season the mountaintop, and now they're headed for a decline in 2023, or is set up to prove one of the new powers in the Big 12 for years to come? For now, it appears that the media sees K-State as a contender again in 2023 with Will Howard back behind an offensive line that returns everyone from a season ago. If the Wildcats fight their way back to another 10-win season, it might be time to crown them the new standard of the Big 12.
Is Will Howard Ready to be the Full-Time Starter?
Heading into the 2022 season, Will Howard was firmly second on the depth chart behind incoming transfer Adrian Martinez. However, when Martinez went down with injury, Howard assumed the starting role. Before last season, Howard had completed 53.8% of his attempts and had a 9-11 TD to interception ratio. In 2023 though, Howard completed nearly 60% of his passes for 1,633 yards and 15 touchdowns to just four interceptions, also adding three scores on the ground. It should be noted that last season was the first year for Collin Klein as the offensive coordinator, so the jump in production can likely be tied to a scheme fit for Howard. So, will he take another step in 2023 and be even more efficient with a full season of work under Klein? It's certainly possible, and if so, the Wildcats are very likely a major contender for the Big 12 crown once again.