Big 12 Previews
Top Three Questions For Texas Tech Heading Into Big 12 Media Days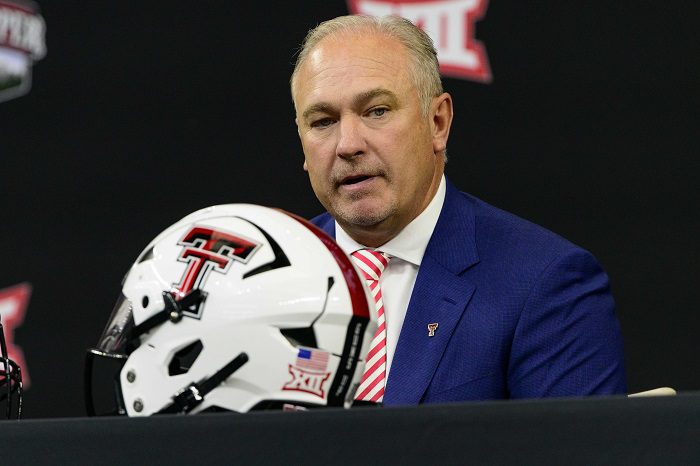 Big 12 Media Days are right around the corner, which means the 2023 college football season is less than two months away.
The burning questions for every team are starting to build some momentum and at media days we will finally get the answers to some of those questions.
As each fanbase prepares itself for another season of Big 12 football, we're here to help with the three biggest questions that each team is facing before heading to Arlington for Media Days on July 12-13.
With that being said, here are the three biggest questions that the Texas Tech Red Raiders are facing heading into 2023 Big 12 Football Media Days.
Can Tyler Shough Stay Healthy in 2023?
Despite being at Texas Tech for each of the last two seasons, Shough has only appeared in just 11 games as a Red Raider. That, unfortunately, has been due to injury. In 2021, Shough suffered a collarbone injury against Texas that knocked him out for the remainder of the season. Then, in 2022, he suffered a "left shoulder injury" that forced him to miss six games. For Texas Tech to reach its potential, Shough likely needs to stay healthy for the entirety of the season. Yes, Tech has other options at quarterback with Behren Morton, but having continuity at such an important position would be massive for Texas Tech. The other part of the equation is that this will be the second season in Zach Kittley's system, which means Shough has the chance to put up big numbers if he can stay healthy. If he does, the Red Raiders will be a major factor in the Big 12 race.
Can the Defense Absorb the Loss of Tyree Wilson?
Last season, we saw Tyree Wilson play himself into one of the top players in the nation and the No. 7 overall selection in the 2023 NFL Draft. Now, heading into a future without him, what will Texas Tech's defense look like in 2023? Well, it's a bit deeper than that. The Red Raiders did lose Wilson, but it also lost five of its top six tacklers from a season ago. I think the unit could take a step back, however, there are reasons to be excited. First of all, the combination of Jaylon Hutchings and Tony Bradford might be the best interior defensive line in the league, and Jesiah Pierre is set for a breakout year at linebacker. There are six starters back from last year's unit, and they've added a couple of big pieces in the transfer portal, particularly in the back end. If the defensive backfield can gel quickly, this unit has a chance to be just as good, if not better in 2023.
Will Texas Tech Take the Next Step?
Going 8-5 in Joey McGuire's first season was quite the building block for Texas Tech's football program moving forward, but now the question is, what's next? Well, a fourth-place finish a year ago was the best finish the Red Raiders had had since 2013, so getting into the top three by season's end seems reasonable. That means Texas Tech needs to get to nine or 10 wins in 2023 and be, at the very least, a late contender to make the Big 12 Championship. Can they do that this season? I believe so. They return 11 starters on offense and have a strong culture under Joey McGuire, and if they can build on last year's success, it could give Texas Tech the momentum it needs to become a perennial power in the new-look Big 12 going forward.