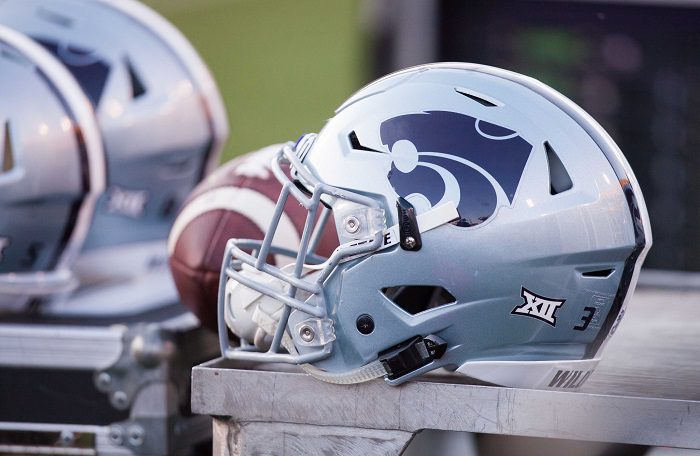 My "what if" column last week was pretty popular. I received a number of reader submissions for additional "what ifs" regarding K-State sports. Many of them were pretty good, so here is part two of "K-State Sports What Ifs."
What if safety Ty Zimmerman played against Baylor in 2012?
This question comes up often when discussing the 2012 K-State Wildcat football team. K-State was the number one ranked team in the country going into the Baylor game on November 17th, 2012. Ty Zimmerman, two-time All-American, and four-time All-Conference safety, was injured the previous week against TCU and had to miss the game.
Losing Zimmerman was huge, but Baylor kicked K-State's butt that game, winning by a score of 52-24. Would having Zimmerman in that game have made that much of a difference? The game may have been closer, but I would be willing to bet that Baylor would have won anyway. Zimmerman returned from injury and started against Oregon in the Fiesta Bowl, but K-State got run in that game, too, 35-17.
Hypothetically, let's say Zimmerman did not get injured, and K-State won the Baylor game. Do they go on to play in, or win, the national championship? I don't think so. The argument is that the Wildcats would have matched up against Notre Dame, who ended the regular season as the number one ranked team, and who also lost 42-14 against Alabama in the national championship game. I suppose K-State may have been competitive against Notre Dame, but the Wildcats were exposed against Baylor and Oregon and, while the Wildcats won the Big 12, I don't think that team was going to win the national championship regardless if Zimmerman was injured or not.
What if Kansas State never left Ahearn Fieldhouse?
I never attended a game at Ahearn Fieldhouse, but I had a class or two in the building as a student in 1991. It was a dump. I understand the nostalgia from those that attended classic basketball games there, including when the Wildcats beat the Russian national team in that building, but it would have taken a MAJOR rehab job to get that building in working order to continue to host basketball games there. Who knows if after a renovation you would have the same atmosphere and environment in the building? If the basketball team had continued to play there, would Lon Kruger have stayed on as coach? Likely not. Likely, you would still have the same coaching succession of Dana Altman, Tom Asbury, and Jim Wooldridge with the same results. The building had a great environment and provided a spectacular home-court advantage not only because of the layout and rabid fan base but also because the program had some of the best coaches and players in college basketball during the Ahearn years. Had they stayed in that building, I do not think the course of history would have changed much, if at all.
What if Kansas State beats Kansas in '88 in Pontiac, MI?
I do not spend much time thinking about this one since the Wildcats lost to the Jayhawks by 13 points in that Elite 8 game. Had K-State won, there would be another Final Four banner in the rafters, but probably not a national championship banner. Assuming K-State got to the national championship game like KU ended up doing, they would have played Oklahoma. K-State lost two out of three to Oklahoma that season. They beat the Sooners 69-62 in Manhattan, lost 112-95 in Norman, and 88-83 in the Big 8 tournament championship that year. But K-State wasn't all that close to beating KU in the Elite 8, so it is a moot point.
What if Bill Snyder didn't come back to coach after Ron Prince?
My best guess is if Bill Snyder stayed retired in 2008, TCU coach and ex-K-Stater Gary Patterson would have been hired as K-State's head football coach after Ron Prince. Would Patterson have had as much success as Bill Snyder did during his second go around? Would he have won a Big 12 title? I don't have any idea. Patterson never lit things up on the recruiting trail, but he did have a couple of good teams after TCU joined the Big 12, winning the league in 2014 and finishing second in 2017. At the very least, he would have gotten the Wildcats back into bowl games every year, but I am not sure he would have won the Big 12 while at K-State.
What if Tubby Smith came to K-State instead of Tom Asbury?
This one falls in the "rumor" category, but it is a strong rumor that I still believe to this day. The rumor goes that when K-State had an opening for head basketball coach after Dana Altman went to Creighton, Tubby Smith accepted the K-State job, flew home to Tulsa, slept on it, and changed his mind the next day. Instead, he stayed at Tulsa one more year before leaving to coach at Georgia, Kentucky, Minnesota, Texas Tech, and Memphis. Since turning down the K-State job (allegedly), Smith has guided his teams to 17 NCAA tournaments, a national championship, three Elite Eights, and four Sweet Sixteens.
What if Smith had come to coach at K-State? At the very least, he would have made a bunch of NCAA tournaments, and we would not have had to endure the Tom Asbury and Jim Woldridge years and the ridiculous losing streak to KU along the way. On the other hand, we might have never had Bob Huggins, Frank Martin, Michael Beasley, Bill Walker, and Jacob Pullen, among others. Oh, what could have been? Speaking of Frank Martin…
What if no one had "found" the receipt in Dillon's left by Jamar Samuels? Would Frank Martin have still bolted to South Carolina?
He would have eventually but may have stuck around for one more year. Athletic director John Currie and Frank Martin did not see eye to eye. The last straw was the strange story of someone finding a money order receipt on the floor of a Dillon's and returning it to John Currie. The school investigated, found that Samuels accepted the money, and suspended him for the second-round NCAA tournament game, which the Wildcats lost. Martin resigned a short time after the loss. He might have left had the receipt never been found, but we will never know for sure. What we do know is one of the two had to go eventually, and at that time it was not going to be John Currie.
What if the Tip-In Rule was in effect when Daryl Winston tipped a missed shot in and got fouled in the waning moments of the Marquette game?
Since the rule was not in effect, the tip-in was disallowed or KSU could have tied the game and sent it to overtime.
This question was sent in by my good friend Tracey Faulkner, an "old school" K-State basketball guy. I vaguely remember hearing about this incident, as it was before my time, but it prompted me to look into it a little bit more. I was fascinated by what I found.
Marquette won the national championship in 1977 but needed every second they could in their second-round game against K-State in order to get the victory. The NCAA had a tip-in rule at the time that required a player to have full control of the ball in order to shoot and score a basket. You couldn't just "tip in" the ball to score like you can nowadays. In this game, with 13 seconds remaining and the Wildcats down three points, K-Stater Mike Evans missed a shot that was rebounded and put into the basket by Daryl Winston, who was also fouled on the play. If Winston made the free throw, the game would be tied, and we may have gone to overtime. Instead, the referee waived off the basket, claiming that Winston did not have full control of the ball before scoring. The foul still stood, and Winston shot a one-and-one, making both free throws. The one-point deficit was the final margin of victory in the game. To this day, Winston claims that he had both hands on the ball with control before scoring. He even said that Marquette coach Al McGuire approached him after the game and said, "You guys deserved to win." There was so much controversy around this call that the NCAA changed the tip-in rule 12 days after Marquette won the national championship.
It begs the question, could K-State have gone on to win the national championship in 1977 had they beaten Marquette, the eventual national champions? There is no doubt that K-State gave Marquette one of its toughest tests in the 32-team tournament. Marquette beat Cincinnati by 15 in the first round, Wake Forest by 14 in the Elite 8, UNC Charlotte by two in the Final Four, and North Carolina by eight in the national championship game. Could that K-State team have made a run? The team was led by Mike Evans and Curtis Redding, both NBA draft picks, so I'd like to think they would have. Tracey seems to think so, and I am not going to argue with him.