Basketball
Postscripts: Grading Brett Yormark's First Year as Big 12 Commissioner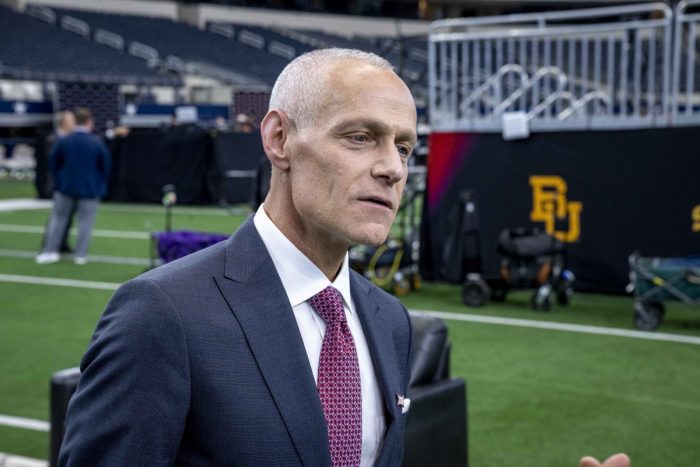 What's going on in the Big 12 and beyond? I expand and explain every Sunday in Postscripts at Heartland College Sports, your home for independent Big 12 coverage.
This week, I'm on vacation, checking out The Avett Brothers at Red Rocks outside of Denver (if you're around, say Hi). But, before I left, I wrote this.
Big 12 commissioner Brett Yormark is closing in on the one-year anniversary of his start date of Aug. 1, 2022. A lot has happened since he took over. Below was my attempt to grade the league's first year under his leadership. The grade isn't for Yormark, necessarily. It takes a staff and a conference full of presidents and athletic directors that are on board with the mission. But, naturally, he'll get the majority of the credit — and the majority of the blame.
I have seven categories. Some are broader than others because the Big 12 attempted some specific things that were different for any college conference. At the end you'll find my final grade.
Big 12 Eats
This initiative gets a separate category because it stands apart from anything the Big 12 has tried and, frankly, anything any other league has tried that I can recall. Concession items inspired by each of the 10 Big 12 teams were debuted at the Big 12 men's basketball tournament and per the league they sold more than 5,000 units — and sold out of the WVU-inspired pepperoni rolls. The idea did so well that the league replicated it at the baseball tournament in Arlington, Texas. The league got a lot of return on this, and not just in the wallet. It created buzz, and that's something Yormark understands (you can see how Big 12 fans reacted to our power rankings of the food back in March). There's no question it will be expanded in the future. Grade: A
Big 12 and Rucker Park
The idea of a youth clinic outside of the league's geographic footprint isn't as much of a gamble as one might think. It's good outreach. Partnering with Rucker Park, the birthplace of streetball, was a masterstroke. Great coaches will be there, including one with Brooklyn ties in Oklahoma State's Mike Boynton Jr. The event should get good media coverage in NYC. Had the Big 12 found a way to get a waiver for exhibition games at Rucker Park, that would have made this a massive event. As it is, the stated goal of exhibition games in 2024 may not happen, either because, well, the NCAA. That tempers expectations just a bit. Grade: B-plus
Big 12 Mexico
The league ended up where I think they should have ended up — a bowl game targeted for 2026 and non-conference basketball games in Mexico in 2024. But the rollout was clunky and got caught up in a rumor mill, with some believing it would be regular-season football games and not a bowl game (Yormark acknowledged the rumor mill issue in late May). The idea is sound. International bowl games have been around a while. The NBA has done well in Mexico. But the grade comes down because of the rollout and because it's going to be a while before the league sees tangible returns. The seeds start being planted this fall with Spanish radio rights to the Big 12 Championship game and select football games on ESPN Deportes. Grade: C
Branding and Marketing
The Big 12 hasn't done anything major yet, thought their partnership with BAPE (A Bathing Ape) was well-received and merchandise at the Big 12 football championship had a 100 percent sell-through, per the Big 12. The league's overall branding hasn't changed much (the league's logo went to black and white and the web site took on a sleeker look on July 1), and Yormark acknowledged that more changes would come in the next year. Yormark said in May that he doesn't expect the league's name to change, either. If you monitor the Big 12's social media accounts, as I do for work, you saw a definite uptick in their engagement throughout the season, not just with current athletes but with former athletes, too (see what it did for OSU product Rickie Fowler after he won the Rocket Mortgage Invitational recently). I don't believe the strategy has kicked in full yet, but the small steps forward are promising for a league that didn't have much of a strategy around this before Yormark took over. Grade: B
Championship Games and Tournaments
Yormark's background in NASCAR and the NBA colored a lot of what the league did. Ashanti and Jordin Sparks sang the National Anthem at the Big 12 football championship and Big 12 men's basketball championship, respectively. The league created ancillary events around the men's tournament, including a concert by Fat Joe and a DJ set by DJ Diesel (you know him better as Shaquille O'Neal). The league didn't do much of that around the baseball tournament (I can't speak for softball). But it's a promising start. Shaq's DJ set packed the Power and Light District. It was further proof that this isn't Bob Bowlsby's Big 12 anymore. Grade: B
Expansion
It's hard to provide a grade here because, well, the Big 12 hasn't expanded as of this writing. My belief is that the league has a "Plan A," "Plan B," etc… when it comes to this. But it takes two to tango, as they say, and Yormark doesn't want to extend an invitation that he isn't 100 percent sure will be accepted. I think you can give the league points for being prepared and pro-active, something it hasn't been in a long time. They're positioned well. But that nothing has happened drags the grade down just a bit. Grade: B-minus
TV Deal
Whether Yormark and his team simply wanted to get his 12-team league stability or he truly read the room and knew what was coming in the media rights world, the league's six-year extension with ESPN and Fox is the biggest accomplishment of his first year. The league will get $3 million more per team per year than the current deal with Texas and Oklahoma. They're locked in with the two top linear providers around (and both have streaming options). They get back in market before most of their competition. Did the league leave some revenue on the table? Maybe. But when you see the Pac-12's current struggles to get a similar deal, you can't blame the league for jumping into the fray sooner than anyone expected. Grade: A-plus
Overall Grade: B
The Big 12 had an above-average first year under Yormark. The TV deal was a home run. The initiatives around the Big 12 Championships injected life in the current formats. Big 12 Eats was great and the branding and marketing initiatives have solid groundwork laid for Year 2. Big 12 Mexico is going to need time to percolate. Year 1 was a beta test, so to speak. The Big 12 tried some low-stakes, low-risk initiative that worked. Year 2 will be about pushing the envelope more, based on the groundwork already built.
You can find Matthew Postins on Twitter @PostinsPostcard.