Big 12 News
Bob Huggins Claims He Didn't Write Resignation Statement to West Virginia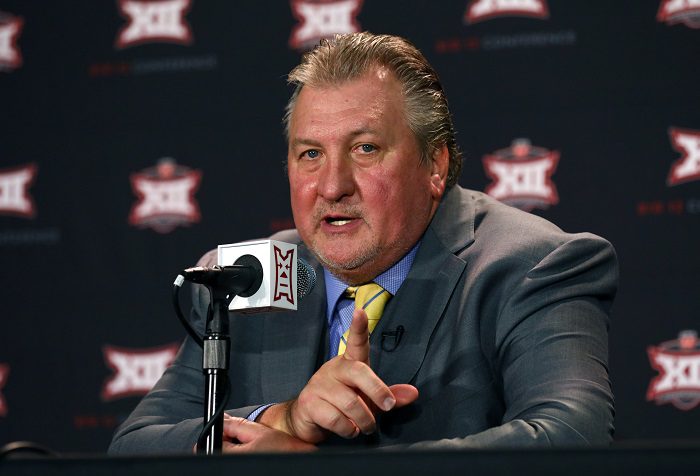 In one of the most bizarre twists to a story in recent college basketball history, Bob Huggins has released a statement saying he never submitted a resignation notice to West Virginia and should therefore still be employed as the men's basketball head coach.
The letter goes on to say that since Huggins' Employment Agreement specifies a resignation must be signed, and no copy of a signed resignation exists, Huggins is still legally the head coach and should be able to resume active coaching duties.
Back on June 17, an announcement released by the school and attributed to Huggins indicated he was stepping down following his DUI arrest the night before in Pittsburgh, PA. However, in his statement on Monday, Huggins said the June 17 announcement was not written by him.
"I did not draft or review WVU's statement," Huggins wrote. "This false statement was sent under my name, but no signature is included. … I am employed by WVU pursuant to an Employment Agreement. I never submitted the notice required under the Employment Agreement to voluntarily resign."
Huggins added he did not inform his players of his decision to resign at a June 17 meeting, telling them only that he did not know what was going to happen. The coach went on to say that he plans to remain in a rehab center until he can return to his active coaching duties.
The university responded directly to each claim made by Huggins and his attorney, David A. Campbell. They emphasize that Huggins has no legal right to return as head coach, that he did resign from the head coach position, and that they attempted to help him with his resignation via using his wife's email, because Huggins does not use email, and via his lawyer, James Gianola.
The university told Campbell it does not plan to reinstate Huggins.
"Moreover, if Mr. Huggins or his counsel attempts to publicly suggest that he somehow did not resign and retire from his position, please be advised that the University will swiftly and aggressively defend itself from these spurious allegations," wrote Stephanie D. Taylor, vice president and general counsel for the university.
Campbell responded to Taylor in another letter on Monday, stating that Huggins' employment agreement requires Huggins to send written notice of his resignation to the school's athletic director and general counsel.
"Accordingly, based on the plain language of the Employment Agreement and clear West Virginia law, an email from Coach Huggins' wife to Steve Uryasz, WVU's Deputy Athletics Director, is not effective notice of resignation under the Employment Agreement," Campbell wrote.
Taylor and the university responded Monday night to Campbell's second letter, reiterating the university's stance that Huggins indeed resigned and that it will not reinstate him as head coach, while also calling Campbell and Huggins' assertions "meritless" and "contrary to the documented evidence."
This is all an unfortunate way for a Hall of Fame coach to have his coaching career end at his alma mater, but now, it's become a future Netflix documentary in the waiting.