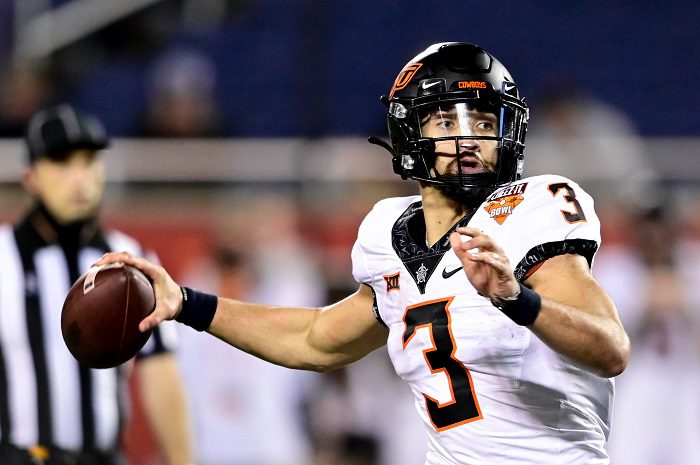 While it's not easy to please everyone when making a list of personal opinions, 247Sports' Brad Crawford is catching some major flack for his recent power rankings list of SEC quarterbacks.
Crawford has Ole Miss quarterback Jaxson Dart checking in at the eighth spot on the list which raised some questions for college football fans wondering if Dart would even be the Day 1 starter. The Rebels hit brought Oklahoma State quarterback, Spencer Sanders in through the transfer portal but in Crawford's eyes, Sanders might not even operate as the team's primary backup.
Crawford explained his decision by saying, "There's a gap between Jaxson Dart and Oklahoma State transfer Spencer Sanders this summer, sources tell 247Sports, so much so that LSU transfer Walker Howard may even be the Rebels' No. 2 at this point. Lane Kiffin brought in both of those players to light a fire of sorts under Dart, who made far too many mistakes through the air than his coach would like since his arrival."
Sanders entered the transfer portal back in December of 2022 and after a month of testing the waters, the Texas native committed to Ole Miss. Sanders heads to Oxford with over 9,500 passing yards, and 67 passing touchdowns in his career, and while it's safe to say that Sanders struggled at times last season through injuries and inconsistencies, the idea of a veteran passer transferring to be the third-string quarterback is borderline laughable.
While it isn't a shot at Jaxson Dart to say that Sanders will be fighting for the starting job come September, the idea of keeping him on the bench as a reserve to "light a fire" under Dart feels like a stretch. Regardless of who kicks off the season as the Day One starter in Oxford, I fully expect to hear Sanders' name grace the starting lineup for the Rebels once at the very least in the upcoming season.