Baylor Bears
HCS Mailbag: Texas Winning the Big 12, Texas Tech Contending, and Skyline Chili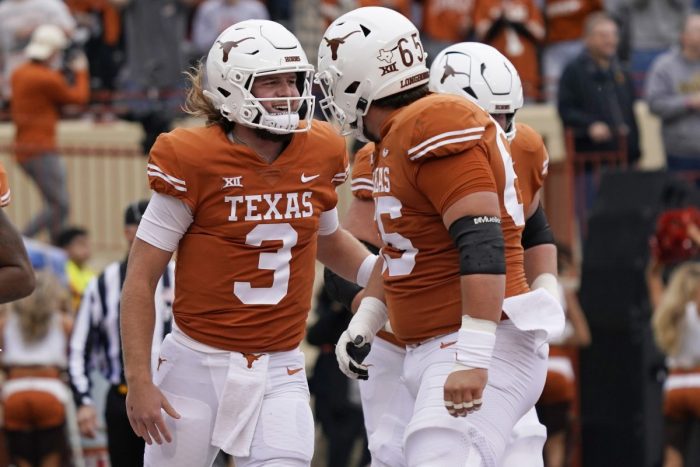 Welcome to the HCS Big 12 mailbag. This mailbag is for all you football junkies out there who root for a Big 12 school, who not only have questions about your team but other teams in the conference as well. So, join me, grab a cold brew or your favorite drink, and relax as I answer all your Big 12 questions in my mailbag. I want to thank each one of you who submitted a question this week and for tonight's drink of choice? An ice-cold Shiner beer! Cheers!
Duke: I plan on releasing my All-Big 12 team on Tuesday along with my preseason poll. But since you asked, I will let you know that I have the Texas Longhorns winning the Big 12 this season. Yes, I know they are overhyped each and every year, but this is the first time they have been at the top of my preseason poll since I started voting back in 2017.
I'll take Texas over the field right now just because I feel like they are finally getting to where they need to be as a program. The quarterback room is as talented as anyone's in the entire country and the same can be said for the wide receivers. Plus, their offensive line should be improved this season as well. Now defensively they need to get better but they bring back some key pieces including a solid defensive front. Call me crazy but I like Texas this season.
Duke: Texas Tech is a true contender in 2023 but it's not for the College Football Playoff. It's for the Big 12 title. Look, Texas Tech in year two under Joey McGuire will be better. Tyler Shough returns at quarterback and when he's healthy, this team can compete with anyone in the conference. I also love offensive coordinator Zach Kittley and I trust his offense to score points. Shough will have plenty of options to throw to, but I do have some concerns on the offensive line. Meanwhile that defense has some veterans returning as well. They had a great season last year and I believe they will take another step forward. It's just the step you are talking about is a little too much to ask right now. But mark my words, this team will be competing for a conference crown late in the season.
Duke: I am not going to lie; I was shocked that Northwestern fired Pat Fitzgerald on Monday. That whole situation at Northwestern is weird and now we have two sides pointing fingers at each other. At this point, I am not really sure what to believe but it's too late now because Pat is gone. Now if Northwestern is eyeing Iowa State head coach Matt Campbell, then let them. In fact, let them take a picture so it will last longer because Matt Campbell is not going to be the next head coach at Northwestern. Every year he has been linked to different jobs and to me, linking him to the Northwestern job is laughable.
Duke: As of this very moment, I am going to say no. I like TCU a little more than Baylor this year and that game will be in Fort Worth. Maybe if it were in Waco, I would change my mind, but I just feel a little bit better about TCU right now but it's very close.
Duke: If these are my only two options then give me Quinn Ewers winning the Heisman. I don't feel great about that despite Quinn being talented, but I also am a baseball fan, and I am definitely not a Rangers fan. Apologies to all the new readers out there but for those that know me know that I am a die-hard Houston Astros fan and talking about the Rangers winning the world series is like me talking good about the Pac-12. It's just not going to happen.
Duke: I will be straight up honest with you; I have never tried Skyline chili. I do want to go to Cincinnati and try it so that is definitely something on my bucket list. To me, chili on spaghetti would be weird and I am not sure how I would feel about chili on a tortilla despite being from south Texas. I would try it on a baked potato but out of these options you have given me, I will take the chili dogs all day. I mean, who doesn't love a good chili dog?