Big 12 News
Brett Yormark: 'I'm Not Sure' Texas, Oklahoma 'Carried' Big 12 Football Recruiting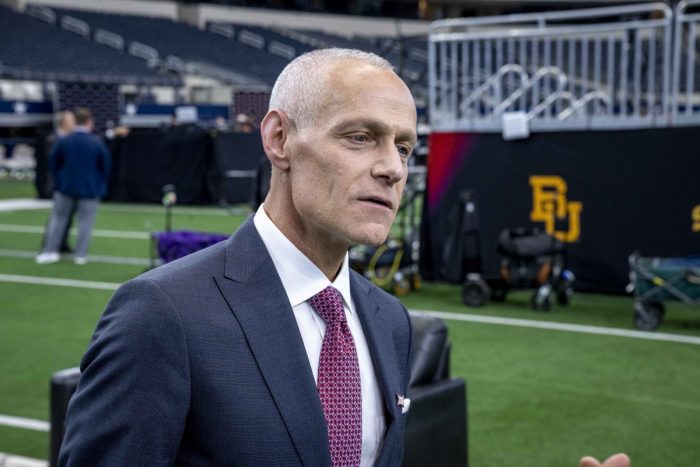 ARLINGTON, Texas — Texas and Oklahoma will leave the Big 12 Conference after the 2023-24 season. For years, the Longhorns and Sooners have drawn in five-star recruits.
But does that mean they're "carrying" recruiting for the conference?
Commissioner Brett Yormark was asked that question on Wednesday at Big 12 Media Days and pushed back on the idea that the two teams have carried the league's recruitment for one simple reason.
"I'm not sure they've carried recruitment," Yormark said when asked. "They've haven't been in the championship game here for a couple of years now. And all of the other schools have done an incredible job. So I'm not sure they've carried recruitment for this conference.
"I mean, I love Texas and Oklahoma — don't get me wrong. And, like I've said before, I've got great relationships with them. But our schools are doing an incredible job in recruitment. Look at TCU's run last year, 80 percent of our teams made a bowl game last year. So everyone's in a great place."
Texas and Oklahoma have certainly led the league in signing more five-star recruits than any of the remaining Big 12 schools in the past several years.
But, Texas hasn't won a Big 12 Championship in more than a decade and has only been to the Big 12 Championship Game once since it was reimplemented.
Oklahoma, meanwhile, went to its last Big 12 Championship Game in 2020, which was also its last title.
Since then, four different teams have played in the Big 12 Championship Game — Baylor and Oklahoma State in 2021 and TCU and Kansas State in 2022.
Baylor won the game in 2021 and Kansas State won the game in 2022. TCU, in spite of losing to Kansas State in the title game, was invited to the College Football Playoff and became the first Big 12 team to reach the CFP title game before losing to Georgia.
So, are Texas and Oklahoma carrying recruiting in the Big 12, or is everyone pulling their weight? That could be a discussion point as the Longhorns and Sooners are set for their final season.
You can find Matthew Postins on Twitter @PostinsPostcard.