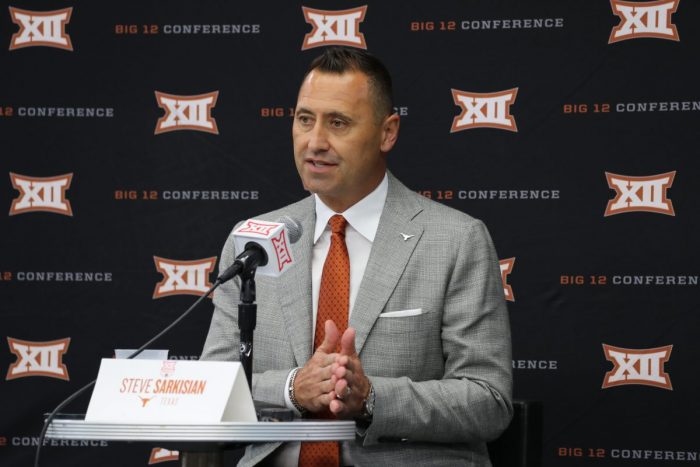 ARLINGTON, Texas — The Texas Longhorns are heading into the 2023 season as the preseason favorite to win the Big 12 for the first time since 2009, which, coincidentally, was the last time they won it.
This year represents the Longhorns' last chance to win a Big 12 Championship, as the Longhorns will make the move to the SEC on July 1, 2024. Sark says his team isn't concerned about that though, because the focus is on winning a Big 12 championship in 2023.
"I know that there's been so much talk about the SEC and what's happening in 2024," Sarkisian said. "But I think one thing that I love about this team that we have this year is their focus on 2023 and this opportunity we have here in the Big 12. It's going to be a heck of a season great competition."
As for his expectations heading into UT's final season in the Big 12, Sarkisian was very specific in what he sees for his team in 2023.
"I expect our team to play aggressive, tough, fast physical and smart football every Saturday," Sarkisian said. "If we do that, every Saturday, we'll put ourselves in position to be competing for a championship. But that's the challenge that we have week in and week out is to put ourselves in the best position to go do those things. There's a style of play that we believe in, and that there's a level of toughness that's involved. There's a level of physicality that's involved. There's a level of aggression that's involved. There's a speed element involved. There's a football intellect that's involved in all that. That we have to recreate starting every Sunday night, Monday, Tuesday, Wednesday, Thursday, Friday to get ready for an upcoming opponent. I do think this team has the maturity to do that week in and week out. Because I think they hold each other accountable. And when a guy is not doing that, they're willing to step in and they're not relying on the coaches to do that as much anymore. So you know, ultimately, if you ask any one of our players, they want to be here December 2 competing for a Big 12 Championship. That's simple, but we have to do the necessary things day in and day out to try to make that happen…
"This team is is different. They have a different look in their eye. They look different on the hoof they interact with one another differently. I've used the outage, I feel like this team is on a mission, because that's the approach they have every day that they show up in the facility."
Texas is coming off an 8-5 campaign in Steve Sarkisian's second season at the helm, finishing third in the Big 12. Texas finished the 2022 season with a 27-20 loss to Washington in the Alamo Bowl.
Texas returns a whopping 10 offensive starters, including starting quarterback Quinn Ewers. The Longhorns also return top wideout Xavier Worthy, tight end Ja'Tavion Sanders, and several key offensive linemen, including OT Kelvin Banks.
Defensively, Texas returns six starters including their team leader in tackles, LB Jaylen Ford. T'Vondre Sweat returns to the defensive line, while Jahdae Barron Jr. and Ryan Watts return to lead the defensive backfield.
Texas didn't add too many pieces in the transfer portal but the pieces they did add are expected to be major contributors. Jalen Catalon, a standout safety from Arkansas, transfers in and could be an X-factor for the Longhorns in 2023. Meanwhile, on the other side of the ball, AD Miller comes in from Georgia and is expected to bolster an already impressive wide receiver room.
Texas will kick off the 2023 season against Rice at home before a major test at Alabama in Week 2. The Longhorns will start their Big 12 schedule on the road at Baylor on September 23 before hosting Kansas on September 30 in their Big 12 home opener.