Big 12 News
Yormark Wants Texas, Oklahoma Celebrated in Final Big 12 Season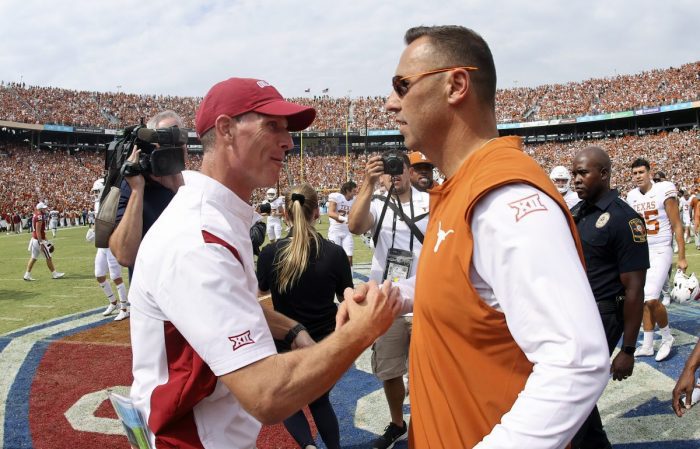 The 2023 Big 12 Football Media Days marks the final time that Oklahoma and Texas will be acting members for the media events in the conference.
The Sooners and Longhorns were original members of the conference when it began in 1996, but will leave their home of nearly 30 years for the SEC on July 1, 2024.
With the longtime "flagship" programs leaving the Big 12, the conference's hierarchy is set for a reshuffle but also introduces a new and exciting era to the nation's most innovative conference.
Big 12 Commissioner Brett Yormark said on Wednesday that he wants to make sure the legacies of Texas and Oklahoma are celebrated as the conference makes this transition the next two seasons.
"I think it's going to be a year of celebration," Yormark said. "We're going to celebrate our continuing eight. We're going to celebrate our new four. And in fact, we're going to celebrate Texas and Oklahoma and all the contributions they've made to this conference since day one because they'll always be a big part of this conference."
Texas and Oklahoma were original members of the conference when it was formed in 1996. In 2021, the pair's departure to the SEC nearly derailed the conference. But, the Big 12 expanded, got a new television deal and now has the stability it didn't have before the announcement.
Part of that stability comes from the deal struck by Texas, Oklahoma, and the Big 12 to allow the Longhorns and Sooners to leave the league a year early. Yormark said those negotiations really didn't take that long.
"We all wanted the same thing, and we got there," Yormark said. "I'm happy for them. I'm happy for us. We brought closure to an issue that was highly discussed this time last year, and I'm happy we did.
With OU and Texas heading out in 2024, the 2023 football season will be the lone year that the conference is made of 14 teams unless further expansion takes place in the near future.
In their final season in the Big 12, Texas was picked by Big 12 media to win the conference, while the Sooners were voted to finish third.