featured
Five Takeaways From 2023 Big 12 Football Media Days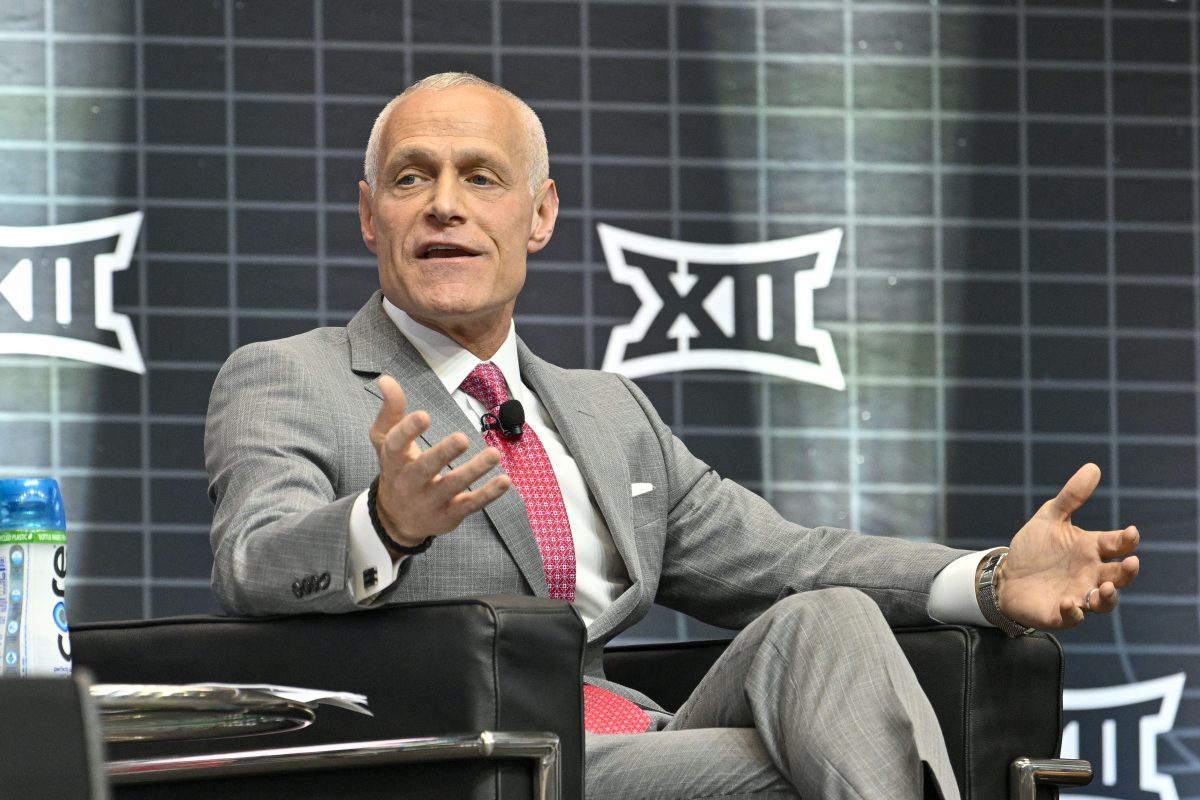 Big 12 Media Days are officially in the rearview mirror, which means that it's almost time for fall camp headlines to start taking over in just a couple of weeks.
However, before we dive into the on-field aspects of the 2023 season, it feels necessary to reflect on some of the larger takeaways from what was a truly historic Big 12 Media Days in Arlington (TX).
In Brett Yormark's first official Media Days as commissioner, he hosted Oklahoma and Texas for the final time, welcomed four new schools into the fold, and doubled down on the strength of his conference in an ever-changing landscape.
There were plenty of things to take away from this week's event, but here are the five things that stood out to the Heartland College Sports staff.
No Love Lost for Oklahoma, Texas
This week marked the final time that Oklahoma and Texas will take part in Big 12 Media Days, as they'll officially join the SEC on July 1, 2023. The Sooners and Longhorns are headed to greener pastures, but the folks they're leaving behind aren't necessarily sad to see them go.
Always outspoken Mike Gundy made sure to give the media one last jab at Oklahoma for leaving the Big 12, placing the death of the Bedlam Series squarely on the Sooners' shoulders. "Oklahoma State's not going to change what we do because Oklahoma chose to go to the SEC," Gundy said. "They need to change what they do because they're the ones that made up their mind to go to the SEC."
Big 12 Deputy Commissioner Tim Weiser went in on the exiting duo as well, saying that their decision to leave was, "more about affiliating with a group of schools…they would rather get beat by Alabama than Kansas State. Or Florida than Iowa State."
During his opening statement on Wednesday, Commissioner Yormark made it clear that this year was the time to celebrate the legacy that Oklahoma and Texas are leaving in the Big 12, but he also made sure to tout the remaining schools when asked about the impact OU and Texas leaving would have in recruiting.
"I'm not sure they've carried recruitment," Yormark said when asked. "They've haven't been in the championship game here for a couple of years now. And all of the other schools have done an incredible job. So I'm not sure they've carried recruitment for this conference.
"I mean, I love Texas and Oklahoma — don't get me wrong. And, like I've said before, I've got great relationships with them. But our schools are doing an incredible job in recruitment. Look at TCU's run last year, 80 percent of our teams made a bowl game last year. So everyone's in a great place."
While the Big 12 is certainly playing nice with the Sooners and Longhorns, it's clear that there's not any love lost with them leaving next season and the remaining pieces are as excited as ever about the future.
Palpable Excitement from Newcomers
Making the jump to the Power Five level is something that folks tend to attribute to on-the-field factors, and that is certainly true. Making the competitive jump to that level of play is a transition, but there are other changes that BYU, Cincinnati, Houston, and UCF will have to adapt to going forward.
One of those changes is the scope of an event like Big 12 Media Days. You could tell from the beginning, that those programs hadn't been to something quite like what they saw in AT&T Stadium this week. However, don't misunderstand me here; it wasn't a deer-in-the-headlights feeling from the players or staff. It was pure, unbridled excitement to be here and to get started in a new and exciting future.
In our experience, one of the newcomers seemed to be just a bit more excited than the rest, and that was UCF. The Knights players, staff, and media were a perfect fit among the pre-existing Big 12 schools and in our conversations with them, they seemed to be the most excited about competing in this conference.
While the other schools had their fair share of presence at the event, UCF seemed to stand out amongst the newcomers in terms of excitement, and that feeling was pretty well the consensus at HCS.
Brett Yormark Was The Right Hire
From the very first opening statement on Wednesday, it was clear that Brett Yormark knows exactly what direction he is taking the Big 12. Despite being in charge for less than a calendar year, Yormark has made several changes to the Big 12's DNA, making it "younger, hipper, and cooler."
From "Big 12 Mexico" and basketball camps in Rucker Park, to securing a new television deal for the conference and revolutionizing the way fans will watch games on TV, Yormark has made the conference an unquestionably better product than it was last July.
Perhaps the only way to describe Brett Yormark would be to call him the ultimate innovator in his first year. Are there still things he has to learn with just one year's experience around college athletics? Sure. It would be naive to think that he's not going to make some mistakes along the way. However, there not a question in our minds whether he was the right hire to lead the Big 12.
His confidence and delivery at Big 12 Media Days were contagious, and with every word he said, you believed him even more. With quite astounding leadership qualities after just 11 months on the job, Yormark has won the hearts and minds of those who look to up to him, and that's not easily done in this industry.
Every coach, whether it be from teams incoming or outgoing, gushed about Yormark's vision and direction, all showing complete support for what the new commissioner has in store for the Big 12.
Big 12 is the "Deepest Conference in America"
When Brett Yormark opened up the event on Wednesday, he called the Big 12 the deepest football conference in America, which raised some eyebrows in the room among national media members. However, that wasn't the last time we would hear that from the main stage.
No, we heard several coaches echo the sentiment that the Big 12 is the deepest football conference in the nation from top to bottom. In 2022, the Big 12 was the only conference to send 80% of its teams to a bowl game. Plus, each of the four newcomers made a bowl game last season, bringing even more depth to the conference as a whole.
The more we heard it, the more it started to resonate: this conference really is deeper than anywhere else.
Does it have a Georgia or an Alabama? Probably not in 2023, but it also doesn't have a Colorado or a Northwestern. There are no perceived cupcakes in the conference heading into 2023.
The Big 12 has been incredibly difficult to predict over the last two seasons, with each of the last two conference champions emerging from outside the Preseason Poll's Top Five. On any given Saturday, the worst team in this league has shown the ability to play up to the top teams.
With some of the best fan bases and venues in the country, the Big 12 doesn't seem to have an easy out on the schedule heading into 2023.
With Oklahoma and Texas in for one more ride, there's really no question what conference can claim to be the deepest from top to bottom.
The Future of the Big 12 is as Bright as Its Ever Been
Some of the members of our staff have been around Big 12 Media Days for a decade, and this year's energy was "the best of them all." The optimism that each and every coach expressed about the conference, even Brent Venables and Steve Sarkisian, was eye-opening.
With Brett Yormark at the helm, the sense of despair and dread that things are going to break at the seams is long since in the rearview mirror. That's not the Big 12 that we saw this week, not even remotely.
There was a consistent feeling among the teams that the future of this conference is perhaps the brightest that it's ever been. With four new schools excited to prove they belong, eight remaining schools looking to elevate with a new opportunity ahead, and two schools looking to leave a lasting impact in their final year, the conjoined aura from the conference was one of elation and anticipation.
Sure, we all start to get antsy for college football this time of year, but something seemed different this time around. There were a lot of new faces, and that certainly played a role in it, but it just felt like the first time in a while that the Big 12 wasn't trying to solve a problem. Instead, it was focused on how great it is, how great it will be, and how it can press on into the future as one of the best conferences in America.