Big 12 News
Tim Brando on Texas Football: 'They're Last Year's Texas A&M'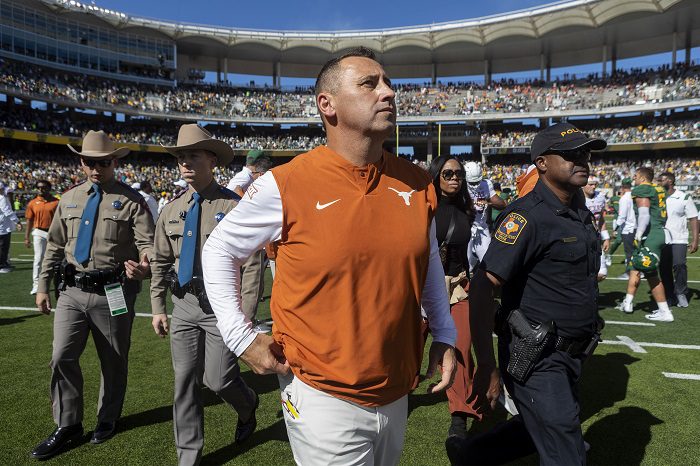 While the "We're back" argument for the Texas Longhorns seems to hit the station around the same time each offseason, FOX Sports' Tim Brando discussed his thoughts as to why he believes history will repeat itself.
Brando mentioned that the '23 Longhorns remind him of the Texas A&M Aggies in 2022, where offseason hype hit an all-time high based on the roster and recruits that Jimbo Fisher brought in before the team ultimately underwhelmed and finished 5-7 overall, 2-6 in conference play.
Brando started off by saying that Texas is the, "We're back, really? Team of the decade. Since 2009, they have had three losing seasons under three different coaches so this is not just 'oh my god, a coach just ran them into the tank and that's that' no." Brando continued by highlighting the recent success of the Longhorns in the NFL saying, "Check out the number of players that have been drafted since 2010 from Texas. I know they're the preseason favorites, it's not like they haven't been preseason favorites before."
While Texas seems to build this hype each offseason heading into the months of July and August, they have built one of the best rosters on paper in all of college football which Brando notes in his next comments.
"I know that their quarterback room is loaded, and it's arguably the best quarterback room in college football. I think Texas may play the role of Texas A&M last year. Because the hype is through the roof, 'we're great, we're back' you know they're all saying the right things. Ewers is out there saying 'We're all on the same page it looks good,'" Brando said.
He then notes that the problem with the team isn't Steve Sarkisian or the current roster he notes that, "The problem at Texas, the issue isn't just about the guy wearing the whistle around his neck. They've got a problem with the alumni, the significant alumni, and the administration. Sark is a beloved coach that can recruit just about anybody but he hasn't been able to win to the extent that they're supposed to win. Chris Del Conte is one of the best athletic directors in the country, but he is dealing with a push-and-pull situation with the Texas culture."
The Texas Longhorns have a shot to claim the throne for the final time in the Big 12 Conference when their season starts off on September 2nd against Rice.