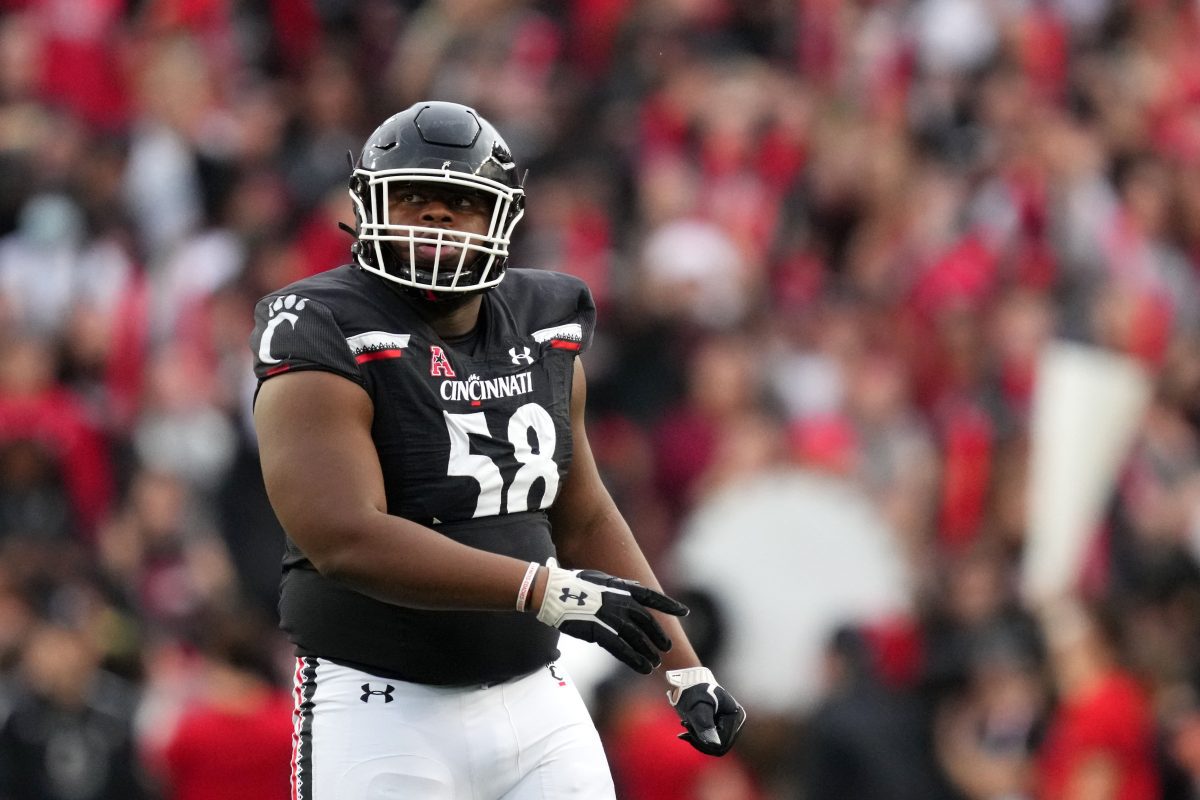 With less than six weeks left until the 2023 college football season kicks off, the time has come to start taking a serious look at the Big 12 landscape and where teams stack up against one another.
With 14 teams in the conference in 2023, there are a lot of new names and playmakers to get familiar with, but we are here to help. Leading up to the 2023 season, Heartland College Sports has taken the liberty of power ranking the position units in the Big 12 heading into the year.
Today, we start the Power Rankings with the defensive line units from around the league. Let's take a look.
1. Cincinnati
Projected Starters: DE Jowon Briggs, NG Dontay Corleone, DE Eric Phillips
Despite being a newcomer in 2023, the Cincinnati Bearcats have a defensive line that is prepared to be among the best in the Big 12 in Year 1. Sophomore DL Dontay Corleone (6-2, 320 lbs.) returns after a standout redshirt-freshman season that saw him graded as the best defensive lineman in the country last year, according to PFF (93.8), and earn Freshman All-American honors. Corleone is joined by fellow First-Team AAC selection Jowon Briggs who returns after a stellar 2022 season as well. DE Eric Phillips is also returning after eight tackles for loss in 2022, with Justin Wodtly returning and edge rusher Daniel Grzesiak joining the fold as well. This is, by far, Cincinnati's best position group heading into 2023, and the best DL group in the Big 12 by our estimation.
2. Texas
Projected Starters: DE Barryn Sorrell, DT T'Vondre Sweat, NG Byron Murphy, DE Justice Finkley
The Longhorns lose a trio of contributors in DE Ovie Oghoufo, DT Keondre Coburn, and DT Moro Ojomo, but the depth that returns should give Texas one of the better defensive lines in the Big 12. DT T'Vondre Sweat returns after nine starts and honorable mention All-Big 12 honors in 2022, as does DE Barryn Sorrell, who recorded 44 tackles and 5.5 sacks a season ago. True freshman DE Justice Finkley figures to be a factor off the edge, while Deangelo "Trill" Carter brings 13 starts in 2022 from Minnesota. NT Byron Murphy will be tasked with replacing Coburn, but the Longhorns have blue-chip names across the board in this unit. With Pete Kwiatkowski back for another year at DC, we expect the Longhorns to be very good along the defensive front again in 2023.
3. Oklahoma
Projected Starters: DE R Mason Thomas, NG Da'Jon Terry, DT Jonah Laulu, DE Rondell Bothroyd
Among many issues that the Sooners faced defensively in 2022, the defensive line just wasn't good enough down the stretch. OU allowed 212.6 ypg rushing in Big 12 play, and ranked dead last in the conference in sacks, with 13 in Big 12 play. So, how is Oklahoma third on our list? An absolute haul in the transfer portal. Brent Venables added six defensive linemen from the portal, all of which are projected to make a major impact on the unit: DE Trace Ford (Oklahoma State), DT Davon Sears (Texas State), DT DaJon Terry (Tennessee), DE Rondell Bothroyd (Wake Forest), DT Jacob Lacey (Notre Dame), and DT Phillip Paea (Utah State). The Sooners also add five-star true freshman DE P.J. Adeboware and expect big things from returnees like Jonah Laulu, Ethan Downs, and R Mason Thomas. This unit it lightyears ahead of where it was a season ago, and we expect it to be one of the most productive DL units in the Big 12.
4. Texas Tech
Projected Starters: DE Myles Cole, DT Jaylon Hutchings, DT Tony Bradford, DE Steve Linton
The Red Raiders do lose one of the best players in college football with Tyree Wilson now in the NFL, but the pieces they return are plenty to be excited about. DT Jaylon Hutchings and DT Tony Bradford give Texas Tech arguably the best interior defensive line combo in the Big 12, with both returning after starting all 13 games for the Red Raiders last season. Myles Cole will have the impossible job of replacing Wilson, but Joey McGuire feels that Cole has some big things in store for 2023. In addition to what they're returning, TTU also added DE Steve Linton (Syracuse) and DT Quincy Ledet (ULM), both of which will play a major role in 2023. The Red Raiders' defensive line figures to once again be among the best in the Big 12, even after losing a first-round talent like Wilson.
5. UCF
Projected Starters: DE Josh Celiscar, NG Lee Hunter, DT Ricky Barber, EDGE Tre'Mon Morris-Brash
Yes, two of the Big 12's top five defensive lines in 2023 played in the American Conference last season, as UCF comes in at No. 5 on our list. The Knights return three starters along the defensive line from a season ago, with Ricky Barber, Josh Celiscar, and Tre'Mon Morris-Brash all back for Year 1 in the Big 12. Barber and Morris-Brash were both First-Team AAC selections a year ago and combined for nine sacks a season ago. Their experience alone gives UCF a strong case for one of the top D-lines in the league, but there are young pieces coming in that could bolster the unit right away, with Oklahoma transfer Derrick LeBlanc joining incoming four-star talent John Walker as two freshmen that could have immediate impacts. Along the defensive line, UCF should have no problems competing at a Power Five level right away.
6. Houston
Projected Starters: DE Nelson Ceaser, DT Sedrick Williams, NG Chidozie Nwankwo, DE David Ugwoegbu
Wait, what? Three of the top six defensive line units reside in new Big 12 towns. That's correct. Houston comes into the league with roster holes at several positions, but the defensive line is not one of them. Despite losing six players from the unit a year ago, Houston returns a strong core of players that give them a more than serviceable unit heading into 2023. The Cougars have DE Nelson Ceasar, DT Sedrick Williams, and DT Chidozie Nwankwo returning, as well as Zykeius Strong who played just one game in 2022. Incoming transfer David Ugwoegbu (Oklahoma) will transition from linebacker to defensive end for the Cougars but will be much more natural at that position, given his 6-4, 250-pound frame. The Cougars should be strong up front defensively and will create some issues for opposing offensive lines.
7. Kansas State
Projected Starters: DE Brendan Mott, NG Uso Seumalo, DE Khalid Duke
Kansas State loses DE Felix Anudike-Uzomah and DT Eli Huggins as well as two rotational players from a unit that was pretty good in 2022. However, K-State should still have some success up front with DE Brendan Mott and DE Nate Matlack returning. Khalid Duke will transition back to the defensive line after playing LB in 2022 and should have a jump in production after the position change. Incoming transfer Jevon Banks (Mississippi State) and Uso Seumalo will likely be the rotation on the interior. This group might take a step back in 2023, but it should still be good enough to anchor an above-average defensive unit in Manhattan.
8. BYU
Projected Starters: DE Tyler Batty, NT Atunaisa Mahe, DT Jackson Cravens, DE Isaiah Bagnah
Last season, BYU allowed 174 yards per game on the ground and its pass rush landed just 15 sacks on the year. Needless to say, that won't get it done in the Big 12. Jay Hill enters as the new defensive coordinator and he will have two key pieces returning on the D-Line with DE Tyler Batty and DT Caden Haws coming back. A pair of Boise State transfers in DT Jackson Cravens and edge rusher Isaiah Bagnah gives the unit more depth than a season ago and could help this be a surprise group in 2023.
9. Baylor
Projected Starters: DE TJ Franklin, NG Tre Emory, DE Gabe Hall
Baylor's interior defensive line is going to look completely different in 2023 with DT Siaki Ika and DT Jaxon Player both gone. The Bears have experience returning at defensive end, with seniors Gabe Hall and TJ Franklin back for another season. Redshirt freshman Tre Emory, along with Treven Ma'ae (Oregon) and Jerrell Boykins Jr. (Hutchinson CC) will do their best to replace the lost production inside. There is a lot on the newcomers' shoulders here, but this could be a better-than-expected unit by season's end.
10. TCU
Projected Starters: DE Tymon Mitchell, NT Damonic Williams, DE Markis Deal
Four players from TCU's disruptive front in 2022, including Dylan Horton (Second-Team All-Big 12) and Terrell Cooper, are gone in 2023. In fact, TCU returns just one starter on the defensive front, DT Damonic Williams, who had a fantastic freshman season a year ago. The Horned Frogs used the transfer portal to supplement their losses by landing Tymon Mitchell (Georgia), Rick D'Abreau (East Carolina), and Tico Brown (Missouri State). Freshman defensive ends Markis Deal and Paul Oyewale will also play a role. There are a lot of new faces in Fort Worth, but DC Joe Gillespie has a track record for making strong units throughout his career.
11. Iowa State
Projected Starters: DE Joey Petersen, NG Isaiah Lee, DE Tyler Onyedim
Iowa State loses two massive pieces from a stalwart front a season ago with Will McDonald IV and M.J. Anderson both in the NFL now. The Cyclones don't have a ton of production returning in 2023 either, with DT Isaiah Lee, DE JR Singleton, and DE Joey Peterson being the top returning D-Linemen. Tobechi Okoli and Tyler Onyedim will need to step up at defensive end, while Domonique Orange will need to become an impact player alongside Lee on the interior. 2023 could be a down year for this group unless the young pieces can take the next step quickly.
12. Oklahoma State
Projected Starters: DE Anthony Goodlow, NT Justin Kirkland, DE Xavier Ross
The Cowboys' defense will look a little different in 2023 thanks to a change at defensive coordinator with Bryan Nardo coming in, and the defensive line might be the biggest question. The best defensive lineman for Oklahoma State a year ago was arguably Collin Oliver, but he will be a linebacker in the new system. Collin Clay and Xavier Ross return some experience for OSU, but the incoming transfers are the key this season. DT Justin Kirkland (Utah State) brings a 6-4, 350-pound frame to the interior, while DT Iman Oates (JUCO), and DE Anthony Goodlow (Tulsa) will have to be impact players for the Pokes to be good up front.
13. West Virginia
Projected Starters: DE Sean Martin, NT Mike Lockhart, DT Davoan Hawkins, EDGE Jared Bartlett
West Virginia's losses on the defensive line will be tough to overcome with Dante Stills, Jordan Jefferson, and Taijh Alston all playing key roles in their success over the past couple of seasons. DE Sean Martin and Jared Bartlett are the only two defensive linemen on the Mountaineers' roster that have started a game for WVU. Newcomers Davoan Hawkins (Tenn. State), Fatorma Mulbah (Penn State), and Tomiwa Durojaiye (Kentucky) will help, but this unit won't be as strong in 2023.
14. Kansas
Projected Starters: DE Jereme Robinson, DT Devin Phillips, DT Tommy Dunn, DE Austin Booker
Kansas was not good upfront defensively a season ago, allowing an average of 286 rushing yards per game over the last seven contests in 2022. Defensive end Jereme Robinson is their top returning pass rusher, but the D-Line's success will depend heavily on the newcomers. Transfer DT Devin Phillips (Colorado State) will help plug up the middle, while DT Gage Keys (Minnesota) hopes to do the same. DE Austin Booker (Minnesota) and DE Patrick Joyner (Utah State) hope to help establish an edge for the Jayhawks. There's a lot of new blood up front for KU, but whether or not that's a good thing has yet to be determined.