featured
Drafting Big 12 Football Coaches for an All-Bar Fight Team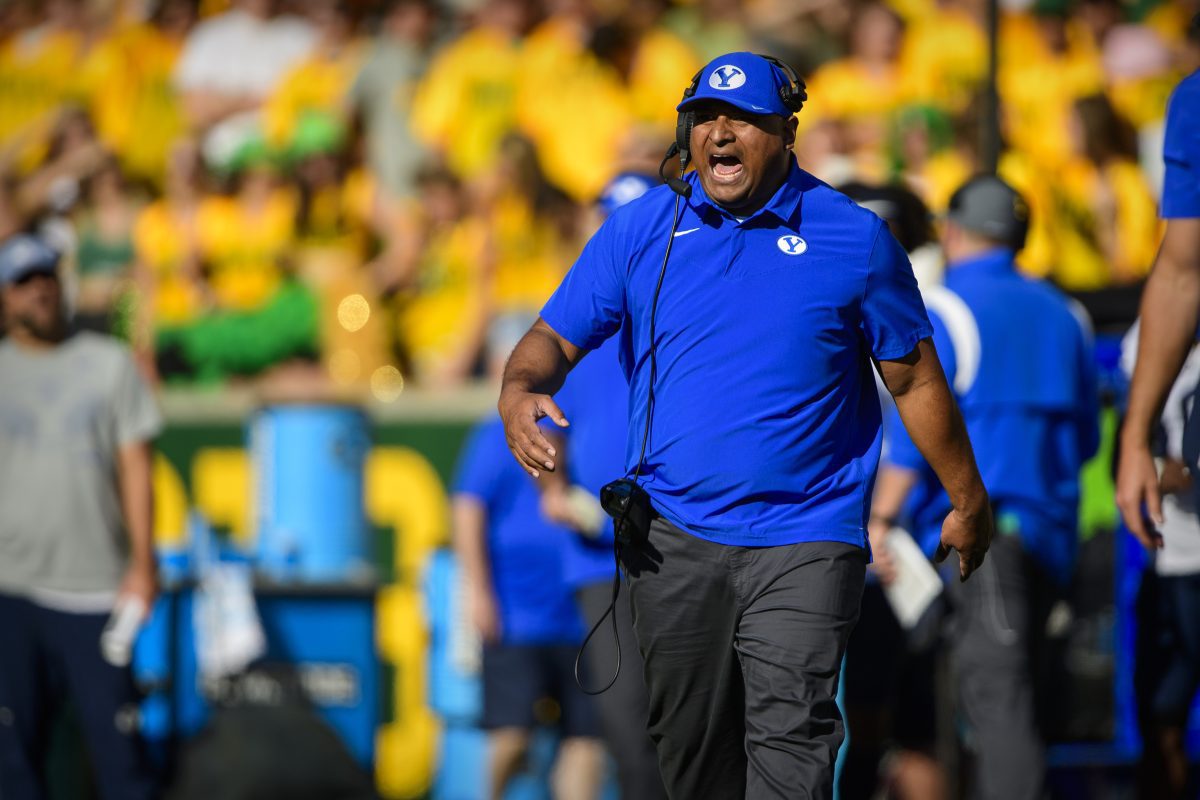 What if you had to draft six Big 12 coaches to join you in a knockdown, drag-out bar fight?
In a recent episode of The Oklahoma Breakdown Podcast, Gabe Ikard, a Host of Big 12 Today on SiriusXM Radio, said that he would take BYU Head Coach Kalani Sitake as his first-round pick for such a situation.
"Kalani Sitake, talk about a first-round pick for the All-Bar Fight Team," Ikard said. "That dude is built like a tank."
That comment got me thinking: If I could build a six-man All-Bar Fight Team out of Big 12 head football coaches, who would I choose? Here are my five selections, in no particular order.
Big 12 Coach All-Bar Fight Team
Kalani Sitake, BYU
Ikard is right on the money with this selection. There's no question that Sitake is the kind of guy that you want in your corner at 1:00 a.m. on a Saturday night at the local bar. A former fullback for BYU and the Cincinnati Bengals, Sitake has the build and presence that makes him the kind of guy you wouldn't want to find yourself cross with. Sitake seemed as nice as they come, and his demeanor doesn't exactly scream "brawler," but I have no doubt that guy would do damage in a fistfight.
Brent Venables, Oklahoma
You've got to have the high-energy guy in the group, and Brent Venables fits that role to a "T." If you've never seen a sidelines meltdown from Venable, it's just a quick Google search away, but let me tell you, I wouldn't want to be on the wrong end of a Venables tirade. As a former linebacker at K-State during the height of Bill Snyder's tenure, Venables has the mentality and fortitude to be a no-brainer selection to the Big 12 All-Bar Fight Team.
Dana Holgorsen, Houston
If there's a coach in the Big 12 that personifies, "I've been in a bar fight or two," it's Holgorsen. If you've been around the Big 12 for very long, you've seen Holgorsen's fuse go off, and it's usually something to behold. If you've got a guy like Holgorsen in your corner, you've got someone that might scare the opponent off with a guttural war-cry, which is always a plus.
Dave Aranda, Baylor
Now, before you come at me on this one, just remember: you've always got to worry about the quiet guy in a bar fight. Dave Aranda strikes me as the kind of dude that has trained in some form of martial arts, and his calm demeanor on the sidelines is otherworldly and emotionless at times. However, the X-Factor with Aranda is, if he decides not to take part in the festivities, he's the one guy that could deescalate the situation in a jiffy, because, the best bar fight, is no bar fight.
Mike Gundy, Oklahoma State
Perhaps it's just the image of Gundy in a wrestling singlet or his infamous "I'm a man, I'm 40 rant," but I feel that this list couldn't be taken seriously if Gundy was omitted. The Oklahoma State head coach is well-known for his personality and charisma and feels like a shoo-in for this list. Plus, is a bar fight really a bar fight if there's not a guy with a mullet at the center of it all?
Chris Klieman, Kansas State
Kansas State has always been one of the toughest teams in the Big 12 under Chris Klieman, and that's not a coincidence. His philosophy also earned him a few national championships at NDSU as well. That kind of toughness and mental makeup isn't something you can fake, and it would definitely be something I'd want on my team heading into a battle of grit and determination.