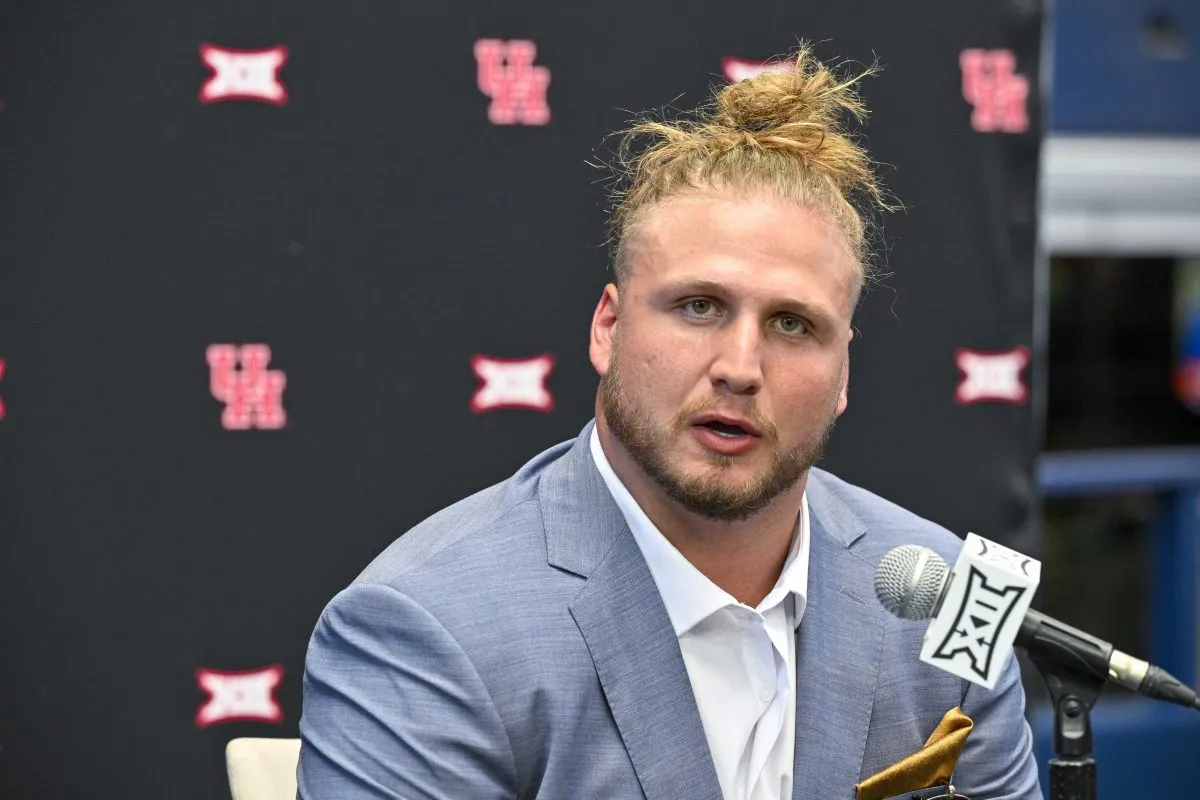 Clayton Tune is gone after throwing for nearly 12,000 yards in five seasons with the Houston Cougars. Among the people that his departure impacts is center Jack Freeman.
No, seriously. It's a big deal for the sixth-year senior, who now has been with the Cougars even long than Tune.
"Clayton was an exceptional quarterback," Freeman said. "That's some big shoes to fill."
He doesn't have to fill them, but he does have to get the football to the one that will fill them as he enters his second straight season as the full-time starter.
Freeman has been a center for most of his career in Houston. From the end of 2021 through 2022, he was Tune's center. Freeman played 935 snaps last season. Throw in his first four years, where he was a part-time starter, and he's logged more than 1,900 snaps at center. The majority of that was with Tune.
He had his highest-graded season as a lineman (69.9) in 2022 and was Pro Football Focus' third-best run blocker among centers in the American Athletic Conference (71.6). He also gave up just two sacks.
So whoever inherits Tune's job inherits a veteran center. And while finding that replacement for Tune is important, getting Freeman used to that replacement is just as important.
Tune and Freeman built chemistry over five seasons. Freeman now has just one offseason to do it for 2023.
"They're both confident, you know," Freeman said. "You really can't say this one outworks the other. They're both ready to go."
"They" are Donovan Smith and Lucas Coley, the two quarterbacks vying to replace Tune.
Coley was with the Cougars last season after transferring in from Arkansas. He played in three games, so he has some experience with Freeman, but he only threw three passes. Tune assumed most of the workload.
The former three-star quarterback, who was the No. 103 player in Texas coming out of Converse, Texas, as a recruit in 2021, has a leg up on Smith because he's been there for more than a year.
"Lucas was able to really see what it was like to be a leader under Clayton, and be a successful quarterback," Freeman said.
Smith is familiar to Big 12 fans. He transferred in from Texas Tech after the season ended. He played three seasons at Texas Tech and threw for 1,505 yards and rushed for another 261 yards. He was a part-time starter, usually due to injury to Tyler Shough, who is the incumbent starter for the Red Raiders.
Transferring to Houston gives Smith a chance to compete with Coley for the starting job. But Freeman didn't exactly welcome the newcomer with open arms. In fact, Freeman said he barely spoke to Smith for the first month after he arrived.
Why? Well, these guys are competitive after all.
"I mean, I wish he wouldn't have beaten us in overtime last year," Freeman said, referring to Smith leading the Red Raiders past the Cougars, 33-30, in double overtime last season. Smith scored the game-winning touchdown, part of a game in which he threw for 350 yards and rushed for another 31, while combining for three scores.
Turns out, all it took was Smith saying "What's up" to Freeman about six weeks into his time in Houston, and eventually everything was aces.
"We ended up hanging out and, honestly ever since then … I mean we took a trip to (Las) Vegas (where Smith was born)," Freeman said. "I mean that should tell you something."
So, yes, Smith has broken the ice. But Coley still has more experience with head coach Dana Holgorsen's offensive system.
Freeman isn't playing favorites. He's ready to keep whoever wins the job in tune, so to speak.
"Lucas is ready to go, Donovan is ready to go," Freeman said. "That makes me happy and confident being a center, knowing that I have two guys that I can really rely on, no matter the circumstances."
You can find Matthew Postins on Twitter @PostinsPostcard.