Baylor Bears
Ranking Big 12 Running Backs Ahead of 2023 Season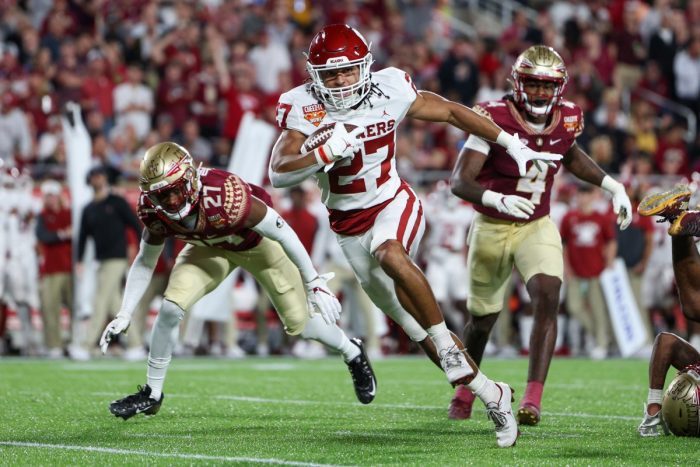 With less than six weeks left until the 2023 college football season kicks off, the time has come to start taking a serious look at the Big 12 landscape and where teams stack up against one another.
With 14 teams in the conference in 2023, there are a lot of new names and playmakers to get familiar with, but we are here to help. Leading up to the 2023 season, Heartland College Sports has taken the liberty of power ranking the position units in the Big 12 heading into the year.
Today, we continue the Power Rankings with the running backs units from around the league. Let's take a look.
1. Texas
Projected Starter(s): Jonathan Brooks, Cedrick "CJ" Baxter
The loss of Bijan Robinson, and to a lesser extent Roschon Johnson, would be difficult for 95% of the rosters in college football, but at Texas, it's next man up. Jonathan Brooks, a 6-0, 204 lb. sophomore, had 30 carries for 197 yards (6.6 ypc) and five touchdowns in 2023. Five-star freshman CJ Baxter also enters the fold as the No. 1 RB in the 2023 cycle, and will certainly play a role in this backfield. Throw in Jaydon Blue and Keilan Robinson, and this is the deepest and most talented RB unit in the Big 12.
2. Oklahoma
Projected Starter(s): Jovantae Barnes, Gavin Sawchuk
Oklahoma has had a 1,000 rusher in every season (excluding COVID-19) since 2013, and they'll likely have one again in 2023. Jovantae Barnes looks to be the leader in the clubhouse after 519 yards (4.5 ypc) and five TDs in '22 but look for r-Fr. Gavin Sawchuk to emerge as well. In the Cheez-It Bowl vs. Florida State, Sawchuk had 15 carries for 100 yards (6.7 ypc) and a score and looked like a star in the making. Add in Marcus Major, and a pair of impressive true freshmen in Daylan Smothers and Kalib Hicks, and this unit is in the discussion for the best the Big 12 has to offer.
3. Kansas
Projected Starter(s): Devin Neal, Daniel Hishaw
In 2022, the Kansas Jayhawks became bowl eligible for the first time since 2008, thanks in large part to an explosive offense. Devin Neal returns after 1,090 yards (6.1 ypc) and nine touchdowns a season ago, as does Daniel Hishaw, who missed the final seven games due to injury. The Jayhawks also add Dylan McDuffie, a 229-lb bruiser that rushed for 1,049 yards and 11 TDs for Buffalo in 2021. Behind a veteran OL, this group should be one of the best in the Big 12 in 2023.
4. Baylor
Projected Starter(s): Richard Reese, Dominic Richardson
Richard Reese returns in 2023 after leading the Bears with 972 yards (4.9 ypc) and 14 TDs in 2022 but has better depth behind him entering the season. Dominic Richardson transfers in after leading Oklahoma State with 543 yards (3.6 ypc) and eight scores last season, and should be a perfect compliment to Reese. Qualan Jones returns as well after 462 yards (5.0 ypc) and seven TDs for Baylor, and true freshman Bryson Washington impressed during the spring. With both experience and depth, Baylor's situation at running back looks great heading into 2023.
5. Kansas State
Projected Starter(s): Treshaun Ward, DJ Giddens
Kansas State will be tasked with replacing one of the most electrifying players in school history, as Deuce Vaughn is now a Dallas Cowboy. The Wildcats have the top OL in the Big 12 heading into the season, which likely played a role in landing top-five transfer RB, Treshaun Ward (Florida State). In 2022, Ward made six starts for the 'Noles, totaling 628 yards (6.6 ypc) and seven TDs. DJ Giddens also returns after serving as the No. 2 RB in '22, when he had 518 yards (5.8 ypc) and six TDs. While they will miss a dynamic playmaker like Vaughn, this unit looks strong ahead of 2023.
6. West Virginia
Projected Starter(s): CJ Donaldson, Jaylen Anderson
Last season, CJ Donaldson burst onto the scene as a freshman, turning 87 carries into 526 yards (6.0 ypc) and eight scores and topped 100 four times in just seven games before a season-ending injury. He returns in 2023 and appears to be RB1 ahead of sophomore Jaylen Anderson, who averaged 7.9 yards per carry in 2022. Justin Johnson, who served as the No. 3 option in 2022, is also back, giving WVU good depth and experience at RB. If Donaldson returns to form, this group should greatly improve on their 171.5 rypg last season.
7. BYU
Projected Starter(s): Aidan Robbins, Deion Smith
BYU loses its top three rushers from a season ago but landed one of the top transfer players at the position in Aidan Robbins (UNLV). Last season, Robbins ran for 1,011 (4.8 ypc) and nine TDs, earning 3rd Team All-MWC honors. Robbins will be backed up by Deion Smith, who averaged nearly five yards per carry at Colorado a season ago. Miles Davis and Hinckley Ropati return after limited action in '22, while former QB Sol-Jay Maiava-Peters makes the move to RB. The top of the depth chart looks good, but health will be vital for this group.
8. Oklahoma State
Projected Starter(s): Ollie Gordon, Elijah Collins
Folks in Stillwater are convinced that Ollie Gordon could be the next great running back at Oklahoma State, and if he is, the Pokes could easily move up this list. In 2022, he had 308 yards (5.0 ypc) and two scores on 62 carries, and this backfield looks to belong to him. Elijah Collins (Michigan State) looks to be the backup for now, but Jaden Nixon will have a role as well. If Gordon, or someone else in that trio can emerge as "the guy," they'll easily improve on their 125.6 rypg from last year (9th in Big 12).
9. UCF
Projected Starter(s): RJ Harvey, Johnny Richardson
Heading into its first year in the Big 12, UCF loses its top running back Isaiah Bowser, but returns its top rusher in QB John Rhys Plumlee. Bowser had 16 TDs on the ground though, and someone will need to replace that production. RJ Harvey looks like the lead candidate, with 796 yards (6.7 ypc) and five scores a year ago. Behind Harvey, Johnny Richardson returns after averaging 6.9 ypc a season ago. The X-Factor for this group is Florida transfer Demarkus Bowman, who was a five-star and No. 25 overall player in the class of 2020. If he even remotely lives up to that kind of hype, watch out.
10. TCU
Projected Starter(s): Trey Sanders, Emani Bailey
Talk about the ability to move up… Trey Sanders was the No. 6 overall player and No. 1 running back in the class of 2019. A car accident early in his college career set him back, but there are rumors that he's starting to feel like himself again. Emani Bailey had just 31 carries in 2022 but averaged 8.1 yards per tote, and could be the guy if Sanders can't get going. Behind them, Trent Battle and Corey Wren will battle for carries. This ranking is pretty simple: Trey Sanders makes or breaks this group.
11. Texas Tech
Projected Starter(s): Tahj Brooks, Cam'Ron Valdez
Texas Tech ranked eighth in the Big 12 a season ago in rushing yards per game, averaging just 159.4 yards per contest. Their top rusher, Tahj Brooks, returns after 691 yards (4.7 ypc) and seven scores, but their next most experienced returning RB had just 18 carries last year. Bryson Donnell redshirted a year ago, and true freshman Anquan Willis will both need to step into roles immediately. This group has plenty of room to improve from a season ago, and should do just that in 2023.
12. Iowa State
Projected Starter(s): Jirehl Brock, Cartevious Norton
Iowa State had the worst rushing offense in the Big 12 last season, averaging just 108.0 yards per game in 2022. Leading rusher, Jirehl Brock, had just 445 yards and three touchdowns on the ground and returns for another year. Cartevious Norton played in eight games a season ago and figures to have a bigger role in 2023. Arlen Harris transfers in from Stanford but brings virtually no experience at the college level. Someone in this room needs to emerge if the Cyclones hope to improve on last year's numbers.
13. Houston
Projected Starter(s): Tony Mathis, Stacy Sneed
Houston returns each of its top two running backs from a season ago, with Stacy Sneed and Brandon Campbell both back. Sneed had 501 yards and five scores, while Campbell had 435 yards and four TDs. Alton McCaskill was set to take over the starting role after missing the 2022 season with injury, but hit the portal and is now at Colorado. The Cougars picked up West Virginia's top rusher from a season ago, with Tony Mathis now in H-Town. Mathis had 562 and five scores in 2022, making him comparable to the others in this room. This room needs someone to emerge, or it might have a hard time transitioning into the Big 12.
14. Cincinnati
Projected Starter(s): Corey Kiner, Ethan Wright
Cincinnati's top rusher from 2022 is gone, but the Bearcats return each of their next five ball carriers. Corey Kiner is the top returner, with 362 yards (4.5 ypc) and five scores last season, and figures to be the starter this season. Ryan Montgomery, Evan Prather, and Myles Montgomery are all back as well and give Cincy plenty of options. Ethan Wright had just eight total carries last season after playing DB for most of the year, but makes the move back to RB. Expect a committee approach here, as there simply doesn't appear to be a difference-maker on the roster right now.