Trending Now
George Kliavkoff: 'The Longer We Wait for Our Media Deal the Better Our Options Are'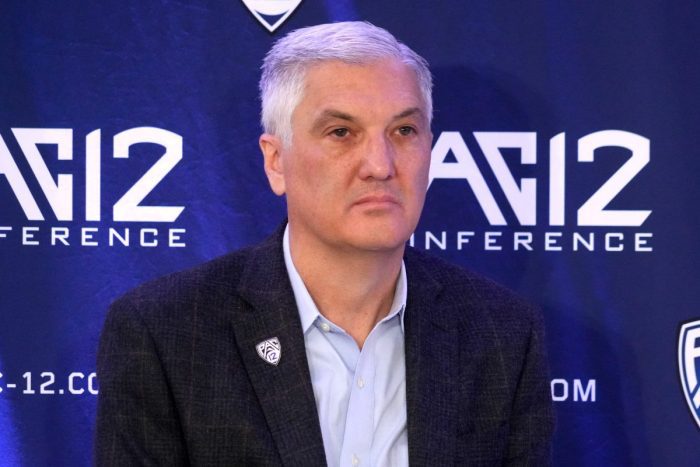 For the first time since December 2022, George Kliavkoff was at a podium and at the mercy of the media's questions concerning the Pac-12's media rights deal, or rather, the lack thereof.
There was no chance of a media rights deal being announced at Pac-12 Media Day on Friday, as we learned earlier this week. However, what people were hoping for was some clarity on the situation, which has grown rather tiresome to follow, I'll add.
However, it seems that we were just in line for some more of the cockamamie reasoning that we've heard for months.
"We're on track to announce our deals at about the same time everyone would have anticipated and predicted before conference realignment," Kliavkoff said. "Patience will be rewarded."
This is coming from the same commissioner that opened up negotiations early over a year ago and proceeded to take their product to the open market. Personally, I can't remember a more dramatic story arc surrounding a media rights deal.
Kliavkoff continued to push the narrative that this thing is going just as the Pac-12 has planned, saying that their options just keep getting better the longer this goes.
"We constantly update our Board, I think they're enthusiastic like I am about the media deal," Kliavkoff said. "But I will tell you what we've seen is that the longer we wait for the media deal, the better our options get, and I think our Board realizes that. There's an underlying shift in the media market that's happening and we're long-term taking advantage of that, but short term it may have provided some hiccups."
Then, Kliavkoff tried to deflect another question about the media rights deal by saying that he'd like to focus on football today.
"We are not announcing our media rights deal on purpose today because we want the focus to be on football," Kliavkoff said, seeming to insinuate that a deal could already be done.
When a reporter followed up on that statement, asking if Kliavkoff was saying that a deal was done, he replied, "I think you're reading too much into that."
So, after sifting through the malarky, it appears there's no media rights deal and it'll likely be a while before we hear about one.