Big 12 News
Brett Yormark 'Bullish' Heading Into Year Two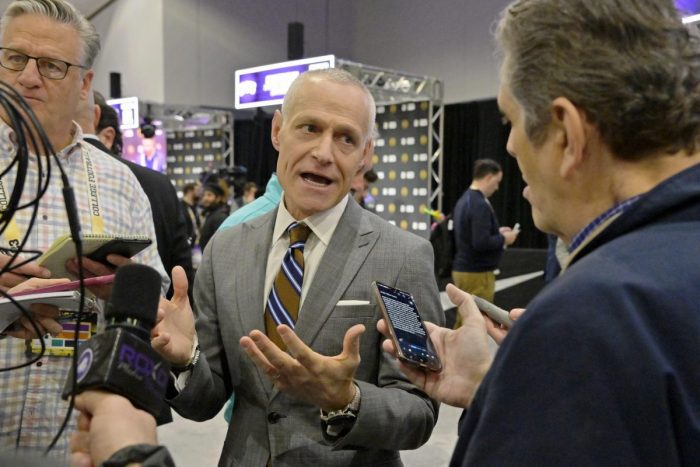 Big 12 Commissioner Brett Yormark had a tremendous amount of success in his first year with the conference and while year two brings forth its fair share of challenges, Yormark is ready for the task ahead.
Commissioner Yormark sat down with Joel Klatt to discuss his first year at the helm and answer some questions about the future of the conference, and when asked about having the previous year of experience under his belt, Brett Yormark mentioned, "I'm really bullish on Year Two because I'll be a better commissioner."
Yormark continued by saying, "I'll know more. We've got great chemistry amongst the group. We've gone through an organizational redesign, so we're staffed up ready for success. So I think our better days are ahead."
In his first year with the conference, Yormark revolutionized the position welcoming in four new addition schools in UCF, BYU, Houston, and Cincinnati, outlined initiatives to expand Big 12 audiences in Mexico, announced and executed Big 12 Rucker Park, accelerated a TV media rights deal with FOX and ESPN, and delivered some of the best on field and on court sports in the country.
While it's easy to sit back and marvel at the work the commissioner did in year one with the Big 12, Yormark's expectations of where the conference is headed are through the roof. Yormark closed off his thoughts by talking about the speed and the trajectory of the conference and its supporting members by saying, "I have been a bit surprised. In fact, it's just interesting because a couple of my board members will call me up and say, Brett, are we moving fast enough? And I'll say we're moving in just fast enough. It's fantastic."
Brett Yormark took the reigns from former Big 12 Commissioner Bob Bowlsby on August 1st of 2022, and with the start of Year Two just eight days away, the future of the Big 12 Conference has never entered a brighter era.