Baylor Bears
Ranking Big 12 Special Teams Units Ahead of 2023 Season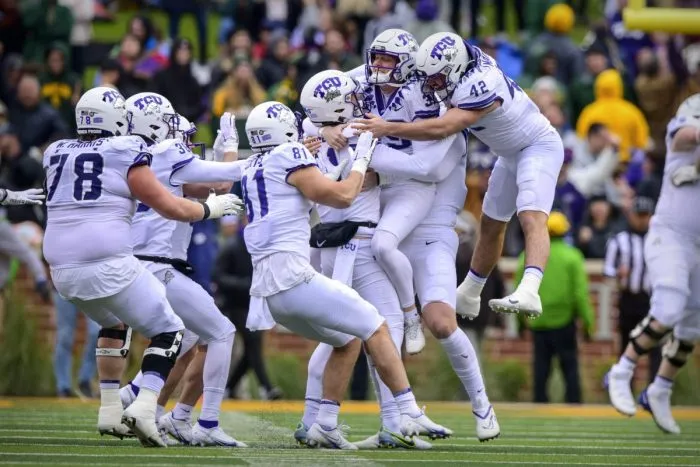 With less than six weeks left until the 2023 college football season kicks off, the time has come to start taking a serious look at the Big 12 landscape and where teams stack up against one another.
With 14 teams in the conference in 2023, there are a lot of new names and playmakers to get familiar with, but we are here to help. Leading up to the 2023 season, Heartland College Sports has taken the liberty of power ranking the position units in the Big 12 heading into the year.
Today, we continue the Power Rankings with the special teams units from around the league. Let's take a look.
1. Texas
Projected Starters: K Bert Auburn, P Ryan Sanborn, KR Keilan Robinson, PR Xavier Worthy
Texas returns starting K Bert Auburn (21-26 FG L/49, 55-55 PAT), KR Keilan Robinson (25.2 avg), and PR Xavier Worthy (9.7 avg), while starting P Daniel Trejo is gone. However, the Longhorns add four-year starter Ryan Sanborn (41.6 avg) from Stanford and provides an upgrade at the punter position. Texas was one of the better special teams units last season and should be so again in 2023.
2. TCU
Projected Starters: K Griffin Kell, P Jordy Sandy
TCU returns first-team All-Big 12 K in Griffin Kell (17-19 FG L/54, 62-64 PAT), as well as Jordy Sandy (39.6 avg) at punter, who was HM All-Big 12 in '22 as well. The Horned Frogs do lose Derius Davis, who was an All-American return man, but Alabama transfer JoJo Earle has experience returning kicks and should step in to fill that void.
3. Cincinnati
Projected Starters: K Carter Brown, P Mason Fletcher, KR DJ Taylor
Cincinnati adds transfer K Carter Brown (11-14 FG L/53, 33-33 PAT) from Arizona State, while 3rd-Team All-American punter Mason Fletcher is back (42.9 avg) in 2023. Transfer defensive back DJ Taylor (Arizona State) ranked third nationally in kick return average in 2020 and looks to be the answer as the return man this season.
4. UCF
Projected Starters: K Colton Boomer, P Mitch McCarthy
UCF returns kicker Colton Boomer (14-15 FG L/43, 42-43 PAT) and punter Mitch McCarthy (43.3 avg), giving them one of the top punter/kicker duos in the Big 12. Ryan O'Keefe served as the KR last season, so the Knights will have to replace him, but do return Xavier Townsend, who leads all Big 12 PR with 177 yards last season.
5. Kansas State
Projected Starters: K Chris Tennant, P Jack Blumer, KR/PR Phillip Brooks
Kansas State has been a juggernaut of special teams for years, but the Wildcats lose their starting kicker/punter Ty Zetner, as well as Malik Knowles, who returned kicks. We still expect K-State to remain above average in this area though, with Chris Tennant (9-14 FG L/37, 23-25 PAT) taking over at K and Jack Blumer (39.3 avg) taking over at P. Phillip Brooks returns after being 2nd-Team All-Big 12 as a punt returner.
6. Oklahoma
Projected Starters: K Zach Schmit, P Luke Elzinga, KR Jalil Farooq
Oklahoma returns sophomore Zach Schmit (12-18 FG L/44, 53-53 PAT) at kicker but must replace HM All-American punter Michael Turk. P Luke Elzinga (42.4 avg) transfers in from Central Michigan and should be one of the top punters in the Big 12. Jalil Farooq ranks fourth among all returning Big 12 KR with a 22.9 avg per return.
7. Texas Tech
Projected Starters: K Gino Garcia, P Austin McNamara, KR Xavier White
Texas Tech must replace Trey Wolff at kicker but expects Gino Garcia (32-46 FG L/ 59, 84-88 PAT 3Y at Houston Baptist) to step in. Austin McNamara (45.6 avg.) returns and should be the best punter in the Big 12, while Xavier White (22.6 avg.) is back to return kicks.
8. BYU
Projected Starters: K Will Ferrin, P Ryan Rehkow, KR/PR Hobbs Nyberg
BYU must replace its kicker from 2022 but brings in Will Ferrin from Boise State to take over the position. Ryan Rehkow (48.6 avg.) returns after earning 1st-Team All-Independent last year and should be great for the Cougars in 2023. Hobbs Nyberg averaged 12.8 yards per punt return and 22.8 yards per kick return in 2022 and is back this season as well.
9. Oklahoma State
Projected Starters: K Alex Hale, P Wes Pahl, KR/PR Brennen Presley
Oklahoma State will have to replace both its kicker and punter from a season ago, with Tanner Brown and Tom Hutton gone. Alex Hale (16-20 FG L/44, 35-36 PAT) takes over after serving as the starter in 2020, while Wes Pahl transfers in from Western Kentucky but brings virtually no experience into 2023. Jaden Nixon (27.5 avg) returns as one of the best return men in the league, as does Brennen Presley (7.9 avg) as the punt returner.
10. Kansas
Projected Starters: K Seth Keller, P Damon Greaves
Kansas just wasn't good on special teams in 2022 but looks to have some new faces in the room in 2023. Seth Keller (36-42 L/49, 92-93 PAT) comes in after three years at Texas State, while true freshman Damon Greaves projects as the starting punter. The Jayhawks totaled just 15 punt return yards last season and hope to make big gains in that area with former K-State ST coordinator Sean Snyder now on staff.
11. Houston
Projected Starters: K Jack Martin, P Laine Wilkins
Houston returns P Laine Wilkins (41.7 avg.) from 2022, but adds Jack Martin from Alabama as the new kicker. Kick returner Peyton Sawyer (22.4 avg) is back and should be good again for the Cougars in 2023.
12. Iowa State
Projected Starters: K Jace Gilbert, P Tyler Perkins, KR/PR Jaylin Noel
Iowa State's special teams struggled in 2022 but hope that another year of experience helps in this case. Jace Gilbert (12-20 FG L/44, 21-22 PAT) is back at kicker, while Tyler Perkins (42.2 avg) comes back as the starting punter. Jaylin Noel returned kicks (16.9 avg.) and punts (5.1 avg.) and figures to do so again this season.
13. Baylor
Projected Starters: K Jack Stone, P Palmer Williams
Baylor has to return all of its special teams' starters from a season ago, with punter, kicker, punt returner, and kick returner all gone. Jack Stone (2-4 FG, 15-16 PAT) transfers in from Michigan State as the kicker, while true freshman Palmer Williams will serve as the punter in 2023. Monaray Baldwin is expected to take over as the kick returner while Jordan Nabors will return punts.
14. West Virginia
Projected Starters: K Michael Hayes, P Oliver Straw
West Virginia brings back starting punter Oliver Straw (42.5 avg.) but must replace Kasey Legg at kicker. Michael Hayes comes in from Georgia State and figures to be the starting placekicker in 2023. Jeremiah Aaron is back as the kick returner after averaging 18.2 yards per kick return in 2022.