featured
Colorado Exits Pac-12 After Years' Worth Of Strategic Blunders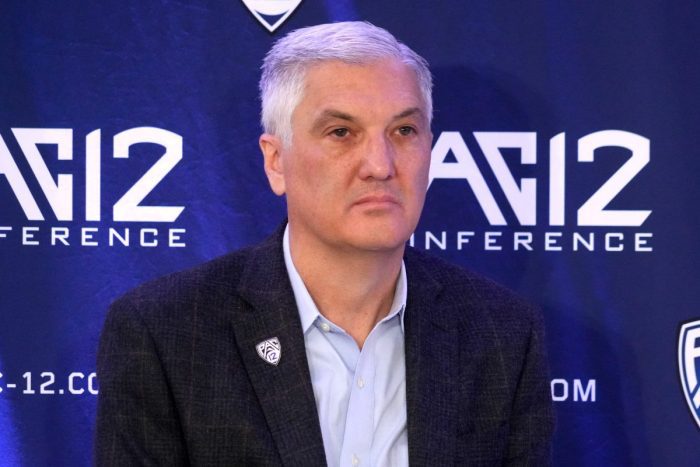 It was uncertainty and a desire for stability that led Colorado to leave the Big 12 for the Pac-12 13 years ago. Those are the same factors that have led the Buffs back.
The Colorado Buffaloes are headed back to the Big 12 Conference after departing after the 2010 season for what they imagined would be more money and more stability.
It's strange how things work out. The Buffs are now coming back to the league it helped found in 1996, and back to the teams that they played with in the Big 8.
Why? Because the Pac-12 is now the train wreck the Big 12 was back in 2010 when four members announced their departures to three different conferences.
Who would have thought that even a few years ago?
Colorado's departure is in its best interests. But it also underscores the contrast between how the Big 12 and the Pac-12 dealt with similar circumstances in the past two years.
The Big 12 has been on borrowed time twice. The first was back when Colorado, Missouri, Nebraska, and Texas A&M left. The league, frankly, had to work hard to stay together. Texas and Oklahoma were getting overtures from the Pac-12 — and not for the first time, either (you'll need a Southwest Conference history lesson for that one).
The second time was two years ago when OU and UT announced their departure to the SEC. This time? The league expanded by four teams and managed to put together a media deal that actually outstripped what the Big 12 is getting now by $3 million per team.
A year after OU and UT announced their departure, USC and UCLA announced theirs from the Pac-12 for the Big Ten.
Parallel situations. Both leagues lose marquee schools. But the Pac-12 actually had an advantage here — the Big 12 left them a template.
Expand. Media Deal. Grant of Rights. Done.
Only, Pac-12 commissioner George Kliavkoff wanted to get a media deal done first and then expand. To date, the only thing Kliavkoff actually has the remaining schools agreed to is the grant of rights, which is useless without a media deal to go with it.
It's a strategic blunder the entire league may end up regretting. I can only imagine it was greed that made them want to get that done before sharing money with expansion members.
This isn't all on Kliavkoff, either. While he's proven incapable of getting a media deal done, nothing gets approved in any conference without the OK of its presidents. So they had to have given the green light to not only the cadence of his approach but also dragging their feet on expansion.
Remember last week when San Diego State player Mark Redman told the media that they had been told for months they were going to the Pac-12? He has no reason to lie. An athletic department official might just to save face. But not a player.
The Pac-12 was wholly unprepared for USC and UCLA leaving. I mean, sure, so was the Big 12 with UT and OU. But, the league's 'Hateful Eight' had experience with departures and went through the stages of grief fast. I firmly believe that the Pac-12's inexperience with this, combined with hiring a commissioner with no experience in athletics and a group of Pac-12 presidents who really didn't understand the changing shifts in college athletics combined to put the league where it is now.
Let's be clear. Colorado won't be the only school to leave now. That horse is out of the barn. Colorado is going to get a full share of Big 12 money — $31.7 million. Right now, that's $31.7 million more than it was going to get next year since the Pac-12 has no deal. It's also $31.7 million more than any other Pac-12 school will make off media rights for 2024-25 for reasons that are obvious.
But don't blame the Big 12 for this.
That narrative is mostly a Twitter narrative, though Kliavkoff says he has records of every Big 12 contact with a Pac-12 team. Funnily, when someone did an FOIA request for them the Pac-12 office said it didn't have any.
Did the Big 12 have conversations with Pac-12 teams? Of course, they did. That's what happens in these situations. That's not unusual nor is it dishonest. These conversations happen behind closed doors. UT and OU kept their talks secret for six months. So did USC and UCLA.
The Big 12, as Baylor athletic director Mack Rhoades and Iowa State athletic director Jamie Pollard have both said, has prepared in case opportunities came the league's way.
This is a conference that has been through this twice. They know the pain of losing teams. I don't believe they were plotting to kill the Pac-12, which for most of the Big 12's lifetime has been the stronger conference.
Well, not anymore. Not after this.
Colorado's departure is a sign of the Pac-12's decline. The league has no one to blame but itself for losing the Buffs.
It's also a cautionary tale to the newly-fortified Big 12. Life comes at you fast.
The Pac-12's hiring of former commissioner Larry Scott was a disaster for the league. It appears the hiring of Kliavkoff was no better. A disjointed group of presidents (some of which are angling to get into the Big Ten at some point) made it impossible to get anything done.
It took 13 years for the Buffs to come back to a Big 12 that is in much better shape than when it left.
But, Big 12 be warned — strength and stability requires daily maintenance, constant vigilance, cohesive leadership and consistently making the right decisions.
Just ask Colorado what happens when those things don't happen.
You can find Matthew Postins on Twitter @PostinsPostcard.