Big 12 News
Joel Klatt Believes Colorado's Addition to the Big 12 Was a 'Show of Strength' for Brett Yormark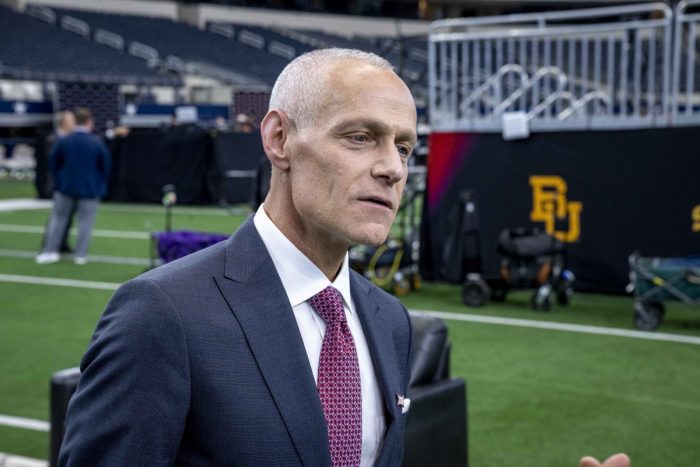 Brett Yormark and the Big 12 Conference flexed their muscles last week pulling the Colorado Buffaloes away from the Pac-12 Conference to join the new conference in 2024.
FOX Sports' Joel Klatt spoke on the addition of Colorado to the Big 12 on the Joel Klatt Show, commending Brett Yormark's actions by saying, "This new commissioner is out there and seems to be making things happen, and now there's a bit of a show of strength that they can go and command and draw the University of Colorado to the Big 12."
Klatt noted, "Well, the Big 12 beats them to market, they get the deal and then now what do they offer? Stability. And what did today do for the Big 12 even further? Offer even more stability. You heard Rick George, the athletic director at Colorado talk about it. How many times did he say the word stability? It was over and over, and this further stabilizes this conference and then today it took it a step further."
The Buffaloes are set to become the 13th member of the Big 12 Conference in 2024 following the departure of the Oklahoma Sooners and the Texas Longhorns to the SEC. While conference expansion has been a storyline to follow for the past year under Brett Yormark, with an uneven amount of teams in the league and multiple reports surrounding Arizona, Oregon, Washington, UConn, and more, the addition of the Buffaloes doesn't look like it'll be Yormark's only expansion move.
Klatt finished his comments by highlighting the impressive vision of Brett Yormark and the Big 12 saying, "So Colorado helps themselves a little bit because they get into a position where they're hitching their wagon to a leader that's increasing his strength in terms of the position that he holds within the sport globally."
While the Big 12 Conference has been known as the best basketball conference in America and has had success at the national level in recent years in both football and basketball, Brett Yormark is positioning the Big 12 to try and create a Power 3, alongside the SEC and Big Ten.