Football
Postscripts: Pac-12 Domino Falls, Strong Big 12 Basketball Hires and 'Horns Down' is the SEC's Problem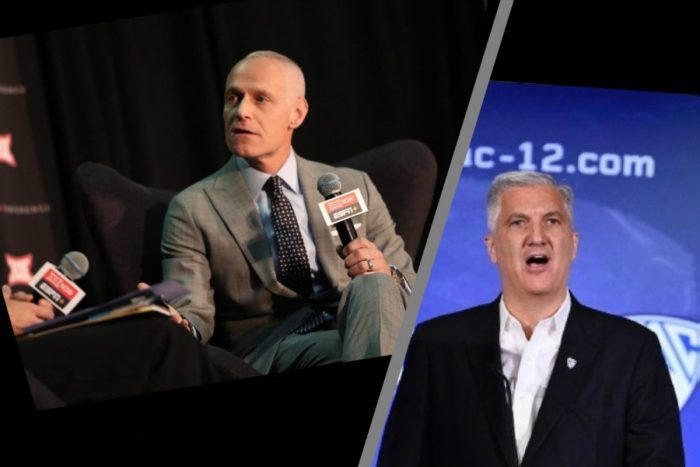 What's going on in the Big 12 and beyond? I expand and explain every Sunday in Postscripts at Heartland College Sports, your home for independent Big 12 coverage.
This week, there have been some great assistant coach hirings, get caught on the Pac-12 and 'Horns Down' is now an SEC problem.
The Assistant Coach Hires to Watch
Both Texas Tech and West Virginia made assistant coach hires this week that could definitely impact the upcoming season.
First, the Mountaineers hired James Dickey as a senior advisor to work for first-year coach Josh Eilert. This is a tremendous hire for Eilert and the Mountaineers.
Before there was Chris Beard at Texas Tech, there was Dickey. He led the Red Raiders from 1991-2001.
His 1995-96 was the Beard version of 2019. He and the Red Raiders won a school-record 30 games, including an 18-0 mark in Southwest Conference play. The Red Raiders won the final SWC regular season, the SWC Tournament and lost only two games that season.
Texas Tech advanced to the Sweet 16 for the first time in the program's history. It took Georgetown and Allen Iverson to stop Tech's 23-game winning streak. During the season, the Red Raiders jumped into the top 10 for the first time in school history, finishing eighth in the Associated Press poll.
Dickey brings 30 years of coaching experience to Eliert's staff. Since he's never been a head coach, Dickey is going to be a tremendous resource for Eilert. If things get litigious between WVU and Huggins — and I think they will — Eilert won't have Huggins to lean on. Dickey gives him that "been there, done that" thing.
Back at Dickey's former employer, Texas Tech hired Dave Smart to work for Grant McCasland. I had never heard of Smart, and there's a reason — he's been coaching at Carleton (ON) in Canada. With the Ravens he won 656 total games, including a 591-48 against U SPORTS competition in 18 seasons. U SPORTS is Canada's version of the NCAA.
On top of that, the Red Raiders hired Kellen Buffington to be their basketball GM. He's the first African-American to be hired into that role in college basketball. He brings endless connections to the job. The Athletic was the first to report the hire.
These are all quality hires for two programs that need the experience and the guidance with new coaches taking over.
This Week in 'As The Pac-12 Turns'
I mean, we all know what's going on, right?
If, for whatever reason, you're just emerging from a deep sleep, here's what's up — Colorado is coming back to the Big 12. It came with a mic drop of a statement from the Big 12's commissioner, Brett Yormark, and a long-winded statement from the Pac-12 that really didn't say anything much than what's already been said.
As I wrote earlier this week, I don't think Colorado leaving is the last domino. I firmly believe that others will leave. There are good reasons to do so, not the least of which is the fact that because schools are starting to play for 2024-25 financially, the big, gaping donut hole in their budget has gone from theoretical to actual.
The Pac-12 has reportedly still not provided its league members with hard numbers for a TV deal. Still. After a year. There is still no direction with the conference. Say what you want about the Big 12's dysfunction — and there's been plenty of it over the years — the league has never been as truly rudderless as the Pac-12 seems to be now.
Look — college football fans wants the Pac-12 to die. But, the college football fans aren't the ones running the league. It's a group of presidents who appear to be completely clueless about modern athletics and a commissioner in George Kliavkoff who has no relationships to leverage because he doesn't come from a sports background.
So here we are. There is one interesting nugget to all of this — and no, not the sudden narrative of "the Pac-12 will be OK with San Diego State instead of Colorado (which is some great spin)." It's this:
The Pac-12 turned down parts or all of the Big 12 four different times — once back in the Southwest Conference days when it was considering taking Texas, Oklahoma and two other schools; back in 2011 when the Pac-12 passed on those two schools, along with Oklahoma State and Texas Tech; back in 2021 when Texas and Oklahoma first announced their departure to the SEC; and in 2022, when Yormark took over as Big 12 commissioner and the issue came up in the wake of the impending departures of USC and UCLA for the Big Ten.
Four times the Pac-12 had chances and four times the Pac-12 failed to see the future.
That is just one of the many reasons why we're here. But some still believe in the Pac-12's future.
I need someone to explain how this might happen, because logically it makes no sense.
'Horns Down' Done Right
'Horns Down' is now the SEC's problem. And, as it turns out, the SEC has a plan, per the SEC's director of officials, John McDaid.
"Unsportsmanlike conduct needs to fit one of three categories: Is it taunting an opponent? Is it making a travesty of the game? Is it otherwise compromising our ability to manage the game? There's a difference between a player giving a signal directly in the face of an opponent, as opposed to doing it with teammates celebrating after a touchdown or on the sideline. To net all that out, every single occurrence is not an act of unsportsmanlike conduct."
I love it. LOVE it. Wanna use 'Horns Down' to celebrate but there isn't a Longhorn in the vicinity? Cool. Wanna do it to taunt a Longhorn? Not cool.
I think that's what he's saying here.
My position on 'Horns Down' has always been clear. I don't object to it. I object to who USES it.
It's an Oklahoma and Texas A&M thing. The rest of you need to find a new schtick.
You can find Matthew Postins on Twitter @PostinsPostcard.