Football
Ranking Big 12 Expansion Candidates After Colorado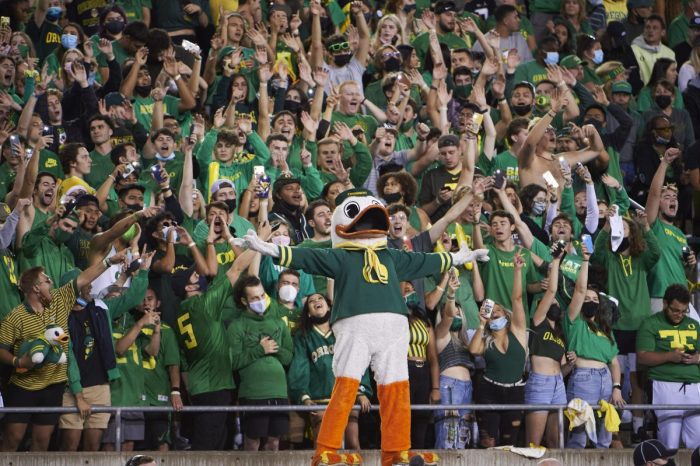 The Big 12 becomes 13 as of July 2024. But every conference needs an even number of teams, so the biggest question around college athletics right now is, "Who is No. 14 for the Big 12?"
Well, it's time to rank the Big 12 expansion candidates just days after Colorado announced it would be leaving the Pac-12 for the Big 12. Once again, these are my preferred candidates in order as we begin what should be another chaotic week in the conference realignment scene.
1. Oregon Ducks
Phil Knight. Nike. Football brand. Great success across the athletic department. There's no much to like about Oregon, which has always felt like a natural, cultural fit for the Big 12 Conference in so many ways. While we know Oregon would prefer the Big Ten, the Big 12 should not avoid making a run at the Ducks, even if it's only for a short-term play. There's still benefits for both sides. The Big 12 gets continued stability and a great brand and the Ducks cash a bigger check than they would in the Pac-12 for the foreseeable future. And who knows, maybe Oregon just ends up loving it here. Crazier things have happened. And don't discount the fact that the TV networks may prefer Oregon in the Big 12 (for now), as it would be less expensive than having to pay them full freight in the Big Ten.
2. Washington Huskies
Washington is not nearly the Big 12 cultural fit that the Ducks are, however it's still a very compelling program with quality football, good fan and alumni support, great academics for what it's worth, and gives the Big 12 a footprint in the Pacific Northwest. It is the second-most valuable brand remaining in the Pac-12, so for that reason, we slide them in at No. 2 on the list. Football is still king, and Washington's track record suggests its worthy of this No. 2 slot.
3. Arizona Wildcats
The Wildcats have always been one of the more likely teams to make the jump to the Big 12. It's a legendary basketball program (although they always manage to screw it up come March), and while the football program has notoriously underachieved, it remains a potential sleeping giant if they get the right coaching staff. Arizona feels as Big 12 as any school in the conference and the basketball brand alone would continue to elevate the Big 12 Conference in basketball into what the SEC has become in football: The clear No. 1 conference in the country. Arizona in Lawrence, Kansas for a late-January showdown? Sign me up.
4. Utah Utes
I know many Big 12 fans can't stand Utah. The Utes and their fan base have been notoriously anti-Big 12 since the rumors began, including reportedly not taking the Big 12's calls as recent as this week. But the football program has done impressive things since joining the Pac-12 under Kyle Whittingham, including winning the conference title game vs. USC last season. As we've noted, football still pays the bills and bringing the Holy War vs. BYU into the conference would be a huge moneymaker for the league and get a ton of attention if it was an annual game between the two schools. Sign me up.
5. Oregon State Beavers
Oregon State has had more success than people realize in football. They've won at least 10 games three times this century, including last season. That's as many as Arizona (1) and Arizona State (2) combined in the last 23 years. I'm not suggesting the Beavers are a sleeping giant. They aren't. But Corvallis is a college town along the booming coast of Oregon and is down the road from Portland and up the road from Eugene. It's an easier trip than some might realize and the program feels like it has some Oklahoma State-ish qualities to it, beyond the color scheme.
6. Arizona State Sun Devils
Talk about underachievers. Find me a program that has done more with less potential in the major sports than Arizona State. Football has been bad. Basketball has been mediocre (even though I am a fan of Bobby Hurley). Arizona State has a ton going for it, but has never had the pieces to become a consistent, high-end football or basketball program.
7. Washington State Cougars
Pullman, Washington looks beautiful. But there has to be more to it than that for the Big 12 to have interest. The diehard Washington State fan will note the Cougars have 4 10-win seasons since 2000, more than Oregon State, Arizona and Arizona State, but those other schools bring much more to the table in other categories, along with a higher ceiling. I'm happy to be proven wrong here, but I can't justify it.
8. UConn Huskies
UConn continues to pop up in the conversation, but with the football not being highly supported by the university and a fan base that is just counting down to basketball season, I struggle with the fit. Once again, it's great for hoops, but the football value is arguably negative for the Big 12. UConn is not like Kansas. Kansas has shown a willingness to invest and support football, it just hasn't happened for 15 years until Lance Leipold showed up. If UConn is willing to make those kinds of investments, the conversation can change.
9. San Diego State Aztecs
We know what the basketball can do, while the football has had nice success for not being a Power 5 program. But at this point, despite the Aztecs' NCAA Tournament run, there is no juice around the program and the Big 12. Time has not helped SDSU, as the enthusiasm across Big 12 country has petered out, and count me in as one of those.
10. Gonzaga Bulldogs
Basketball is great, I think. But what is Gonzaga basketball without Mark Few, anyway? Do we really know? And there's no football. None. There's no way to justify the Gonzaga conversation because I'm convinced that in the Big 12, Gonzaga is no longer Gonzaga. They'll go 23-11, with an 11-7 record in Big 12 play and be a No. 7 seed lucky to make the Round of 32. You can't justify trips to Spokane for that.
Not Listed: Stanford, Cal
I left these two California schools off the list as neither appear to prioritize their athletics departments in any meaningful way anymore. It's sad, especially given the history of each program, but it's the reality of the situation. The university, alumni and fan support is simply not there, so they should not be considered a valuable addition for the Big 12. Media market size is irrelevant, just ask the Big Ten and Rutgers. How passionate are your fans? Will they buy a direct-to-consumer service like ESPN+ to watch their games? Will they fill the stadiums? That's what matters. Stanford and Cal can't answer those questions in a manner that should intrigue the Big 12.