Big 12 News
Brent Venables Gives Update on Wife Julie After Breast Cancer Diagnosis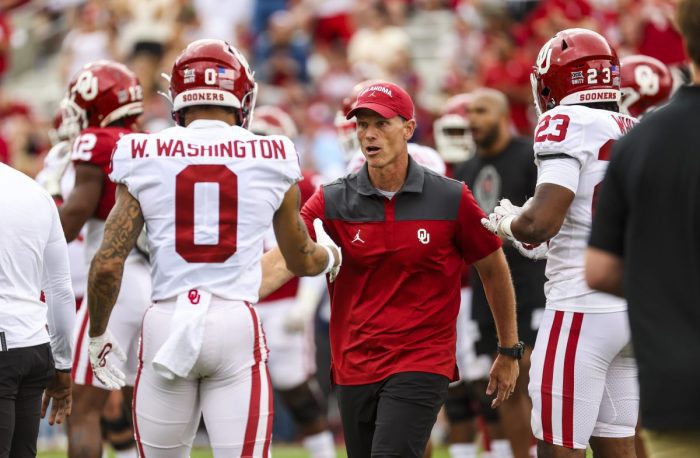 During his availability at Oklahoma media day on Tuesday, Brent Venables gave an update on his wife, Julie, after she received a breast cancer diagnosis in June and recently had a procedure related to the ailment.
"We got a diagnosis on June 16 that was knock-you-off-your-feet," Venables started. "There's no blueprint on how you handle that. Our sanctuary and our true shelter is our faith and the power of prayer."
Venables then went into the outpouring of support that he and his family have received since the news hit nearly two months ago.
"It's been nothing short of amazing," Venables said "The group of people that have helped, whether it's the doctors, the administration, the people I work with, our staff, our players, our players parents, and certainly so many friends and Sooner Nation. It's been great."
Julie had a procedure in New Orleans last week, to which Brent gave an update that seemed positive in nature, given the circumstances.
"[Julie] had surgery on Friday morning and we're hopeful that we got everything and maybe can avoid further treatments, such as radiation and chemotherapy," Venables said. "We will find that out in the next several days. We think it's not in her lymph nodes, so that's a great thing. Right now it's about 'what's contained' and we're trying to strengthen her and get her back on her feet. 
"She's tough. She's a honey badger and she's got a medical background as a former nurse, so she already knows the answer to the question, so, 'get it right doc," he said with a grin." She's amazing."
The support for the Venables family has been palpable on social media, and clearly, they've taken notice as well. There's been a significant movement from the fan base to make the Sooners' 2023 home opener a "Pink-Out" game, in honor of Julie and her fight.
That game, against Arkansas State, is scheduled on September 2, at 11:00 a.m. CT.